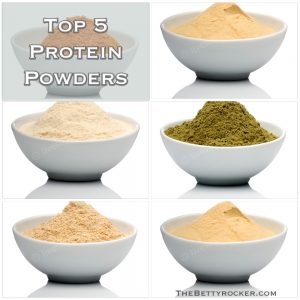 With so many protein powders out there, how do you know which one to choose?
If you're like me and eating as many foods in an all-natural state as possible, minding your added sugar intake and avoiding processed dairy, even the "all-natural" protein powders can present a challenge.
And, if you're okay with dairy and want a quality whey protein powder, what are the guidelines for choosing one?
Don't worry – I've got you covered.
I also included some really important information below the recommendations about protein intake and why this nutrient is so vital – especially if you're training regularly. Please use it as a reference.
To all my lovely ladies who are worried about it "bulking you up" – I hope this helps clear up some myths and empowers you with the knowledge to balance your nutrient intake more effectively!
Allow me to present my personal choice awards – along with some information about protein powder processing and some things to watch out for. My purpose in creating this was to help you make a better choice with what's available to you – you don't have to choose anything from my list. I hope the information I covered helps you in choosing something good for you!
Of note, I sincerely appreciate my readers who help me stay on top of the protein powders on my list, as companies do change their formulations periodically (for various reasons, i.e. to save money, or because an ingredient is no longer available). If you notice something in this article that isn't what you're seeing on a manufacturer's label, please feel free to tell me in the comments, as I WILL investigate, and I do update this list and stand by my recommendations – these are all brands that are in the heavy rotation in my cupboard!
#1 Nutiva's Naturals Organic Hemp Protein Powder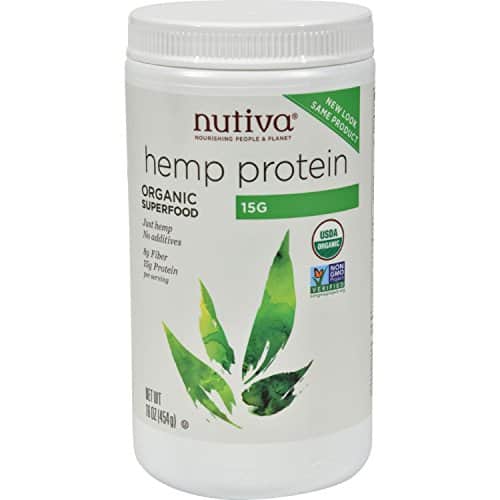 Why I recommend this: Hemp seeds truly are one of nature's perfect foods – and hemp is one of the best sources for plant protein. I love Nutiva's because they are certified organic, and don't add any filler to this product. It's just hemp seeds, conveniently ground to powder without the use of harsh chemicals like hexane, which is commonly used in non-organic soy protein powders.
Hemp seeds contain at least 20 amino acids, including the 9 essential amino acids that our body can't make on its own. This is rare in the plant kingdom – and it's why you'll find most plant-based protein powders have a combination of plant sources to deliver a complete amino acid profile.
Amino acids are organic compounds that combine to form proteins, and together, amino acids and proteins are the building blocks of the human body (but you probably already knew that – that's why you're looking for a good protein powder to supplement your diet!).
High in fiber, hemp seeds have an ideal 3:1 balance of omega 3 to omega 6 fatty acids, which promotes cardiovascular health.
Don't be fooled by the marketing hype – look for a hemp protein powder that only has one ingredient: hemp protein. You don't want any added sucralose, hexane, dairy, lactose, sweeteners or flavorings. I'm good with some stevia or natural cacao or vanilla for a flavored version, just be mindful to watch out for unnecessary additives.
I also recommend good old raw hemp seeds as a quality natural plant protein source.
If you're adding hemp seeds to your cereal or granola the seeds are wonderful – they're soft and smooth and have a mild flavor. If you're wanting to blend hemp into your smoothies, hemp seeds work just like hemp protein powder, though if you were planning to use a blender bottle or shaker cup hemp protein powder would be the way to go.
Features: USDA organic, no additives, no chemical processing, high quality hemp
Protein: 15 g
#2 Morelli Grass-Fed Protein Isolate
Why I recommend this: If you are good with dairy, when it comes to protein powder it's ALL about the quality of the process the manufacturer uses. Whey contains whey proteins, lactose, minerals and small amounts of fats.
Morelli's protein powder was made by one of the most detail oriented guys in the fitness industry, Mike Morelli, who is absolutely insane (in the best way) about the quality of what he puts in HIS body and what he creates for his brand.
I have this one in my kitchen and keep it in the heavy rotation because it's high quality grass-fed whey, tastes amazing, and doesn't contain all the fillers, artificial sweeteners and junk that you'll unfortunately find in far too many whey-based protein powders.
While we're here, let me tell you how whey protein powders are made, so you can know what to look for and why this one is quality.
There are several different methods that accomplish the filtration of the whey protein from whey - and may often be heated, sprayed or flavored, colored, etc (no different than non-dairy protein powders - which is why it pays to read the labels).
There are 3 ways whey protein is processed**:
Whey Protein Concentrate (WPC) - Produced via ultrafiltration of whey, this refers to whey proteins that contain < 90% protein concentration, but could be as little as 20%. Usually the specific concentrations will be notated following the term "WPC", such as WPC "85". The rest of the concentration is made up of lactose, minerals, and fats.
--->avoid this kind of whey if you are lactose intolerant, and opt for one of the 2 below (which are often more expensive due to their processing)
Whey Protein Isolate (WPI) - May be produced by a variety of membrane filtration techniques, with the goal of reaching >90% protein concentration and removal of most (if not all) lactose. Manufacturers will also often combine filtration with an ion-exchange technique to selectively filter out particles by ionic charge rather than just molecular size
Whey Protein Hydrolysate (WPH) - A relatively new technique in whey protein production, whey protein hydrolysates are produced via enzymatic hydrolysis of either WPCs or WPIs. Essentially, this acts as a method of "pre-digesting" the protein by separating (i.e. lysing) peptide bonds; hence the time for digestion and absorption of amino acids will be reduced.(
**whey descriptions courtesy of MuscleandStrength.com
Many common whey protein powders will be a combination or hybrid of WPC and WPI, which makes them more cost effective, but less pure quality. I'd definitely opt for a blend over plain WPC, but top of my list (if I ate dairy!) would be the WPI or WPH - which is exactly why I use Mike's protein powder.
Avoid brands that have sugar added in the form of fructose, dextrose and maltodextrin.
I love Mike's approach to this entire process. His protein powder is competitively priced, and they use a cold filtration process that doesn't denature any of the protein. They also use whey from farm-raised, pasture-grazed, grass-fed cows that haven't had any bovine growth hormone injected - something that is HUGELY important to me as a consumer and should be a strong consideration in purchasing your dairy products. The quality of any animal product is going to be vastly affected by its environment, diet and treatment.
Features: whey protein isolate, pasture-grazed, grass fed cow's milk, no bovine growth hormone added
Protein: 26 g
#3 Warrior Food: Natural Vegan Protein
Why I recommend this: Health Force, the company behind Warrior Food is dedicated to the quality of their products. They use only non-GMO, sprouted brown rice and pea protein for this excellent protein powder blend.
It doesn't matter if you're vegan or not, this protein powder is formulated for absorbability.
The problem with regular grains is that you can't actually digest them very well, due to the phytic acid that's found on the external coating of the bran. This phosphorous-bound acid binds with important minerals in your gut as it passes through, stripping them from your system.
Soaking, sprouting, fermenting or otherwise enzymatically breaking down grains as a form of pre-digestion is the absolute best way to ensure our bodies can absorb their nutrients.
This protein powder is Warrior Force's newest iteration of their top seller, and contains a blend of pea and sprouted rice protein, for a full spectrum essential amino acid plant-based protein. While I wouldn't recommend this as the best texturally, when you're using it in a smoothie that contains other ingredients it is fine, and it really is of the highest quality available.
They also include BCAA's (or branch-chain amino acids) in their blend. Essential branch chain amino acids (leucine, isoleucine and valine) cannot be made by the body and must be acquired through food. BCAAs are metabolized in muscle tissue, rather than in the liver for faster utilization and they are proven to increase strength, endurance and muscle synthesis, enhance recovery, reduce muscle soreness and inflammation and improve energy and mood.
This unflavored Warrior Food Protein Powder doesn't have any added sugars* AT ALL, making it one you will want to be mindful to add some cacao powder or vanilla extract to - or opt for one of their flavored protein powders instead. I love the high quality formula of this protein powder, and I usually add it to a green smoothie, or blend it with fruit and water or almond milk since it's not "yummy" by itself.
I'm also a fan of this company's commitment to their product - they package it in hard plastic, 100% recyclable containers that preserve the nutrients.
Features: sprouted grain protein, BCAA's, non GMO, vegan, gluten-free, soy free, no added sugar

Protein: 24.75g
**November 2016: This protein used to sit in my #1 spot, but they removed hemp seeds from their blend, which I think really rounded this product out and made it perfect. I still stand by my recommendation of this company, their values and product however - and this is one of the best quality plant proteins you can get.
#4 Egg White Protein Powder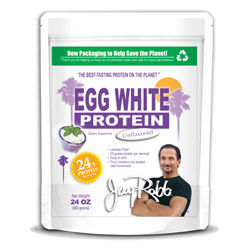 Why I recommend this: Egg white protein is one of the most bioavailable proteins in existence. It's got all the essential amino acids, and it's totally great for anyone without a specific dietary restriction (vegan, egg allergy, etc).
I always liked Jay Robb egg white protein powder, even though they add lecithin to their blend (which is an emulsifying compound extracted from soybeans that improves shelf life) - and they are a well-known company and brand. They use egg whites from hormone-free chickens, and don't add any sugar or products to the protein powder (aside from the lecithin).
They've recently switched their packaging from containers to "reusable ziplock pouches" which I'm not sure about - though they are still offering reusable containers for sale. Interesting.
Some of the things to look for when it comes to egg white protein powder are:
1. Where the eggs come from - for example, are they farm raised or commercial?
2. Have the chickens had growth hormone injected?
3. How has the protein powder been processed? Typically they will pasteurize it (heat) to kill any harmful bacteria. Jay Robb does flash pasteurization, and doesn't do any additional heating (which can inactivate some of the protein).
4. Is there any added sugar, sweetener or additional products added?
I personally think it's important to get a variety of protein sources, so this is one I keep in the mix and don't use as a staple since I prefer to just eat whole eggs in their natural form, and usually opt for the protein powder above. But when it comes to absorbable, quality protein, egg white is right at the top.
I often use it when I'm making protein pancakes or muffins - though be sure to add a little extra liquid if you do as this is a protein powder that will affect the texture of your baked goods. It's also naturally salty, which I use advantageously in recipes like the No Bake Peanut Butter Protein Bars. Also cool is you can often find it in individual packets which is helpful for traveling.
Features: gluten free, dairy free, no sugar added, excellent bioavailablity of protein, hormone-free chicken eggs
Protein: 24 g
#5: Seeking a New Plant Based Protein Powder for this spot....
**May 2017: UPDATE: Garden of Life, the company I've recommended for years, recently CHANGED their formulation for their plant-based protein powder. Of note, it now includes erythritol as a sweetener - as some of my readers have pointed out in comments.
If you are ok with erythritol as a sweetener, I've left my original write up about this protein powder below (for now). If you are unsure if it's a good sweetener for you, I've included some details about why I don't use it personally, and you can read more in this excellent, well-referenced article by Wellness Mama.
In a nutshell, Erythritol is a sugar alcohol (naturally found in small amounts in some fruits and fermented foods) and sugar substitute that looks and tastes like sugar, with almost no calories.  It is produced by fermenting corn or wheat using the fungi Moniliella pollinis or Trichosporonoides megachliensis (read more from the aforementioned article about erythritol derived from gluten and GMO sources).
It has been approved for use as a food additive in the United States and in many other countries (but that doesn't mean you have to eat it - just be informed). Some other sugar alcohols you may have heard of include xylitol, maltitol, sorbitol and lactitol. In small amounts, erythritol isn't supposed to cause any upset stomaches or diarrhea that other sugar alcohols like sorbitol and xylitol are known for, because it's a smaller molecule and 90% of it is absorbed in the small intestine and excreted for the most part unchanged in urine. But, there are some people who report side effects such as diarrhea, stomach upset, and headache after consuming regular amounts of erythritol in food or beverages - I'm one of them, I get a bit of a headache and upset stomach. Everyone is different, and the amount needed to cause symptoms varies greatly based on your individual tolerance. In most studies, they don't find erythritol causes any issues in small amounts.
Bottom Line: I'm currently seeking a replacement for this protein, and advise you to listen to your body. I wish these companies would stick to their original formula! I may have to create my own. 
Why I (used to) recommend this: Garden of Life's newest protein powder is a winner! I started using it recently and am totally in love with it.
It's really creamy - even when I blend it in my blender bottle with just water, which I often do traveling - there's no chalky or grainy taste even without the blender, which is a great test of quality and versatility in my opinion.
It comes in 4 flavors, coffee, energy, smooth chocolate and smooth vanilla (which is my personal favorite) and is the best tasting natural plant protein powder sweetened with stevia I've found yet.
It's got a nice blend of plants - pea, flax, cranberry, chia, pumpkin, moringa - which is an African leaf that's loaded with potassium - and baobab, rich in minerals and antioxidants.
It also contains BCAA's to help with protein absorption, 13 raw enzymes, and 1 billion CFU of probiotics for better digestion.
This company is USDA Organic and GMO free. This blend contains 15 g of protein per serving. It is far superior to many of the other protein powders on the market, and one I'm using all the time.
I've had excellent results baking with it (I like making protein pancakes, and adding natural protein powders to my muffins) this protein powder does a great job!
Features: plant proteins, wide variety of protein sources, grain free, soy free, vegan, gluten free
Protein: 15 g
Other natural Protein Sources:
Also of note,
nutritional yeast
and
brewer's yeast
are good sources of protein that also contain selenium, chromium and B-complex vitamins that most people need.

Added Sugar in Protein Powder
A note on added sugars: the plain version of the protein powders I use generally don't have added sugar (even stevia). However, if you're not planning to add anything else to your shake than the powder, this can be pretty unpalatable! I generally opt for a protein that's been sweetened with something natural like monk fruit, coconut, or stevia.
A lot more companies than ever before are opting to use low-calorie, or no-calorie sweeteners in their supplements to meet the growing consciousness about the detriments of overconsumption of sugar. Sugar alcohols like xylitol, maltitol, sorbitol, erythritol, and lactitol and artificial sweeteners like sucralose (Splenda), saccharine, aspartame, and others are controversial and not recommended as additives you want in foods you regularly consume.
I do pay attention to added sugar in my protein powder - just like I would with any food I'm buying that's pre-made. Swapping out "natural sugar" for other sugar is still adding sugar to the diet - but as long as you're being mindful of your daily overall sugar intake, a little natural sweetener in your protein powder from a wholesome source probably won't send you over the edge...just be sure you know what you're putting in your body and choose mindfully.
I don't think there is anything wrong with protein powder that has some natural sweetener added. Just read the label and be sure you know how much sugar is included in a serving (for example if the label is referencing a scoop is 6g of sugar and you need 2 scoops to make 1 serving, that's actually 12g of sugar - nearly half of the daily recommended limit for women). I know that the more accustomed I get to eating sweet things on a daily basis, the more I want them. My goal is to avoid added sugar as often as possible, and enjoy it on purpose when I do eat it. So just be aware and mindful and be sure you're not nickel and diming your sugar intake away in your supplements.
In conclusion...
I use protein powder in addition to the protein I include in my daily intake from plant and animal sources, and only have a protein powder once a day - generally on days I train. My goals are currently maintenance - to determine what's appropriate for you, do your research, consult with a personal trainer or check out the following information:
Include Protein with All of Your Major Meals.
When I decide what I'm going to eat at any time of day, whether I'm at home, in a restaurant, or at the grocery store, the first thing I think about is what protein source I'm going to include.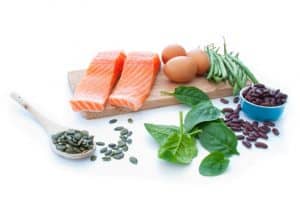 Building the rest of my meal is easy once I figure out the protein. That's because protein is the foundation of every vital function in our body, and I'm not going to make the mistake of leaving it out!
Eating protein is not going to "bulk you up."
It's an important nutrient that's responsible for multiple body functions. It is even more satiating than fat or carbs, and it can boost your metabolic rate while lowering your appetite. If you're constantly craving sugar or sweets, it is important to take a look at the nutrients in your daily dietary intake to see if you're getting enough protein, fat and complex, wholesome carbohydrates.
Animal protein is generally a complete protein (meaning it contains all the essential amino acids your body needs) while plant protein (with a few exceptions) is generally incomplete. However eating a combination of plant foods can make a complete protein. I eat a mixed diet, and include grass-fed whey protein powder or sprouted plant based vegan protein powder several times a week to ensure I'm meeting my needs without having to cook EVERYTHING.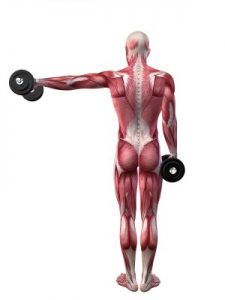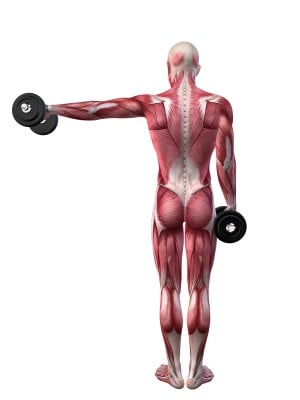 HOW MUCH PROTEIN DO I NEED?

The "right" amount for each individual is going to vary depending on your activity level and goals - just like any other nutrient. Just like most body tissue, muscles are in a constant state of breakdown and repair. To gain muscle, you have to eat more protein than your body is breaking down.
For people whose goal it is to gain mass, increasing protein intake will help build muscle and strength (in conjunction with a fitness regimen of course).
For individuals who want to hold onto the muscle they have while losing body fat, an increased protein intake is also appropriate as this increase spares muscles tissue while losing weight.
A common recommendation for gaining muscle is 1 gram of protein per pound of body weight, or 2.2 grams of protein per kg. This estimate is a bit high for those in maintenance mode or general fat loss (while active and maintaining muscle).
It's hard to give an exact figure because of how much conflict there is in studies but it's safe to say 0.7-1 grams (give or take) per pound of body weight is a reasonable estimate.
Beware of online calculators on bodybuilding sites that will tell someone weighing 120 lbs that they need to consume 180 g protein per day. Wowza! That may be appropriate for a competition diet, but that's not something you should undertake without supervision from a qualified professional, IMO.
Like any of the nutrients, eating a range of food sources is a good way to ensure you're getting adequate minerals, vitamins, phytonutrients and everything you need to maintain your lean muscle and decrease fat storage.
I'm unable to provide a review of every protein powder on the market but I sincerely hope this post will help you make good decisions with what is available where you are!
Let me know what protein powders you prefer and why, I'm always interested in learning more about YOU and hearing your thoughts!