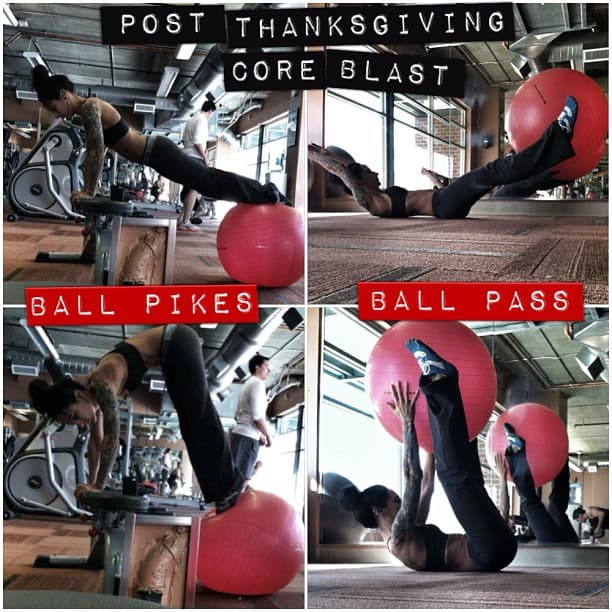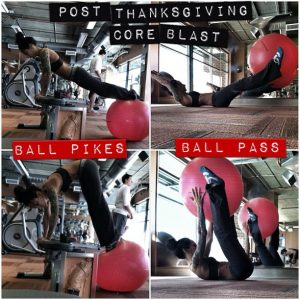 I hope you all had a great Thanksgiving! Here are two killer core moves I just did – post-Turkey day Ab-shredding sesh.
Move 1:
 Ball Pikes – hands on the bench, feet on the ball in plank position. Using your core, come into a pike, keeping your balance. Return to start. Repeat 10-12.
Move 2:
 Pass-Thrus – hold the ball between your feet and hands in a diver position. Engage your core. Lift the ball and raise your hands and torso to meet it. Pass the ball to hands and fully extend (not shown) keeping your feet hovering above the floor. Pass the ball back to your feet and lower to position 1. That's 1 rep. Try for 10, 7-8 is awesome.
These totally kill my abs!!
Remember, strong bodies are built out of clean, whole foods and consistent strength training. Two weeks ago I took a week off from training because I had a cold, this week I rested Sunday-today and you can see that it didn't have a huge impact on my physique.
My body goals are simple: be strong, look good naked 🙂 and be my best! Always rest when you need to – you'll be stronger for it.
Eat clean 80-90% of the time. It pays off – especially when you're in your 30's, 40's and beyond! Want to know exactly how I eat? Just hit up my new book, complete with 30-days of clean eating recipes, menus, meal prep and grocery lists – Betty Rocker's Body Fuel System – You deserve it!!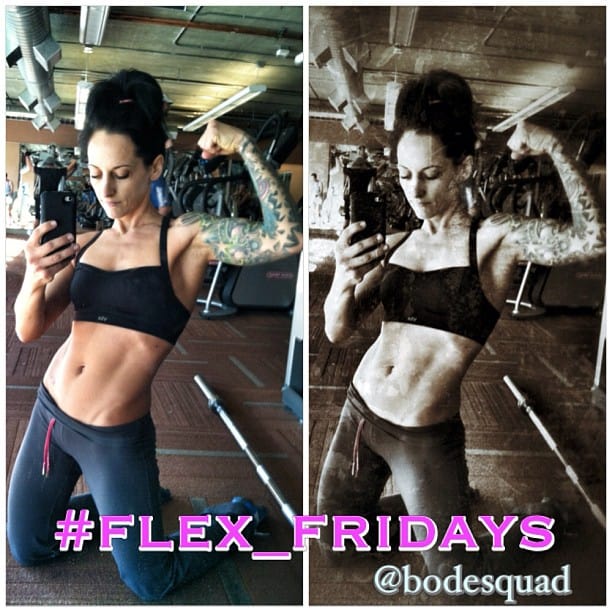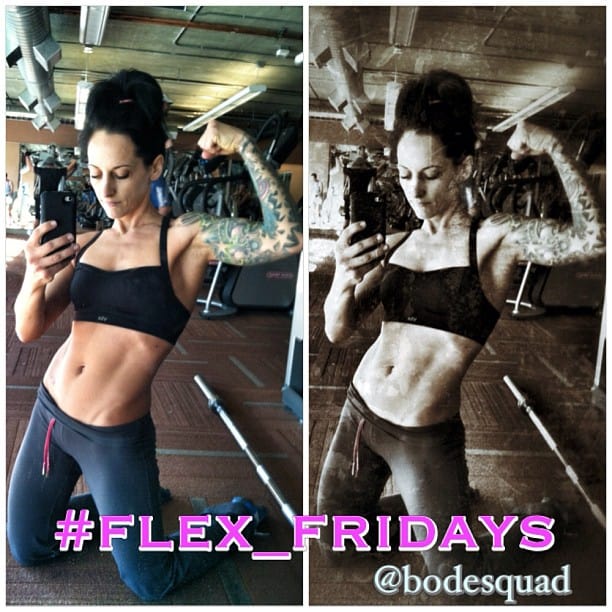 Ready for more?
Grab the Hot Abs Workout Guide so you have fresh ab workouts every week to sexy sculpt your abs!
Video Demos, Printable Follow-Along Guides, Form Notes, Modifications and More!