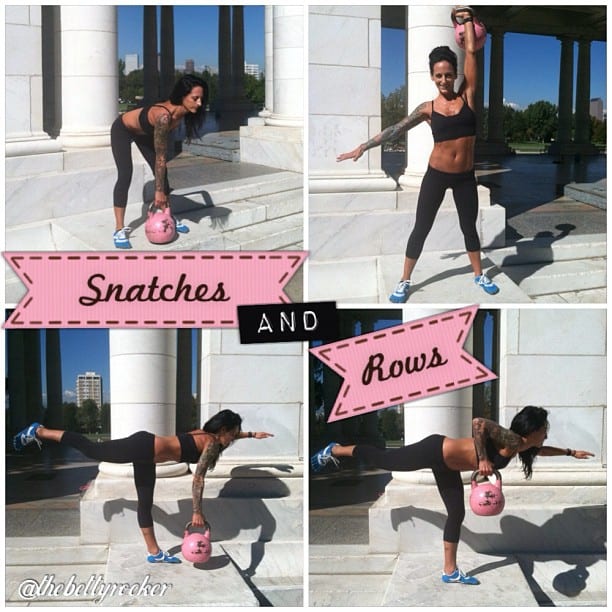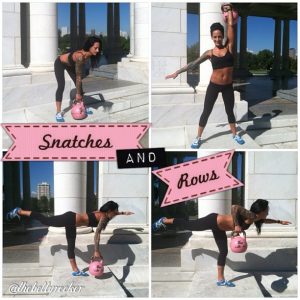 Single arm kettlebell snatches and one arm balancing rows are just 2 amazing exercises that really help strengthen your lateral/extenal shoulder rotators and posterior chain.
Besides cooking gluten free and low glycemic index healthy fitness food, working out and inventing green smoothies, I worked for many years structurally realigning athletes and fitness freaks using manual, orthopedic soft tissue Jedi tactics and somatic repatterning.
Injury prevention was always at the top of my list – which is why I like to share as much information as possible about how the body works, so you can prevent problems down the road.
Of all the injuries I have treated, none was more common than the shoulder and the rotator cuff.
Most commonly this is caused by overuse of your internal/medial/forward rotation muscles. That happens because everything we do, from driving our cars to eating, to surfing online is done with our arms in front of us. And the muscles that complete those same movements over and over are actually in the front of your body.
While it may hurt "between your shoulder blades" the real problem isn't knots back there – it's knots in your overused chest and forward rotation muscles. This often causes an imbalance, and your back muscles get weak (compared to the front body muscles) – and where you feel pain is in those tired, fatigued, weak back area.
Solution: strengthen your back mucles. If you started adding specific, back-strengthening exercises in a couple times a week, you'd be taking big steps toward preventing problems down the road, and decreasing your back pain.
You can speed up back pain elimination by stretching your chest muscles. Have you ever tried?  Give it a shot. You can watch this video I made to see a good way to do it.
Think BALANCE in every area of your body: your muscles all want to work together. Focus on back strengthening exercises like these, chest opening stretches, and ask your significant other to rub your chest, not your back.
See some of the other back strengthening posts I've done recently, like the back strengthening circuit, or the Fitness Mechanics page for more information you can start applying right now.