Oatmeal is one of my favorite breakfast staples. But I don't go for those packets of sodium and sugar laced instant oatmeal – I buy old fashioned, Irish oatmeal, also known as steel-cut, or oat groats.
Oat groats are the harvested oat grain in its natural form, and "steel cut" refers to the steel blade that's used to cut them into even-sized pieces.
Oats are digested slowly, keeping blood sugar levels stable and are an excellent long-lasting energy source.
Like all grains, proper preparation makes all the difference in how our body processes them – which is why ancient cultures soaked or sprouted their grains before consumption.
Initially, that might sound like a lot of work, but as you'll see, it's actually not! All you need to do is plan ahead a little bit. Here's what I do:
The Night Before:
1 cup oats
1 cup filtered warm water
2 Tablespoons of an acidic medium of your choosing:
yogurt
liquid whey
apple cider vinegar
lemon juice
buttermilk
kefir
1: Place oats in bowl, cover with warm water, and mix  2 Tablespoons of your acidic medium choice.
2: Cover and leave on the counter  (NOT in the fridge!) for at least 7 (but no more than 24) hours.
The Next Day:
3. Strain off soaking water from the oatmeal and give the oats a quick rinse with fresh water.
4. Combine soaked oats with 1-1.5 cups of fresh, filtered water on stovetop. Allow to simmer for several minutes, stirring occasionally.
5. Remove from heat, and add in/top with anything that sounds good to you, like nuts, fruits, spices, seeds, honey, raisins, or maple syrup. (What you don't eat right away can marinate in those flavors while you store it in the refrigerator.)
To optimize the absorption of the fat-soluble nutrients, you can also try serving it with butter, ghee, coconut oil, coconut milk, or cream.
I always make extra so it's an easy grab and go breakfast or snack that I have on hand for a few days.
Here are my 3 favorite ways to enjoy Overnight Oats:
Cinnamon Fig Oatmeal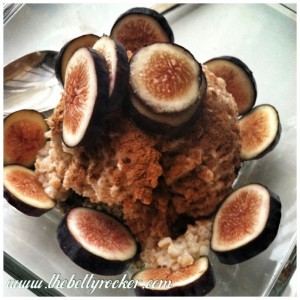 Pomegranate Pear Oatmeal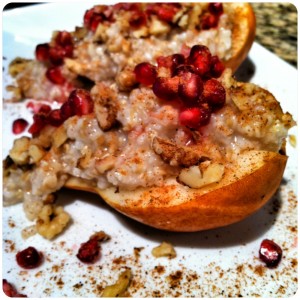 Apple Walnut Raisin Oatmeal