What's up rockstar! Happy Fall!
In honor of this busy busy time of year, I thought you might like to have a little 30-day plan to follow.
You can start it anytime, just click the image below to open it in another window and download or save it to your computer!
The links will take you to your daily workout, a delicious Fall recipe, or something to motivate you! I made you a little video to show you what to do 🙂
Be sure to check in with me daily on Facebook or tag me on Instagram @thebettyrocker #thebettyrocker to let me know you completed your day – and keep me posted on how you're doing!
---
Click the Calendar to Open and Save Your Plan!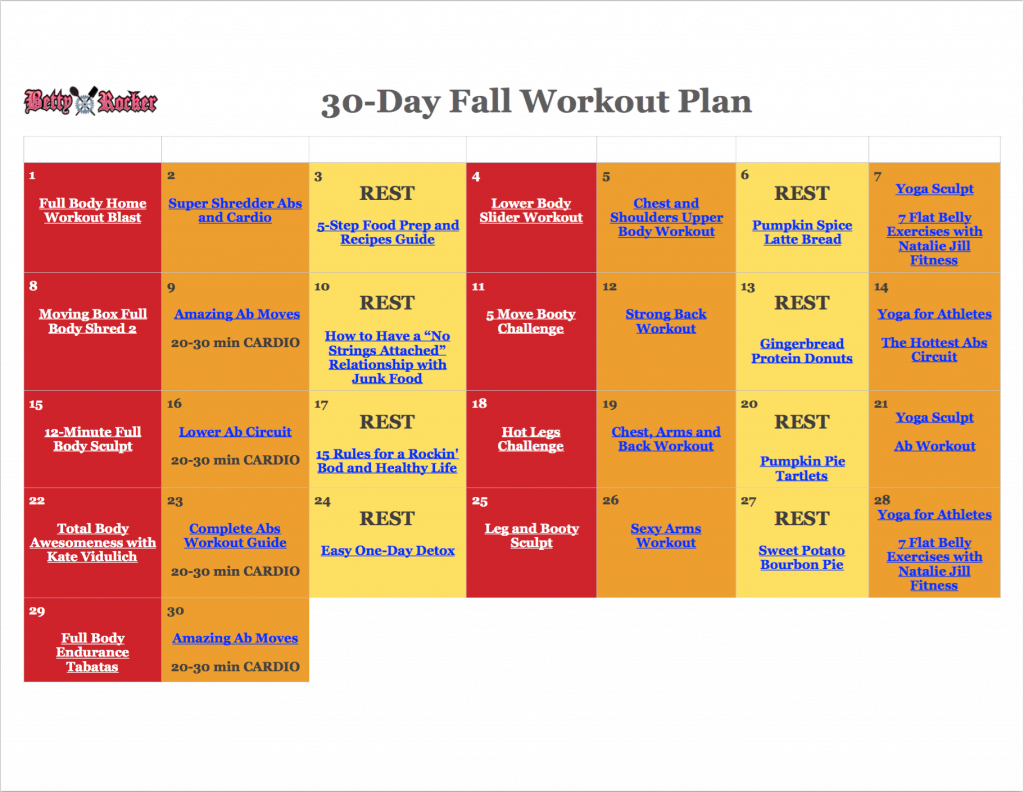 ---
How to use your Fall workout plan:
Decide what day you want to start on and label the top row with the days of the week (starting with whatever day you choose to be your day 1).
Each day there is a link to a workout or helpful blog post – click the link for the day that you're currently on and do the workout or read the post.
The first day of the week will always be a fat-burning full body workout, the second day is abs and cardio, the third day is a rest day/blog post, the fourth day is a lower body workout, the fifth day is an upper body workout, the sixth day is a rest day/recipe, and the seventh day is yoga and abs.
The yellow columns are your rest days – be sure not to skip these as your muscles need to rest in order to grow. I have included a helpful blog post or recipe for you to read and try out this fall – each recipe is a delicious fall favorite of mine 🙂
You may add in extra workouts as you like, or follow the plan exactly as it's laid out. If you want to mix it up, there are a ton of other great workouts to choose from on the blog.
Don't forget to make time to do your weekly food prep to make this workout plan work even better!
---
Want to do 30-Day Challenges with me every month, plus get support, coaching and motivation?


---
Comment below and let me know when you're going to start! Share this with a friend, and enjoy!
---