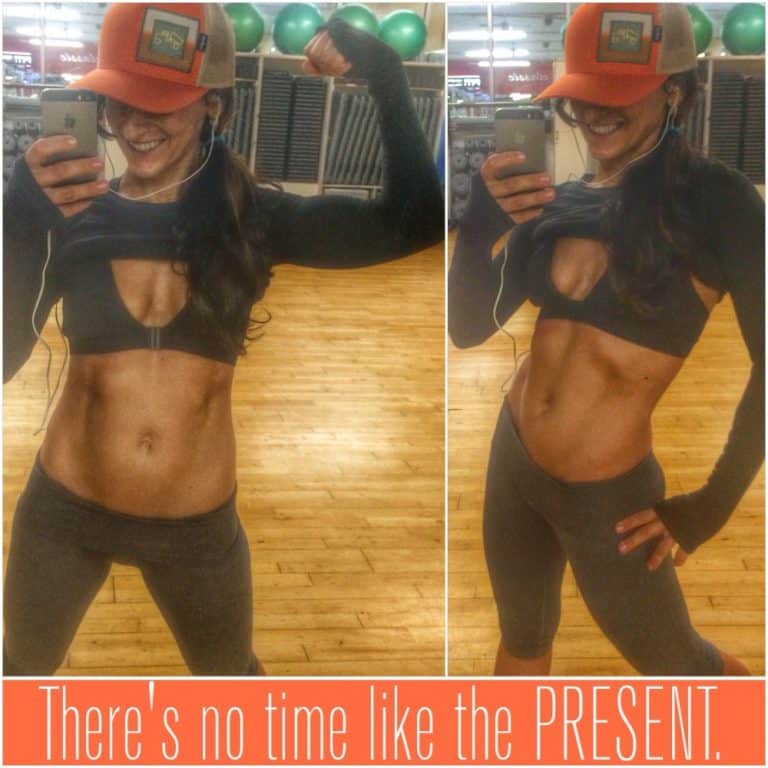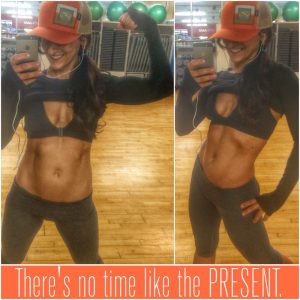 I do actually have a gym membership! And I really enjoy the energy of the gym – it pushes me to do an extra set and work a little harder than I would if no one was potentially seeing me (subconscious social pressure can be so good!).
But there are so many days that I am home, in the middle of 3 projects and the thought of spending 15-20 minutes in the car (each way) to drive to the gym just doesn't sound appealing or like an efficient use of my time.
If you're a busy person, working and keeping your family organized but still wanting to make time to be fit, I'm sure you can relate – and these special bodyweight circuits I post are for you!
Fortunately there are PLENTY of ways to get killer workouts in using nothing but your own body weight.
Last week I posted a booty sculpt circuit on Instagram and in it I asked people what other body parts they would like me to target. Lower abs was one of the most popular requests, so I am here to answer you on this today!
To really burn those lower abs, I recommend doing this ab slider sequence. Having some kind of resistance will always maximize muscle fatigue and give you faster results so I got creative today and cut up an old box to make floor sliders to give myself some resistance.
You can use paper plates or cardboard pieces on carpets, or use towels or cardboard on hard floors.
Mix and match a couple of these moves into a complete ab circuit to train the entire abdomen and core (including your lower back) or do the entire circuit as a set.
5 Best Exercises for Lower Abs
To do it as a circuit, perform 3 rounds of the prescribed amounts.
All of these moves are performed with a starting position of plank.
Plank Form: stack your shoulders above your wrists, keep your core engaged and don't let your back arch.
Try not to look down, keep your gaze slightly in front of you.
Keep your hips low for all moves aside from the pike. FOCUS on keeping your core engaged – if you were on your back, your lower back would be pressed into the mat or floor – this is the same form simply flipped over. Keep that core engaged by imagining an invisible glass ceiling that your lower back is pressed into. This will allow you to fully engage your abdominals and maximize the effectiveness of these moves – at the same time protecting your lower back.

You can come onto soft fists to take the pressure off your wrists, come down onto your elbows if that's more comfortable, and try out moves 1,2, 4 and 5 on your knees first if on your toes is too challenging. Maintain straight body lines regardless of your modification. 
10 (each side) Single knee slides
10 Double knee slides
5-10 Pike slides  (advanced!)
10 (each side) Cross over slides
10 (each side) Double knee side slides
Showing off your strong lower abs (or any body part for that matter) will not happen if there is a layer of stubborn fat covering it up. Fat doesn't "turn into muscle"- we must build strength in our muscles and shed our body fat systemically so they show.
Fat shrinks from your body in the order it goes on – so if it always goes to your belly first, that's the last place it will come off.
To systemically target fat focus on:
Performing high intensity interval circuits 1-3 times per week
Strength training
Eating wholesome, natural foods that balance protein, greens, carbs and fats the way I suggest in the 30-day Body Fuel System that comes complete with grocery lists, daily menus, easy recipes and weekly food prep – and gives you a road map to the nutrients so you can easily translate the information into your life in every way.
Thank you so much for watching today's video circuit, I really love making these videos for you and if you enjoyed it I hope you'll leave me a comment and let me know if you try it – and what other body parts you'd like me to make circuits for!