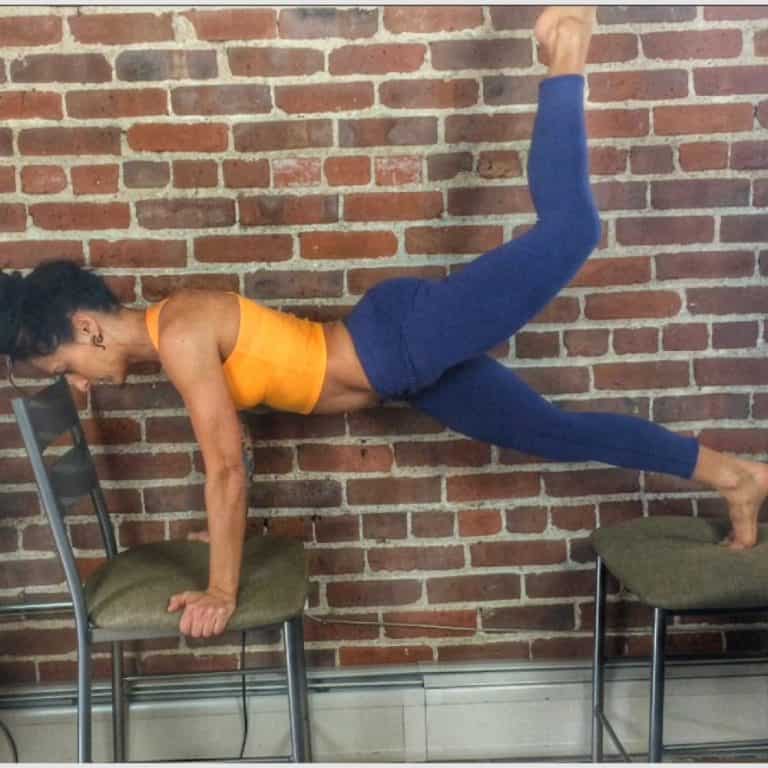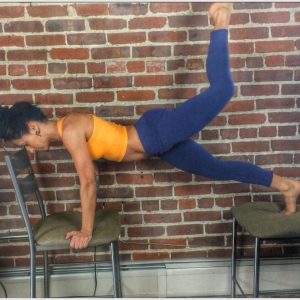 What's up ROCKSTAR!
I got inspired at home and took my booty workout up a level – onto a couple chairs!
When you try this, please make sure your chairs are secure (on a carpet or against a wall) so they don't move and so you can be safe and focus on the squeeze and not on falling!
It's just 5 moves – have fun, and comment below if you try this!
4 rounds, do each move for 1:00
1. Bridge Lifts : hold the chair back and press your heels into the other chair seat. Drop your booty down in the space between them and lift up high, squeezing those glutes. The space between the chairs will increase your range of motion in the lift, making it even more challenging!
2. Single Leg Hip Lifts: extend one leg out straight and lift and lower your hips just like you did in #1. Keep your hips square to the ceiling, don't let them roll. Keep your core engaged and don't arch your back. Do half your time on each leg.
3. Single Leg Lift Kicks: maintain a lifted bridge and straighten your right leg. Begin to lift and lower it quickly. Keep pressing through the other foot and stay steady through the core. Repeat on the other leg once you hit the halfway point.
4. Side Plank Leg Lifts: these are just an awesome bonus move for your core and outer thighs with the leg lift. It's going to feel trickier balancing up here on the chairs than it does on the floor and you'll want to work on holding that side plank before you start adding the leg lift. Don't let your hips roll forward or back, and keep that elbow stacked below your shoulder. Half on each side.
5. Booty Blasters: I love this move!!!! Get a good solid grip on the chair sides and extend to a tall plank. Drop your right knee down and to your chest, then sweep it up and behind you. Half on the right, half on the left!
Get my brand new Booty and Abs 30-Day Challenge Program! The workouts in this challenge will give you a great well-rounded workout program with an emphasis on sculpting your butt, legs and abs, help you torch fat, and save time.