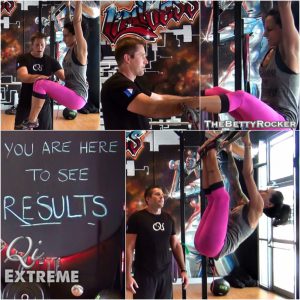 While I was in Denver last week, I dropped by to see my friend Chris Lindley, owner of Endorphin (formerly Qi Extreme) and crazy fitness junkie at his revamped Lowry location.
The Lowry studio has turned into one of the coolest places to work out in the city, with inspired graffiti covering the walls, and a huge indoor set up of monkey bars and fitness equipment.
The studio itself (one of 5 unique Qi locations) also contains a state of the art Ryder spin room – if you're not familiar with the Ryder bikes, take a look! They actually move with you while you're riding, simulating more life-like conditions and offering you a more dynamic workout.
CHECK OUT this killer AB shredding sequence Chris had me do. It's just 5 moves, you can do them on the playground or anywhere you can hang – and if you're building up to it, you can do them on the floor too!
Did you think I was going to make that last one?
I was a Qi member for years and still work out there every time I'm in Denver. I LOVE to support local business owners who care about their members, their community impact and their facilities – and Chris Lindley truly stands out with awesome classes, gyms that make you feel like you're in the urban jungle and a community vibe that always makes me feel at home.