My primary focus in training is building a balanced body, and teaching you how to do the same.
Modern life subjects us to many misalignment issues, repetitive motion injuries and stress around joints that we don't realize is there until something gives way. Sometimes that is simply because we don't use our opposing muscle groups in a balanced way. 
Often some muscles get overused, and others underused leading to strained backs, unsteady knees, torn rotator cuffs, and other types of joint pain that over time can cause big problems.
Remember a couple weeks ago when I gave you those 5 moves for  training the biceps and triceps? Our biceps and triceps have opposite actions on the shoulder and elbow, and strengthening them equally helps provide stability and balance in those  joints – and actually allows better results to occur in each muscle.
This is not just true of your arms – in fact, it's true of your entire body. Every muscle has actions – and opposing muscles with opposite actions to create stability and improve how we move and function.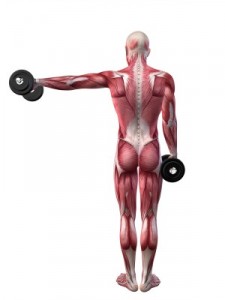 The body is smart and joint stability is key in our movement patterns. Your stomach muscles will actually NOT develop past a certain point no matter how many crunches you do if your lower back muscles (opposite to your abs) are weak.
On most people, the back muscles are very often the weakest area of the body, and that weakness causes imbalance that contributes to injury during training and prevents them from developing fully.
Strengthening your back – your posterior chain – can help you increase definition in your abs, protect you from injury in your training, lift your glutes (if you're looking for that result) and keep your torso upright and chest from collapsing.
Full Body HIIT
FORMAT:Perform prescribed reps, using desired modifications. Repeat this sequence 3 times or use 2-3 of these moves as part of a complete circuit, mixing and matching other moves from this series.
Move 1: Reverse Plank – 1 minute
This is an awesome move to target your lower back muscles and build strength in the erector spinae column – the skinny little trio of muscles that you can feel on either side of your spine. Their name means to keep the spine straight – something we definitely want to do!
You can perform this move effectively on your elbows or your hands, or elevate a leg to challenge yourself. You can also try the walking reverse plank – which if you do please keep your hips very stable, don't let them rotate.
Things to watch out for are sagging your hips – don't let them drop – making sure you keep your legs very straight, and position your elbows/hands below your shoulders.
Keep your head in an upright and neutral position.
Move 2: Dishtowel Rows – 20
Rowing is one of my favorite activities for back strengthening. It specifically targets the rhomboids (those muscles between your shoulder blades) where a lot of people say they "feel knots." What's actually happening is a weakness in these muscles that's causing the rhomboids to pull and stretch out across your rib cage, because the opposing muscles to the rhomboids – your chest muscles are overworking. This can be because of your daily activities – arms in front of you all the time, overtraining the chest and not training the back – all kinds of reasons. Work on strengthening these muscles a couple times a week and lay off the chest workouts until you build balance between the front and back of your body.
You can perform rows so many different ways. But if you're at home and you want to bust some out, just attach a couple of dish towels or belts to a railing or banister and get your feet locked in to the wall. Lean away, keeping your body in a straight line – mimicing a plank position standing, with your core engaged.
Tuck your elbows in to your sides and gently pull your scapula/shoulder blades back and down to position yourself correctly. Each time you row, squeeze with your back. This move is initiated by your back – NOT your biceps, though of course they will help.
When the rhomboid muscles are weak, or not used to firing, your biceps will want to take over. Don't let them. Squeeze the shoulder blades together before you begin each movement gently and lift through your chest. Then perform the move. You will absolutely feel these.
Vary how far you lean back for more or less difficulty.
Move 3: Trap Activator – 15
Begin on your stomach, arms stretched out at a 45 degree angle. You have the option to do these with or without weights or kitchen objects/water bottles.
Lift your torso up off the floor and bring your arms up at the same time, squeezing your shoulder blades. Lower yourself down, bringing your arms out to a T, and lift up from that position as you raise your torso again. Continue to cycle back and forth between these two arm positions.
Maintain the engagement between your shoulder blades as you lift and lower, and keep your head and neck neutral.
To make this move slightly more challenging and recruit even more back muscles, bring yourself up into a full back extension, lifting your straight legs each time you lift your torso. Keep your feet together.
Move 4: Good Morning to Chair Pose – 20
This is a fantastic move for your lower back AND your glutes. Strengthening the lower back and erector column is the real secret to seeing a lifted booty. You can train and target your glute med, min and max all day, but until you get your back involved you just won't define the shape the same way.
This move combines a slightly modified version of a well-known bodybuilding move and one of my favorite yoga poses into a flowing sequence that will really target your posterior chain. You can totally add water bottles or weights, but this move is super effective with none as well.
Begin standing, feet together. Hinge forward at the hips, bringing your arms behind you (if you're holding weights really focus on keeping your chest very open). Keep a soft bend in your knees.
As you stand, sweep your arms overhead, gaze forward, chest up and sit your weight back in your heels, coming into a semi squat. Make sure your weight is back in your heels – you should be able to lift your toes.
Hold the chair pose briefly, then sweep your arms behind you, flowing back into a good morning position. Continue.
Move 5: Wall Hold Ups – 15
This is a move I used to teach my clients to help develop and strengthen their traps. I hear a lot of people say they need to train their traps with all these crazy heavy weights, but the traps are actually a big, superficial (means the outermost layer) and very thin muscle that slightly resembles a stingray. The trapezius muscle attaches from the base of your skull out to your shoulders, and down to your mid spine and has many multi-directional fibers that act on various joints – and also help support and stabilize our rotator cuff.
Begin standing with your feet slightly away from the wall, your back pressed firmly into it – low back too – arms up and out in what I call a cactus position.
Slowly and smoothly raise your arms up on the wall, maintaining contact with the wall at your elbows, back of your shoulders AND your lower back. It looks easy, but it is very challenging – especially if you've got a tight chest that's pulling your shoulders forward.
Squeeze your shoulder blades together to maintain contact with your shoulders on the wall – this may fatigue you but that's the point.
You can also do this move laying down on the ground, it is very simple but VERY effective and can really help you achieve more balance between your chest and back.
Train for balance and strength will become inevitable.
Thank yourself for trying out these moves, and be sure to leave me a note down below if you have any questions, comments, or have a request for the next body part I target!
You can also upload pictures to the comments below which is super fun! Thanks for all of your hard work -keep it up!