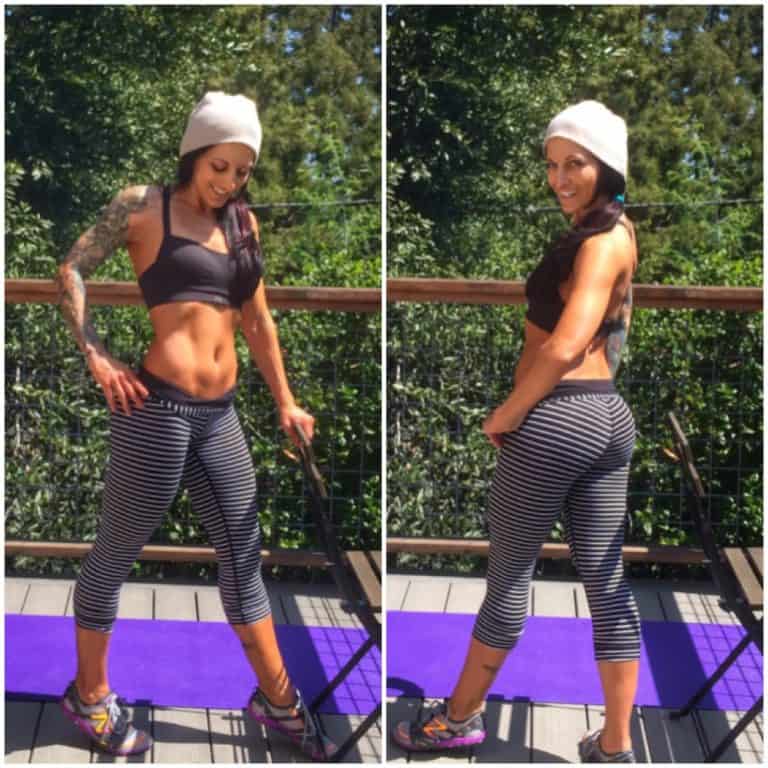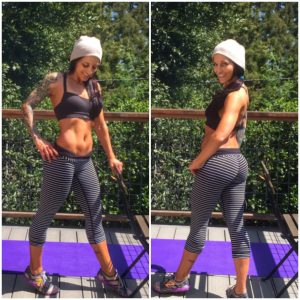 I am SO EXCITED about the 30-day Challenge!! Did you sign up? I hope you're going to be part of it! It will be a blast!
To get us all on track for a great May, I wanted to share this awesome new booty sculpting circuit I put together.
You've got 5 great moves that work the glutes from different angles.
This is a great circuit to do for fat burning as well with the In and Out Jump Squats and Box Jump Burpees.
Be mindful of your form, use my notes below to get the most out of these moves and be sure to modify wherever you need to.
Sculpt and Strengthen Your Glutes
Format:
Each move for 1 minute, beginner start with 0:30 seconds each and build as you get stronger
Repeat 3 times!
Move 1: In and Out Jump Squats
This fat burning move is simple and incredibly effective. It's a great warm up move and targets the opposing ab and adductor fibers in your glute max.
Begin like you were going to do a regular jump squat, with your feet hip distance apart. Keep your weight back on your heels and as you come into the squat, your chest lifting. Bending forward at the waist will engage your back muscles and not your glutes and quads, and can cause injury. Only squat as deeply as you can while keeping your weight back. I use a box or ball sometimes to aim my butt at – something that can really help you get your form right.
Explode up to jump and land with your feet in a sumo squat position, immediately dropping into a sumo squat. Be sure your knees point in line with your toes, and jump up again, coming down in a regular squat position.
Repeat!

Modify this by taking out the jump and stepping out to a sumo squat every other squat.
Move 2: Sumo Squat Lunges
This is a combo move that will target your glutes, quads and inner thighs. Begin in the sumo squat position. Squat down, making sure your chest stays up like mine, and your knees are tracking in line with your toes.
As you come up from the squat position, pivot yourself to the right and immediately come into a stationary lunge. Maintain your good form with your lifted chest, engaged core, and don't let your knee go beyond your front toe.
As you come up from the lunge, pivot back to center and do another sumo squat. Pivot to the left and do the stationary lunge to the left. Repeat for a minute.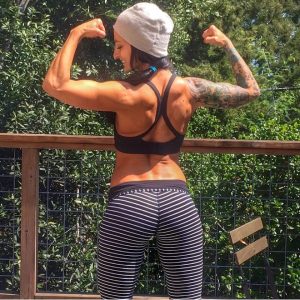 Move 3: Box Jump Burpees
One of my favorite complex moves that engages your whole body, is a major fat burner and gets your hamstrings and glutes involved.
Begin by loading your feet to spring up to a chair, box or step. Step or jump down and immediately jump your feet back behind you, coming into high plank. Stack your hands directly below your shoulders and keep your core engaged (don't let your lower back arch). Come down to a push-up, or drop your chest for a modified burpee.
Jump your feet back to your hands, load the weight back to your heels and jump back up to your box.
You can modify this so many ways – you can step up on the box one foot at a time and step down, then walk or jump your feet back, take out the push-up, whatever you need to do – just keep moving, and do as much as you can with good form!
Move 4: Split Squat Lunge with Knee
Another GREAT booty blaster, the split squat is super effective for sculpting the buns and adding the high knee pulls in some core and balance for you too.
Start with your right foot up on a chair or step – the lower the surface, the easier it will be to control. You can also hold the wall or railing next to you – I get a little wobbly when I'm really going for it, and it's good to be able to stabilize your self.
Perform a lunge with the rear foot elevated. Very important on this lunge that you press through your HEEL to maximize the booty work. As with all of our lunges, we want to keep the chest up, and the knee in line with the front toe, as well as not going beyond it. If it is, just adjust your stance to be a bit wider.
Each time you come up from the lunge, bring your back foot forward into a high knee like I am. This will be challenging!
Do 30 seconds on each leg, and pace yourself – no need to rush. These are slow and controlled to bring your heart rate down after the box jump burpee.

You can try this without the high knee if you're just starting out, or you can do the same move without the chair or elevation. It's much easier to control from a lower position. 
Move 5: 3 Point Extension on Your Toes
I do this all the time, it's a ballet warm up I used to do. Position yourself beside a chair or railing or wall. Come up onto your right toes and swing your left leg out behind you. Bring it up to a knee crunch, bringing your torso down to meet it.
As you extend out from the crunch, straighten your upper body. With each leg extension you will change the direction you extend your leg: 1 is out to the side, 2 is right behind you, and 3 is toward your midline.

Modify this by removing the toe raise to help you with balance. 
Be sure to leave me a comment and let me know if you try this workout and how you do!
music in this video: Four to the Floor – Thin White Duke Remix
pants: lululemon, sports bra: victoria's secret sport, shoes: new balance