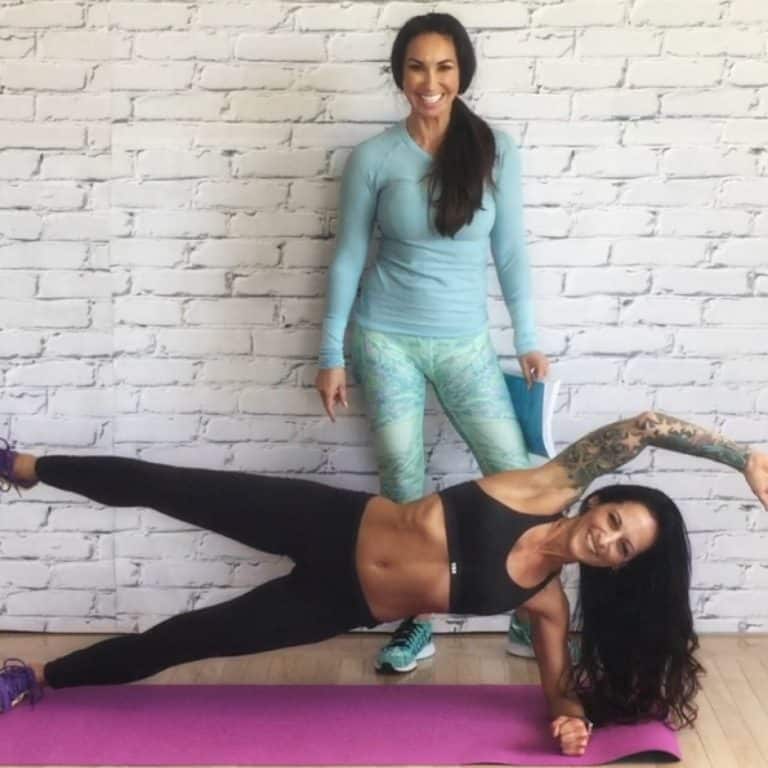 I stopped by my friend Natalie Jill's studio this week to try out a workout from her brand new book, the 7-Day Jumpstart.
Natalie and I have a lot in common (here's a link so you can check out her blog). We both love home workouts that take very little time and no equipment – this 7-minute Ab workout she put together for us today is exactly that!
She's also a total pro in the kitchen, and teaches gluten-free, allergy friendly recipes as well as nutrient balanced eating to support your body and create a healthy lifestyle.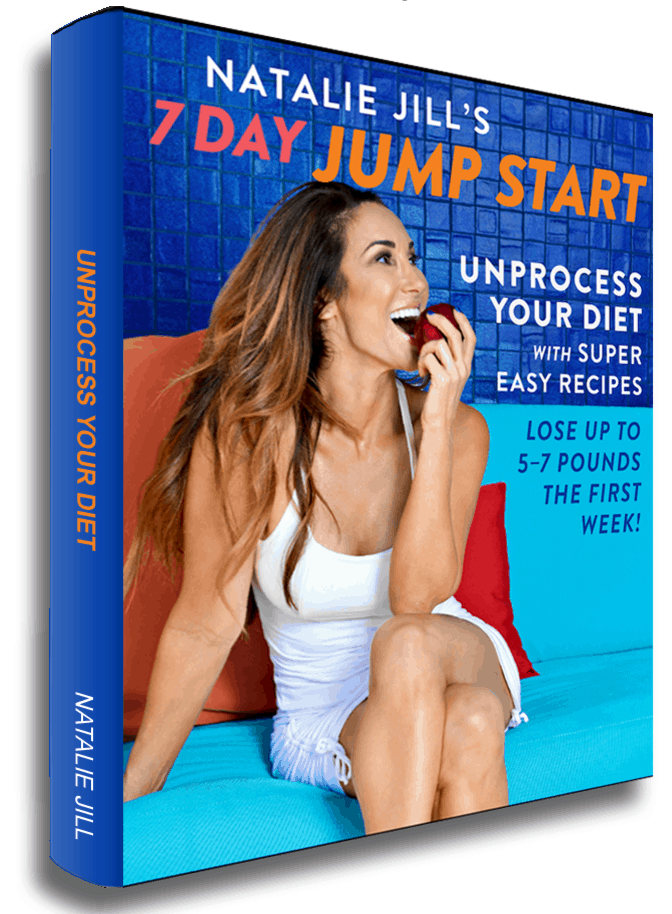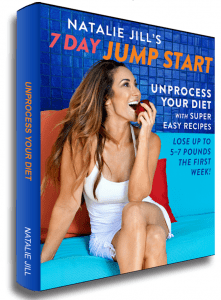 I'm so excited about her new book – she's poured the best of herself into it, and it contains great health information, recipes, motivation and home workouts!
You can pre-order a copy now (that will get you a discount AND access to over $100 worth of bonuses and free courses to help you get started!).
Try this 7-minute Abs shred with us (form and modifications shown, and feel free to use the notes down below for more help).
---
7-Minute Abs Workout
Format: Moves 1-4 0:30 each, move 5 1-4-1 with an 8-count at the end as shown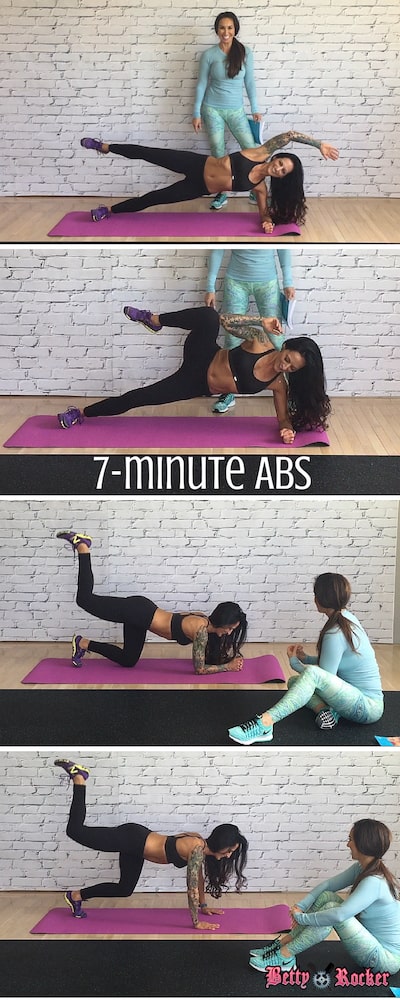 Move 1: Hand Plank with Criss-Crossed Legs (0:30 each side)
With your hand stacked below your shoulder in side plank, criss cross your feet and square your hips to the wall in front of you.
Hold a strong position with your hip lifted, and if you're feeling stable there, draw your top hand beneath you without changing position. Lift it back up and repeat.

Mod: Drop down to your elbow and/or knee to hold this position. Feel free to add in the arm reach.
Move 2: Knee to Elbow (0:30 each side)
Balance in a side plank position on your elbow. Be sure your elbow is stacked below your shoulder, and your hips are square in front of you (one hip doesn't roll forward more).
Bring your elbow to meet your knee, crunching through your side body.
Mod: Drop your bottom knee down to support your upper body.
Move 3: Glute Tricep Push (0:30 each leg)
Come into reverse tabletop with your hands below your shoulders. Lift one leg.
Dip your elbows down and back parallel, and as you press up, press your heel out and away from you.

Mod: Balance your upper body on a couch or chairback for support as needed and concentrate on the glute push. Alternately, stay on the ground in reverse tabletop and isolate the movements. Focus first on the kick push, and then on the tricep dip.
Move 4: Reverse Bridge Hold
Lay on your back and lift your hips coming into a strong bridge lift. Squeeze your glutes and press through your heels, holding the position.
To add additional challenge, pulse the knees laterally in and out, trying to maintain the upright lift.
Move 5: Donkey Ladders
Come into a tabletop. Lift your knees off the floor and donkey kick your right leg up high – pressing through the heel as though you were kicking the ceiling.
Lower down onto your forearms and come down to your knees and repeat the donkey kick from the low position.
Once you've mastered both versions, do the ladder by performing 4 high donkeys, 4 low donkeys. Then 3 of each, then 2 of each, and when you get to 1, alternate 8 times back and forth!
---
Thanks so much for doing this workout with us! Comment down below when you do this – and let me know if you know Natalie, or follow her – she's awesome!
Share this post with a friend who loves shredding her abs at home!