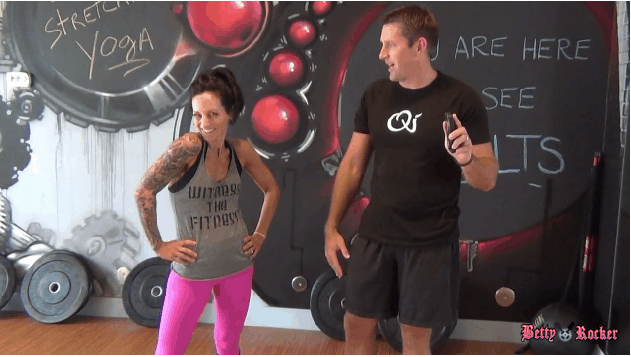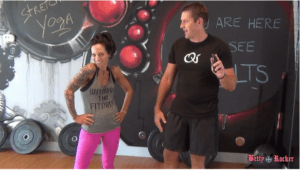 I travel back to Denver regularly and train there every chance I get – and today I wanted to give you a taste of what it's like to work out with my badass friend and gym owner, Chris Lindley (he is CRAZY!).
If you enjoy this workout and you live in Denver, check out Endorphin, Chris' newest gym venture – for a variety of strength and fitness classes!
Try this 8-minute challenge that I still can't believe I made it through, and let me know how good your leg burn is when you're done!

(High Speed Internet? Click on HD. Click the arrows to view full screen.)Timer Apps:
Chris Uses

– Ultra Trainer

Bree Uses

– Seconds Pro: use the circuit timer setting to program this into your app – adding 20 second/10 second intervals with the moves listed below. As described at the end of this video, add varying amounts of rest between your intervals. Power through as much as you can!
Tabatas are 20 seconds of work followed by 10 seconds or rest. Normally. But Chris is a BEAST and he made the 10 second rest intervals active so you can really burn it out in only 8 minutes!
Rounds 1&2:
0:20 Reverse Lunge (right leg)
Balance on your left foot and step your right foot behind you. Your left knee should not come beyond your toe. Keep your chest up and use your arms for balance as you step back and forth as quickly as you can.
0:10 Body Squat
Stand with your feet hip distance apart, weight in your heels and your chest lifted. Sit back as if you were going to sit down on a chair, keeping your back straight and bring your thighs parallel to the floor. Stand back up and repeat.
Rounds 3&4:
0:20 Reverse Lunge (left leg)
0:10 Body Squat
Rounds 5&6:
0:20 Reverse Lunge Hop (right leg)
Perform the same motion as the reverse lunge, but add a hop as you come back up. Land softly. Pay attention to your bent leg and maintain that good form, not allowing the knee to go over your toes. You don't need to hop high, but the added explosion will have an effect!
0:10 Mountain Climbers
Come into tall plank, wrists stacked directly below your shoulders, lower back pressed up to engage your core. Don't let your back arch. Keep your hips down and begin to run your feet, bringing your knees to your chest.
Rounds 7&8:
0:20 Reverse Lunge Hop (left leg)
0:10 Mountain Climbers
Rounds 9&10:
0:20 Race Block Starters (right leg)
Come into a runner's lunge with you right leg straight behind you. Keep your hips down (you'll see how as I get tired my hips come up). Bring your right foot up to touch your left heel as quickly as you can. Maintain a strong solid plank alignment with your upper body.
0:10 Plank Hold
Place your hands on the ground below your shoulders and engage your core by pressing through your lower back. Do not let it arch. Straighten your legs and hold a straight line with your entire body. Allow your gaze to rest slightly in front of you – not down.
Rounds 11&12:
0:20 Race Block Starters (left leg)
0:10 Plank Hold
Rounds 13&14:
0:20 Forward Kick, Reverse Kick (right leg leads)
Stand in a fighting stance, hands in soft fists up by your face, right leg slightly behind your left and a soft bend in your knees. Kick your right leg up in front of you. As you put it down, kick your left leg behind you as if you were kicking a door shut after walking into a room. Chris will yell, "kick the door, close the door" because this visual helps your body know exactly what to do when you're moving fast.
0:10 Fire Hydrant Kicks (right leg)
Come down to tabletop on hands and knees. Bring your right knee up and out to hip height and kick it out. Keep your hands and shoulders in line and balance your weight between your two hands and stabilizing knee.
Rounds 15&16:
0:20 Forward Kick, Reverse Kick (left leg leads)
0:10 Fire Hydrant Kicks (left leg)
---
Looking for a Workout Program to help you be the fittest, strongest, leanest version of yourself, all in the comfort of your own home?