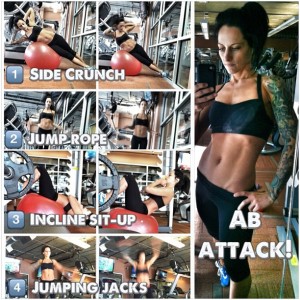 **Just added a bonus move to this sequence that you can try**
I used to think that the only way to get my abs looking really good was to do 5 different exercises each time I trained them. While doing multiple exercises is effective when you're targeting the various ab layers, you can also be extremely effective focusing on just 2 – and adding a cardio piece to superset them.
To really attack my shredding goals, I like to add a plyometrics (explosive movement) move to each of my ab exercises. When performing each movement, I really focus in on the muscles I'm using and imagine them working. This is one of the most effective techniques in seeing results fast.
To make this workout extra awesome, I broke it into 2 supersets and repeated each one 4 times. Let me tell you, even 2 hours post-workout I am still feeling the burn!
Superset 1

15 side crunch (each side)
125 jump ropes or time for 1:00
Superset 2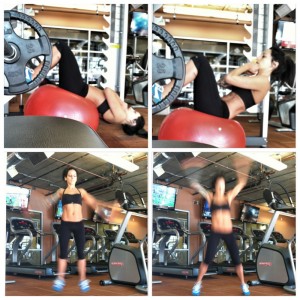 15 incline sit-ups – now what I am doing in the picture is a modification because the gym I was at today doesn't have an incline bench. I think these are actually harder because of the balancing component!
To set it up, drop the bar down to where you can sit on the ball and get your feet hooked underneath. Balance your butt on the ball and keeping your core engaged, your fists under your chin (to align the neck) lower down as far as you feel comfortable, then sit up. Slow and controlled, exhale as you come up and really squeeze your core. Don't round your back. You'll want to play around with the ball position a bit – don't worry you can do it!
50 jumping jacks. Fast!That's it!
I always like to start a workout with core moves to warm up my body – and I have a hard time doing them at the end when I'm tired. Success strategies!
Then go home and make a green smoothie!! Crush it!
**Bonus Move**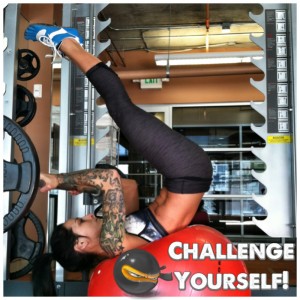 What are your favorite ab moves?
Ready for more?
Grab the Hot Abs Workout Guide so you have fresh ab workouts every week to sexy sculpt your abs!
Video Demos, Printable Follow-Along Guides, Form Notes, Modifications and More!