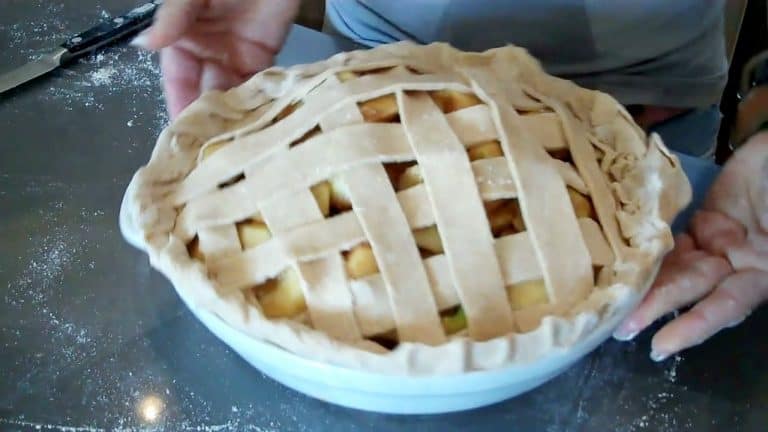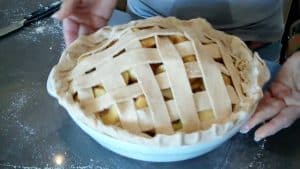 When I was about 10, my amazing grandmother took the time to hand-write a cookbook of family dessert recipes for me.
She left room at the end for me to write in my own recipes, and I have my favorite apple pie and pie crust recipe in the back of her book.
I've adapted many of our family recipes to suit my alternative diet – I am lactose intolerant, and generally do wheat and/or gluten free.
Today I'm making a dairy-free piecrust, with Earth Balance buttery sticks.
It's also wheat-free, since I like to bake with spelt flour (spelt isn't gluten-free – in case you have a specific allergy but it is lower in gluten than wheat).
Halden Wofford and the Hi-Beams are playing some great honky-tonk tonight in Denver, and I'm taking my good friend the singer some pie when I go to see them later. Enjoy the show, and here's the recipe.
Pie Crust (for double crust pie)
2 cups spelt flour
1 tsp salt
½ cup Earth Balance buttery sticks
1/3 -1/2 cup cold water
1. Mix flour and salt together in a large bowl.
2. Cut chilled butter into the flour mixture and evenly mix together with a pastry cutter until it appears uniform in texture.
3. Slowly add cold water, while simultaneously mixing with a fork until the dough just sticks together, but is not sticky.
4. Form into two even sized balls, and roll one out to line the pie plate.
5. Set the other aside for later.
 Apple Pie
5-7 apples, pared
¾ cup sugar – half brown and half white
Dash salt
2 T flour
1 tsp cinnamon
¼ tsp nutmeg
1. Pare apples.
2. Mix dry ingredients together, and slice apples into the mix in bite-size, even pieces.
3. Toss together until evenly mixed.
4. Pour into an unbaked pastry-lined pie plate.
5. Roll out top crust, and slice the dough evenly in ½ inch strips.
6. Alternately lay strips over apples, forming a lattice. Trim the edges of the dough so there is a uniform amount of crust around the entire pie.
7. Roll up the edges, tucking them in along the rim of the pie plate.
8. Crimp the edges of the crust using your thumbs and index fingers.
9. You can sprinkle a little sugar on top of the pie, or bake it without.
10. Bake the pie for 10 minutes at 400, then reduce the heat to 325 and bake for another 30-40 minutes, or until the crust has browned and the pie filling is bubbly.
Nutrition Facts
Calories per Serving:

355
8/21/14 This was one of my first videos 🙂 my hair is so short, and I was wearing a lot more makeup than I do these days haha!
No matter how I have worn my hair or makeup over the years, one thing never changes: I love to bake and feed my friends.
You can make a killer traditional pie crust by swapping out for a couple ingredients like these, though these days I'd be less inclined to use the buttery sticks and more likely to just use real grass-fed butter or coconut oil, coconut sugar, and I'd look for sprouted spelt flour (it's easier to find than it's ever been).
But this is a great pie crust recipe.