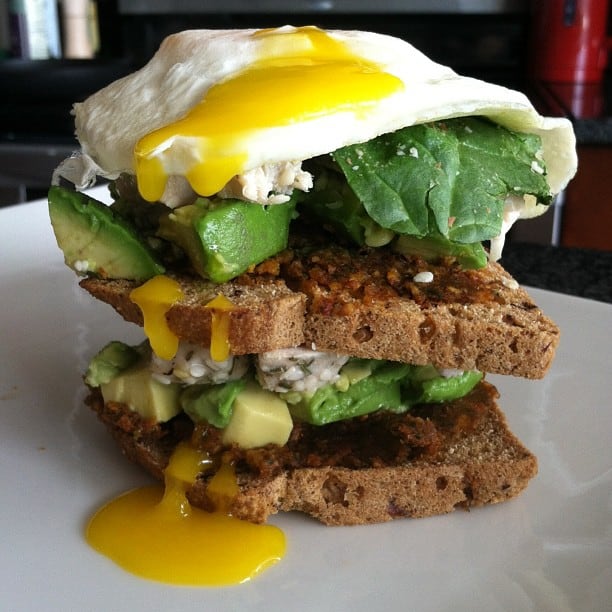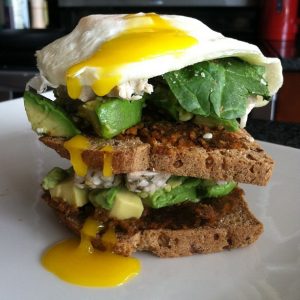 Pesto Egg Sandwich Stack
I'm eating this right now!
If you have a massive appetite perhaps it is protein stack sandwich time!!
Here's what's on this beast:
2 slices Paleo Bread  – a new bread I'm trying out that I picked up at my local co-op here in Austin – you can order it online if you can't pick it up locally, and I have to say I highly recommend it.
I'm not Paleo, but this bread is gluten-free and made with quality ingredients that I have in my own kitchen – water, almond flour, coconut flour, egg whites, psyllium (a fibrous seed that aids in binding), apple cider vinegar, baking soda
It held up beautifully on the sandwich, and was amazing toasted! Check out Julian Bakery online, and look for them near you!
2 T home-made Sundried Tomato Pesto (recipe is in week 3 of the Body Fuel System – but you can get more of my pesto recipes right here )
Avocado
Sesame Herbed Turkey or Chicken bites (just swap out the hemp seeds in that recipe for sesame seeds)
Spinach
1 egg (lightly fried in olive oil)
I definitely recommend eating this with a knife and fork! Absolutely delicious!