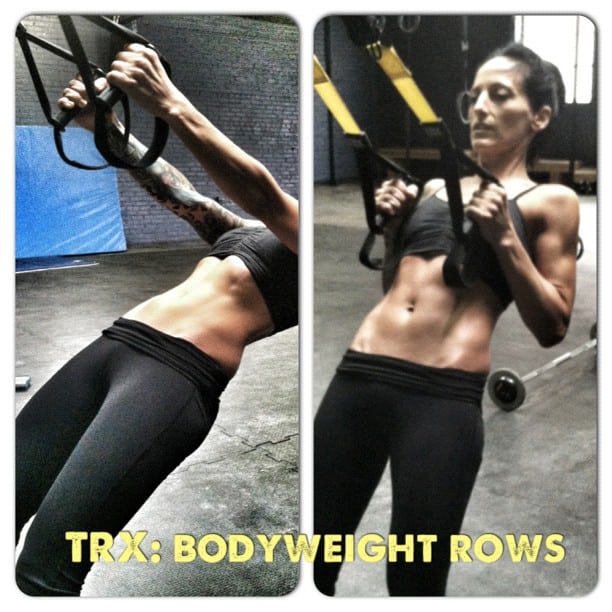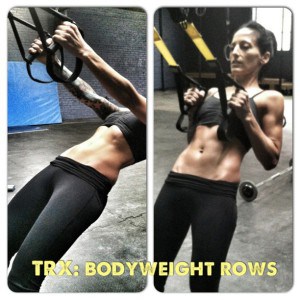 Back day today. Have you tried a TRX? It's an awesome system, great for all kinds of bodyweight exercises like these bodyweight rows.
The deeper the angle of your body, the harder they get.
Don't neglect your back training.  One of the most common injuries I've treated as a structural alignment practitioner has been rotator cuff injuries.
Know why? Because we use our chest and forward movement muscle groups for everything – causing them to develop and get more wear and tear than our back muscle groups.
The tighter and stronger those front muscles get, the more they pull our bones and joints forward and out of alignment.
The most common complaint I hear about back pain is that it hurts between the shoulder blades. This is often a sign of weakness in those muscles – NOT tightness or knots. Which is why rubbing them doesnt make it better – though it will make it feel good temporarily by increasing blood flow.
Strategically training your back muscles – and I'm talking about your rhomboids (between your shoulder blades), your trapezius – or traps – your erector spinae column (long chain along your spine) the more support and balance you will give to the front of your body, the less pain you will have and you will decrease your risk of injury!
Don't forget about your lower back muscles – they're just as important to keep strong and stable. In fact, training the entire back will not only benefit you in your alignment and help prevent injury, it will also improve the appearance of muscle groups nearby – hint, hint – the glutes.- That's right, strengthening your back muscles will help lift and sculpt your butt muscles because of the connective tissue that runs between your back muscles and pelvis. Just an added bonus!
Whenever you're lifting anything, I want you to focus on engaging your back muscles, lifting your chest, and setting the head of your arm bone in the shoulder socket by mindfully pulling your shoulder back and down slightly. This will help you maintain a solid foundation and prevent common rotator cuff injuries while you train your back.  I also keep my core lightly engaged to protect my lower spine as well.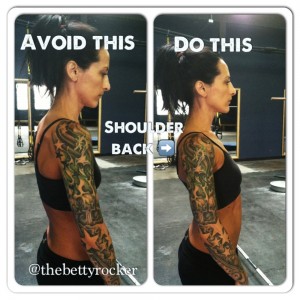 Here's a back strengthening sequence I do:
1. Back extensions
—>This is for your lower back primarily. You can do them on a special machine that holds your legs in place and bend forward, engaging your core and lower back muscles as you come up, or you can position yourself on your stomach on a stability ball, your feet on a wall and slowly lower and raise your torso.
These next 3 moves are all row variations. I include them in my workouts regularly.
2. One-Arm high rows
—>Use a cable machine and set it up so you're reaching above your head and pulling the handle down to your side. Set the weight so you can do 10-12 reps.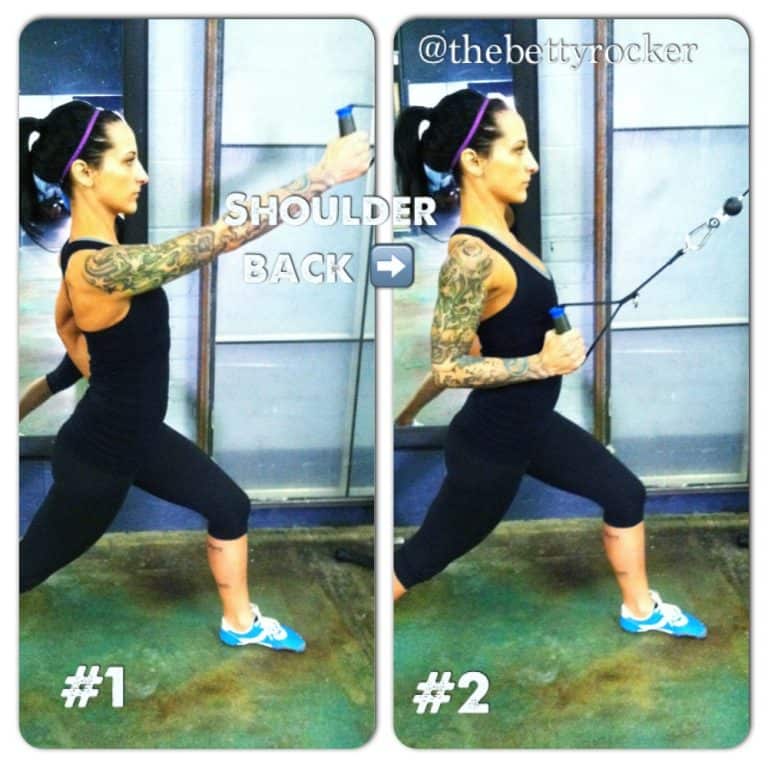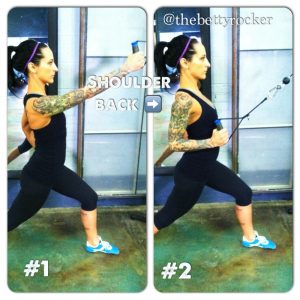 3. TRX or rings bodyweight rows – see top picture
—>The steeper the incline of your body, the harder these will be. Pay attention to lifting your chest and engaging your shoulders and back. Keep your core engaged and your legs and torso straight as you lower and lift yourself. Focus on the back muscles as you pull up, squeeze the shoulder blades together.
4. Wide-grip straight row
—>Stand with your legs slightly bent to protect your lower back and engage your core. Set the height of the cable so you can pull the bar directly to your lower chest as shown. Keep your shoulders engaged and focus on the back muscles.
5. Reverse cable or band flyes
—>You can do this one arm at a time or two. Use the same stance as the previous exercise to protect the back. Lift your arms up to shoulder height and slightly bend them (like you're hugging a tree) to begin. Grip the cables or bands and slowly open your arms wide, straightening them as you come out. Keep them up, don't let them drop.
Use a weight that is easy enough for you to do 10-12 reps for each exercise, and repeat them 3-4 rounds. Either incorporate into a circuit or do them as a complete set on their own.
To really maximize your back strengthening and eliminate back pain, add this chest stretch to loosen up the muscles that are commonly the most tight and overused.
Check out TRX systems – I have one in my house and it's AWESOME!
***If you're on Instagram, you can follow my workout posts and food of the day @thebettyrocker