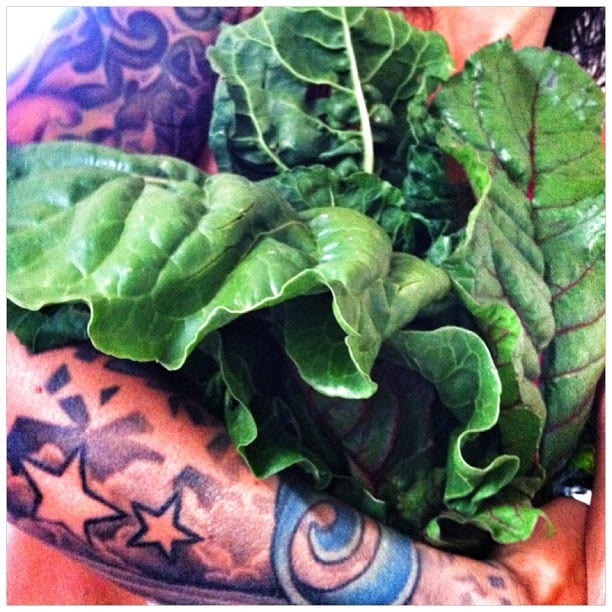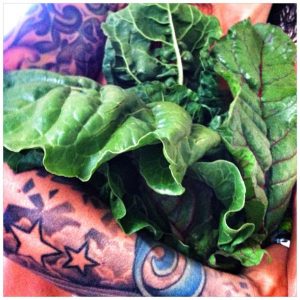 Beauty Secret #357: Swiss Chard
Back in the day when I was a teenager (before I had status and before I had a pager) before I learned about how amazing all of the different greens were for me, I was kind of stuck on eating spinach.
If it didn't come pre washed in a bag it seemed like a lot of work, and I think I was kind of just unsure of how to prepare other kinds of greens. If that's you, let's talk!
Spinach is awesome, keep eating it. But greens like Chard are amazing and it's important to include a broad spectrum of leafy greens in your diet to access all the phytonutrients and keep your cells infused with awesomeness.
#NERDALERT
Chard has:
13 polyphenol antioxidants, it is a blood sugar regulator (due to a flavonoid called syringic acid), contains betalains – antioxidant, anti-inflammatory and detoxifying phytonutrients.
Chard is a member of the chenopod family (which also includes beets, spinach and quinoa – can we say SUPERFOODS) that contain red and yellow pigments that have wondrous impact on the health of our nervous system.
Can I say again: FOOD IS MEDICINE!!
I eat Chard raw in smoothies, but also enjoy it lightly steamed (3 min, thicker stems removed). Along with spinach, chard contains oxalic acid, a natural acid that imparts a sharp taste and in high quantities can interfere with calcium absorption.
Steaming or lightly boiling your chard (or spinach) will reduce the oxalic acid content and bring out the sweetness in the greens – but levels are not high enough to be overly concerning if you're eating a balanced diet that includes calcium. I just wanted to share that interesting little fact!
It doesn't matter how you prepare them, just EAT YOUR GREENS!!
1. Sautee in coconut oil with minced garlic.
2. Steamed with walnut oil, a little celtic sea salt and almond slivers.
3. RAW in a green smoothie. Green Smoothie I make with Chard: 2-3 large leaves (stems removed) 1/2 cup baby kale, 1/3 cucumber, 5 strawberries, 1/2 cup raspberries, 1/2 orange, 1 T coconut oil, 1 inch fresh ginger (peeled), 1 scoop raw protein powder, 1 cup almond/hemp/coconut milk.