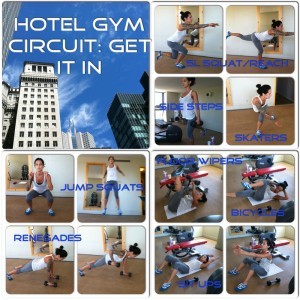 I recently went out of town for a week and it was awesome!
Every time I travel, I get new inspiration from having a different place than I'm used to to exercise.  It makes me more creative and keeps things interesting. I love the opportunity to meet and connect with other fitness enthusiasts, workout in new places and test myself in a new environment. I'm always reinvigorated when I come home, familiarity can breed a little boredom and we can't have that!
On this trip (to San Francisco) I stayed in a hotel, then a house outside of the city, and one night ended up someplace unexpected (woo-hoo! Adventure!). I got a workout in 4 days out of the 6 I was gone, and it wasn't as hard as you'd think! Here are the workouts I did while I was on the road this week. Write and let me know what you do to keep yourself in shape and inspired when you're traveling!
Workout #1: HOTEL GYM CIRCUIT
I stayed in a hotel for a couple days in Japantown (San Francisco), and they had a tiny little gym. I put a circuit together to utilize the equipment they had.
I like my circuits fast and nonstop to keep my heartrate up – and I run through it 3-4 times. No weights in your hotel gym? No problem – I added a variation for you.
HOTEL GYM CIRCUIT:
1. 8-10 per leg: Single leg Squat – Reach
keep your weight evenly distributed over your standing foot, engage your core to stabilize your hips and squat. Stand, and without touching down, straighten the back leg and reach forward with your arms.
2. 20 Jump Squats
drive up with your hips and land softly.
3. 12-15 each leg: Side step ups on bench (hold dumbbells)
keep your chest open, shoulders back. Stand beside the bench, and step up and down with control.
*no weights? Do the step ups, but add a high kick or a knee raise and go fast!
4. 10-15 each arm: Renegade Rows
keep your core engaged. this is a plank first and foremost, so keep good plank form as you row one arm up at a time. Keep your hips down and pay attention to where you plant your weight down each time – stay in line.
*no weights? Do pushups or burpees
5. 15 each side: Skater Lunges
get your heart rate up! reach to your side with the opposite hand each time you step. go fast.
6. 20 Floor Wipers
engage your lats while holding 2 dumbbells over head (bodyweight option -do leg lifts). keeping your legs straight, lift your legs up to one side, then down, then back to the other side. That's 1.
*no weights? keep your arms at your sides and do leg lifts with hip raise.
7. Bicycles
I do these with the straight leg just barely off the floor for extra challenge, and I go slow for maximum burn. don't pull on your neck.
8. Sit ups
engage your core by pressing your lower back into the ground. try to hold that position as you come up. I do these fast.
Workout #2: Find a Bootcamp or group class and sign up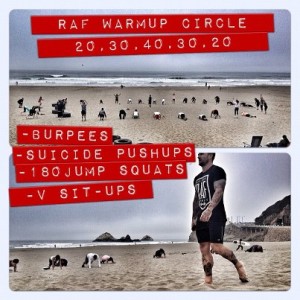 I found out about a beach bootcamp workout that was happening in San Francisco with traveling trainer extraordinaire K-Mae Cags from Rise Above Fitness, signed up online and got one of the best total-body workouts ever, plus met some great people. We were flipping tires, doing sprints to the beach, working in teams and racing madly across the sand to destroy the competition. Badass.
Another option – if you're a crossfit junky (or even if you're not) you can locate a crossfit gym anywhere in the world using this handy little crossfit affiliate gym locator: CROSSFIT MAP
Get creative and google "bootcamp workouts in" your city or location to get your sweat on – trust me you'll have fun, get a great workout and meet new people.
Workout #3: Go for a run in the mountains, on the beach or in a nearby park
I stayed out in the suburbs for a couple nights, and there was a beautiful mountainous park nearby. I went out for a trail run. It's really awesome running in a new place, feels like an adventure!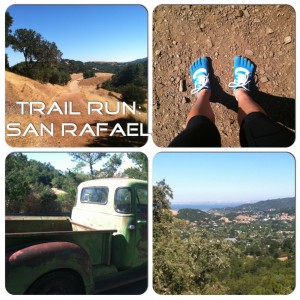 Workout #4: ANYWHERE WORKOUTS
Utilize my Anywhere Workouts videos for bodyweight workout circuits you can do anywhere you are, with no equipment!
Workout #5: Sign up for Virtual Training sessions
No time to get out of your hotel room, or options limited in the surrounding vicinity? Try using a virtual trainer, a fitnes app, or get some online coaching.
Here are a few hot online training options:
Wello – get your own customized training sessions with this 2-way training video workout program
Shape Travelista – great little app from Shape Magazine with handy workouts you can do using water bottles and other stuff you'd find in your hotel room
Spark People – generate your own customized workout with this handy little program that allows you to tell it how long you want to spend, what equipment you have and what part of your body you want to work
Crossfit Travel App great travel app that will generate crossfit workouts that don't require equipment to keep you in shape for your next one