This workout hits your core and glutes hard. I go for 10 reps on these with heavier weight to really increase muscle growth and maximize fat burning. I like to have defined legs and glutes that look muscular, but still have that lean-body look. To really get definition and see your effort in the gym pay off, go for heavy weight one to two times per week.
Beginners should stick to lower weights to build strength and go for 3 rounds. Advanced should do heavier weight and try for 4 rounds.
4 Rounds:
10 R/L Forward Reverse Lunges with dumbbells – I use 2-20's
-this is a move I incorporate in my workouts every week. It's my favorite booty-definer!
1.Begin standing, holding the dumbbells at your sides.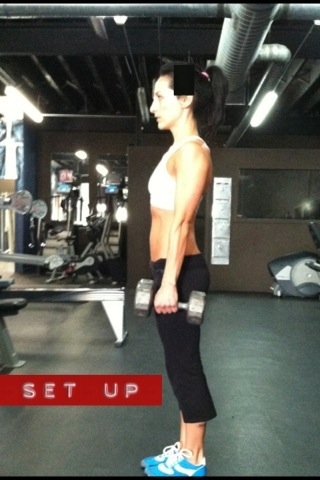 2.Lunge forward with your left leg, making sure your knees are straight and not coming in front of your toes. In one smooth motion, step your left foot behind you into a reverse lunge allowing your right knee to bend with the same good alignment as you had before.
10 Ball roll-outs
-this is an advanced move that targets your hamstrings, glutes lower back and abs, and you'll want to pay very close attention to your form.
Ball roll-outs:
1.Set yourself up with your feet in the lat machine, and a ball in front of you.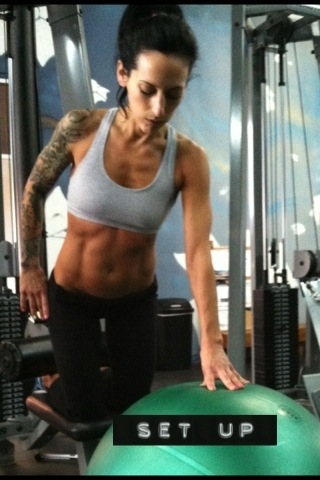 2.Use your core strength to lower your torso to a straight position. The ball is there as a guide, as you increase strength you will need to rely on it less and less. Keep your back straight and your core engaged. Once you are straight, use your hamstrings and back muscles to raise yourself back up straight.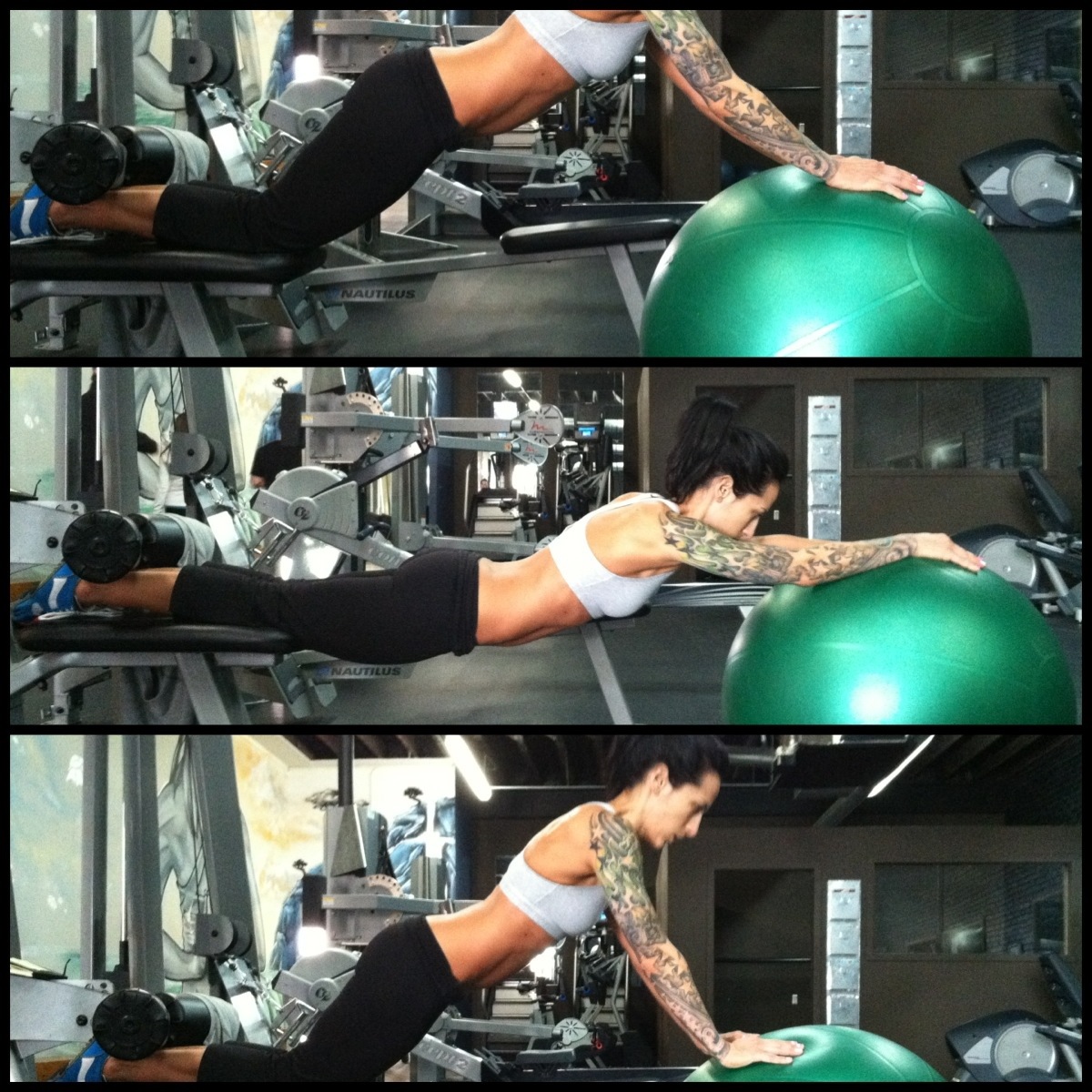 10 Renegade rows with dumbbells – I use 2-15's
-begin in a plank position holding two dumbbells. Be sure to keep your wrists in line with your shoulders and don't allow them to come forward or back of your chest. Keeping your hips as stable as possible, engage your back muscles to row one arm up, then the other.
10 Sumo squats – I started with 70lbs and upped it to 95, which is close to my body weight
-sumo squats target different glute fibers than regular squats as well as your adductors, or inner thigh muscles that support your core. For this one, remember to use good squat form, and be sure your knees are tracking the same direction as your feet.
10 R/L side-side hanging knee raises
-these are hard and really define your lower abs and obliques. Hang from a bar and raise your knees to one side, then the other. Don't let your legs straighten completely during the exercise.
10 Incline situps – weight optional – I use a 5 or 10lb plate
-the incline sit-up machine is not my absolute favorite, because it's easy to rely on other muscles when performing the crunch up. To really isolate your upper abs, begin each upward motion with your core engaged and your lower back slightly pressed into the pad. It's more effective to get your form right on this one with a lower incline than go for the super steep incline with bad form.
Ready for more?
Grab the Hot Abs Workout Guide so you have fresh ab workouts every week to sexy sculpt your abs!
Video Demos, Printable Follow-Along Guides, Form Notes, Modifications and More!