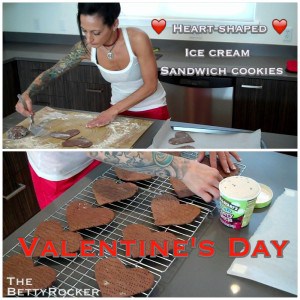 *Happy Valentine's Day from Betty Rocker. This was the very first Betty Rocker video I ever made, and it was inspired by a breakup I had just before Valentine's Day in 2011.
I had this big plan to make these cookies for my guy, but it wasn't to be.
Instead of giving up on Valentine's Day, I made them anyway to share with you, and with a couple of friends who you'll meet at the end.
Never give up on love 🙂 It's all around you.
And yes, I am a total dork. And I love you for watching.
-XO

Chocolate Cherry-Garcia Heart Shaped Ice Cream Sandwich Cookies
2 ¾ cups spelt flour (extra for rolling out the dough)
**to make these gluten-free, you can try using one of my gluten-free flour blends – I'm not making promises though, because I haven't tested this yet! 🙂
½ cups good quality cocoa powder
2 ½ tsp baking powder
¼ tsp salt
1 ½ sticks Earth Balance buttery sticks or butter
1 ½ tsp vanilla
1 ½ cups sugar
2 large eggs
1 tablespoon vanilla almond milk
2-2 ½ pints Cherry Garcia frozen yogurt
PART 1
1. Sift flour, cocoa, baking powder and salt in a medium sized bowl and set aside.
2. In a large bowl, cream butter and sugar.
3. Beat eggs and add vanilla and almond milk, then beat into the butter and sugar.
4. Using an electric mixer, gradually add the flour mixture to the butter and sugar mix. You may need to scrape the sides of the bowl with a spatula to incorporate everything.
5. Once the dough is fully mixed, divide it in half and shape each half into a flat disc. Wrap it in plastic or a freezer bag, and chill it in the refrigerator for an hour.
PART 2
1. Roll out the dough on a floured pastry surface to 1/8 inch thick.
2. Use a spatula to unstick the dough every few rolls of the rolling pin, as it will be very sticky and this will save you later from ruining your heart shapes.
3. If you have a heart shaped cookie cutter, you can cut your shapes out with it, or you can make one with a piece of paper. I used a paper plate because it was rigid enough to work with multiple times. 4. Use a spatula to transfer your dough hearts to a parchment-lined cookie sheet, and chill the hearts in the refrigerator for another 30 minutes.
PART 3
1. Preheat the oven to 350 F.
2. Prick holes over the chilled cookie surfaces with a fork, and pop in the oven for 12-15 minutes.
3. Cool on a wire rack.
4. While they're cooling, take out the frozen yogurt and let it warm up a bit.
5. Pair up the hearts and turn face down to spread evenly with frozen yogurt.
6. Top with the matching cookie, and put in a container to store in the freezer until you're ready to serve them.
Valentine's Day Musings from 2011
Let's face it – living in America, we waste tons of things every day. Is time one of the things you really have so much of that you can afford to throw it away? When it comes to relationships, assessing if you're in the right one could save you a whole lot of time – time you could be spending doing about a million other things.
As Valentine's Day rolled around again, I contemplated how glad I was to have had the opportunity to end my last relationship just 3 days before the "day of love." I was trying so hard to make it be the "right" relationship I lost sight of some important things…including: when it works, you're not the one doing all the work, and if you keep waiting for something that you think might happen, you could be spending your time with someone who it's happening right now with – including your awesome friends, your family, or pursuing your own passions – and leave space for that "right" person to find you.
**You'll notice that this recipe isn't really gluten or dairy free like most of my other recipes. Two years ago, I hadn't quite stopped eating them. Experimenting with different flour like spelt (which is lower in gluten than wheat) and butter alternative was where I was at in my food adventure.
We all have to find what works best for us, and there isn't one right answer. Never forget that food should be fun, and there are an abundance of great options that are good for you. Really being healthy means you let yourself experiment, find joy and balance in the process and make wise decisions based on your goals.
I've tried a lot of different things, and have the least amount of tummy trouble these days than I used to eating gluten and dairy free. On some occasions what matters most is the moment – and the food can really make it extra great. So don't worry so much about the details on Valentine's Day, and just have fun with food, and the person or people you love!