Raspberries and chocolate were made for each other.
I was actually unpacking my kitchen and spilled a bunch of cacao nibs on the counter – right next to the raspberries I had just gotten. Oh, happy accident!
I started stuffing cacao nibs inside of the raspberries because they looked like just the right size, and I have to say you're lucky I stopped to take a picture because these suckers are so good, they go down fast!
I was completely entranced with how the sweetness of the raspberries was just enough to make that raw, unsweetened chocolate really taste extra chocolatey, and the combination of textures was just awesome.
You bite through the juicy berry and then there's this nice silky crunch with the chocolate. Uh-mazing.
Ingredients:
1 cup fresh raspberries
2-4 T cacao nibs
Method:
1. Rinse berries.
2. Hold a berry gently and insert a pinch of cacao nibs into the center. Pack in with care.
3. Distribute on a plate with the tops facing up and garnish with a few cacao nibs.
Benefits
Raspberries are a TINY POWERHOUSE!!
They're high in manganese, vitamin C and fiber, vitamin K, folate, omega 3's, copper, vitamin E and copper.
Fully ripe raspberries provide significantly higher antioxidant support than not quite ripe ones.
Research has found that the metabolism in our fat cells can be increased by the phytonutrients found in raspberries (this does not mean eat them by the bucketful lol just that they are an excellent fruit to include)
Cacao nibs/Cacao/Cacao powder :: cacao is unrefined, raw chocolate.
You won't always find it at every store. It is a rich source of antioxidants, magnesium and fiber, and moderate amounts of caffeine.
Look for cacao alone on the food label, and give preference to brands that also say "cold pressed" "milled at low temperatures"and include the USDA organic label to ensure optimum nutrient benefit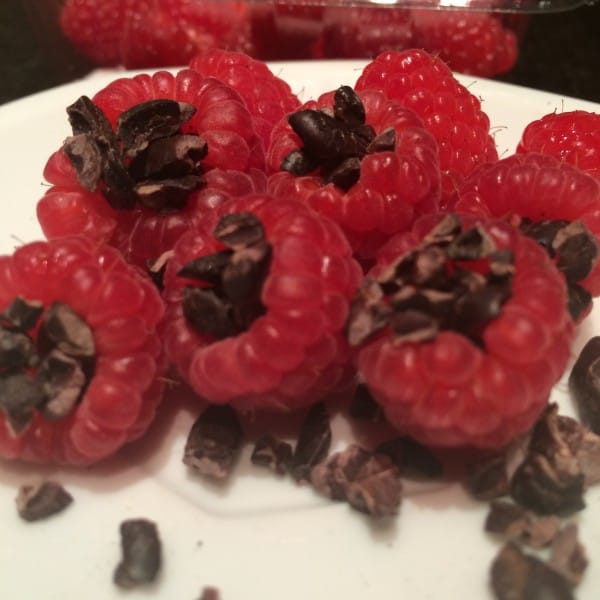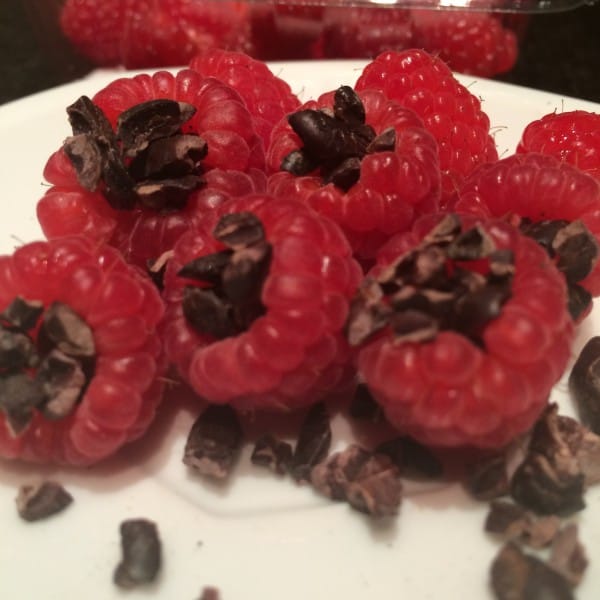 Let me know if you try this and what you like to do with raspberries and chocolate in the comments!
---