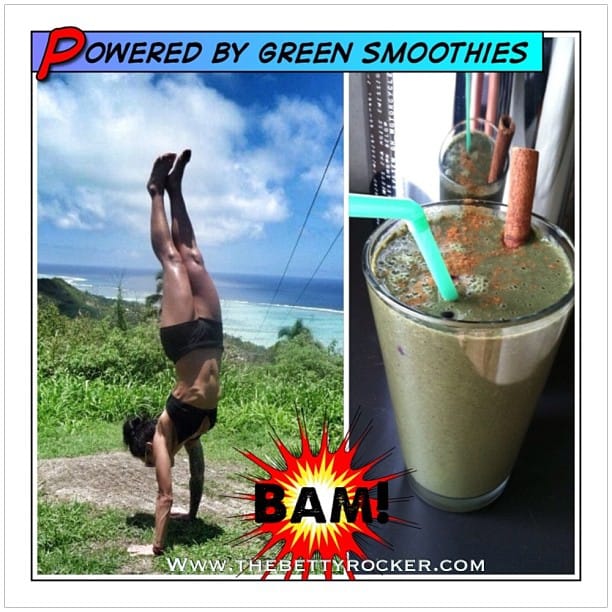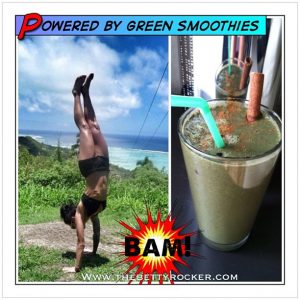 The power of greens can inspire greatness!!
So this cinnamon stick might look like a pretty garnish but if you're familiar with my green smoothies, you know I use spices a lot in them.
It's not just to make them palatable, it's actually because spices contain powerful health-boosting compounds and nutrients.
For example, cinnamon can help lower blood cholesterol, help regulate blood sugar (helpful for weight loss), can alleviate headache and migraine symptoms, and it boosts cognitive function and memory (awesome!!).
Today's recipe: Cinnamon Spice Green Smoothie
Yield: 1 serving
You will need: blender, measuring cups and spoons, knife, cutting board
1 cup mixed kale/baby spinach
1/2 cup blueberries (frozen or fresh)
1/4 cucumber
1/4 lemon
3-4 stalks fresh mint
1/2 inch fresh ginger root (peeled)
1/4 tsp cardomom
1/4 tsp nutmeg
1/4 tsp cinnamon
1 scoop plain protein powder (I use Raw by Garden of Life – I think others would be good in this too, let me know )
2 T flax seeds
1 cup water
Blend! Bam! Feel the Force!