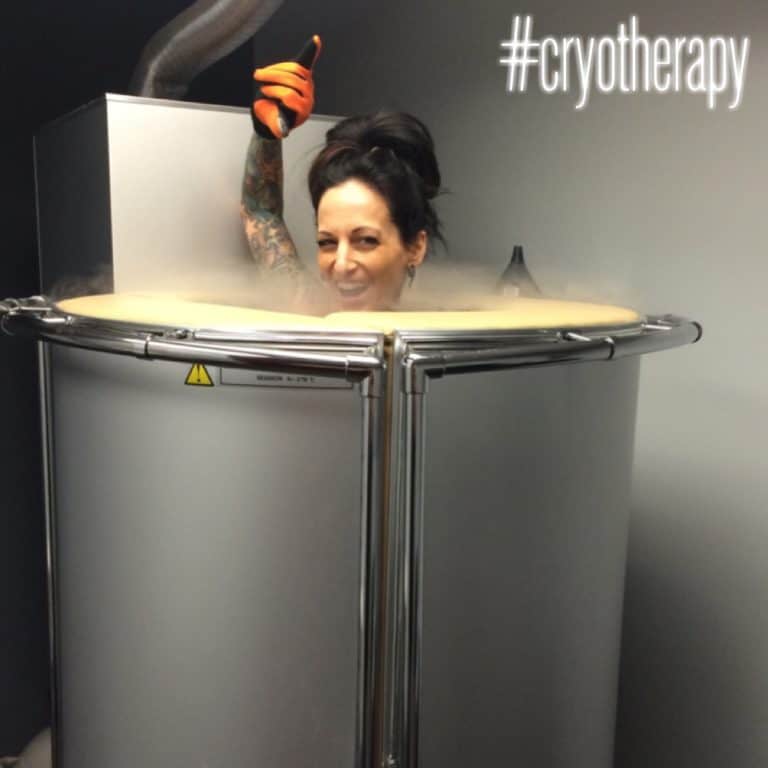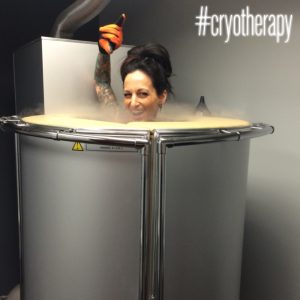 Cryo What?
While I was in San Diego a couple weeks ago, my super healthy fitness friend (#shff) A.J. was telling me about a treatment he uses to speed up his recovery between tough workouts where he gets into a below freezing chamber and stands there for 120 seconds.
Cold therapy treatment isn't new – though this quick, simple application of it is. Cold therapy has been used for pain management, inflammation reduction and healing for a long time – and if you've ever gotten into an ice bath (ugh, painful), iced a joint, jumped in the snow after a sauna or the lake after the hot tub, you have some idea what I'm talking about.
I was super keen to try it for myself, so when I got back to Denver that's exactly what I did! The facility I go to (Cherry Creek Spine and Sport) is frequented by professional athletes, weekend warriors and clients seeking performance enhancement, pain management, faster healing and a variety of conditions I'll be asking Dr. Scott Sheil-Brown about in today's interview.
Join me for the treatment, and then I'll sit down with the doctor and ask him all of my questions about Cryotherapy, what conditions can be treated with it, how cold it REALLY is in there, and how it fits into the other therapies he offers in his clinic.
Join Me for a Cryotherapy Session and Interview with Dr. Scott Sheil-Brown
The Process
1. As you can see from the video, I've got my robe on and I step into the chamber. Girls, we wear nothing but a pair of socks and gloves (it was a good day to have a beanie on though that's not required). Guys, you have socks, gloves and boxers.
2. Once you're in the tank, the doc uses the hydraulic lift to raise you up so your head is out of the chamber. It would be too cold and claustrophobic to keep your head in there in that cold. Hands and feet are covered to protect the extremities as all your blood rushes to your core, and you remove your robe once you're inside.
3. Once your head is out, he begins the treatment. He doesn't leave the room, as you can see. Cold blasts come at you and the temperature is around -250 C as Dr. Scott goes over in the video. It's a bit unpleasant for sure, but it's over quickly – 2 1/2 minutes to be precise. I generally don't feel really cold until we're at the 1 minute countdown mark, which is what we're laughing about in the video, I made it a whole 10 seconds longer this session before asking him how much time was left.
4. Once you're done, you put your robe back on, the doctor lowers you down and you step out. That's it!
How it Works
Whole Body Cryotherapy (WBC) is a cold air therapy designed to reduce musculoskeletal pain and inflammation.
The therapy works by standing inside a cryotherapy chamber for a treatment session that lasts 2-3 minutes.
Cold air is blown over the body to stimulate the sympathetic nervous system, causing a dramatic peripheral vasoconstriction followed by a dramatic vasodilatation.
The Cryosauna (what I'm standing inside of) uses gasiform nitrogen to lower the skin surface temperature by 30-50 degrees Fahrenheit over a period of two-three minutes.
The Cryochamber is cooled using liquid nitrogen, but clients are not in direct contact with the gas. The skin reacts to the cold and sends messages to the brain that acts as a stimulant to the regulatory functions of the body.
It produces the scanning of all areas that may not be working to their fullest potential. The skin exposure to the extreme temperatures also triggers the release of anti-inflammatory molecules and endorphins.
Research conducted over the last two decades has established therapeutic efficacy of cryotherapy in a wide range of clinical areas.
Most research has been focused on pain management and athletic performance.
It has been shown to effectively reduce pain and swelling and improve physical performance.
Due to the numerous adaptive physiological responses, cryotherapy has also been studied as an adjunct treatment for atopic dermatitis, cardiovascular health, depression, Multiple Sclerosis, rheumatoid arthritis, adhesive capsulitis, etc.
As Dr. Scott says during our interview, cryotherapy can certainly be used on its own, but it really enhances other treatments that manage pain and helps speed up recovery.
Why I'm Using It
I don't have any pain or specific conditions that need to be treated right now, but I am doing tough workouts that make me sore.
I'm using it more as a performance enhancement and I really enjoy how good I feel after my sessions – physically and mentally. It definitely gives me an endorphin boost.
Read More
If you want more information about Cryo, check out this page on Cherry Creek Spine and Sport's website and feel free to write them with any questions you have.