In the interest of discovering the healthiest food and how to prepare it, I often seek out people who are living at the highest physical standard and ask them how they eat.
I recently had the honor of being invited into my good friend Shin Sakurai's kitchen, and learning several traditional Japanese recipes.
Shin is basically a modern day samurai. He's in top physical shape with the ability to make gravity-defying movements look easy, and is one of the kindest, most genuine people I know.
During the day he works as a clinical exercise specialist at the Rocky Mountain MS Center. He spends much of his free time honing an advanced practice of gymnastics, which he balances with Olympic weightlifting.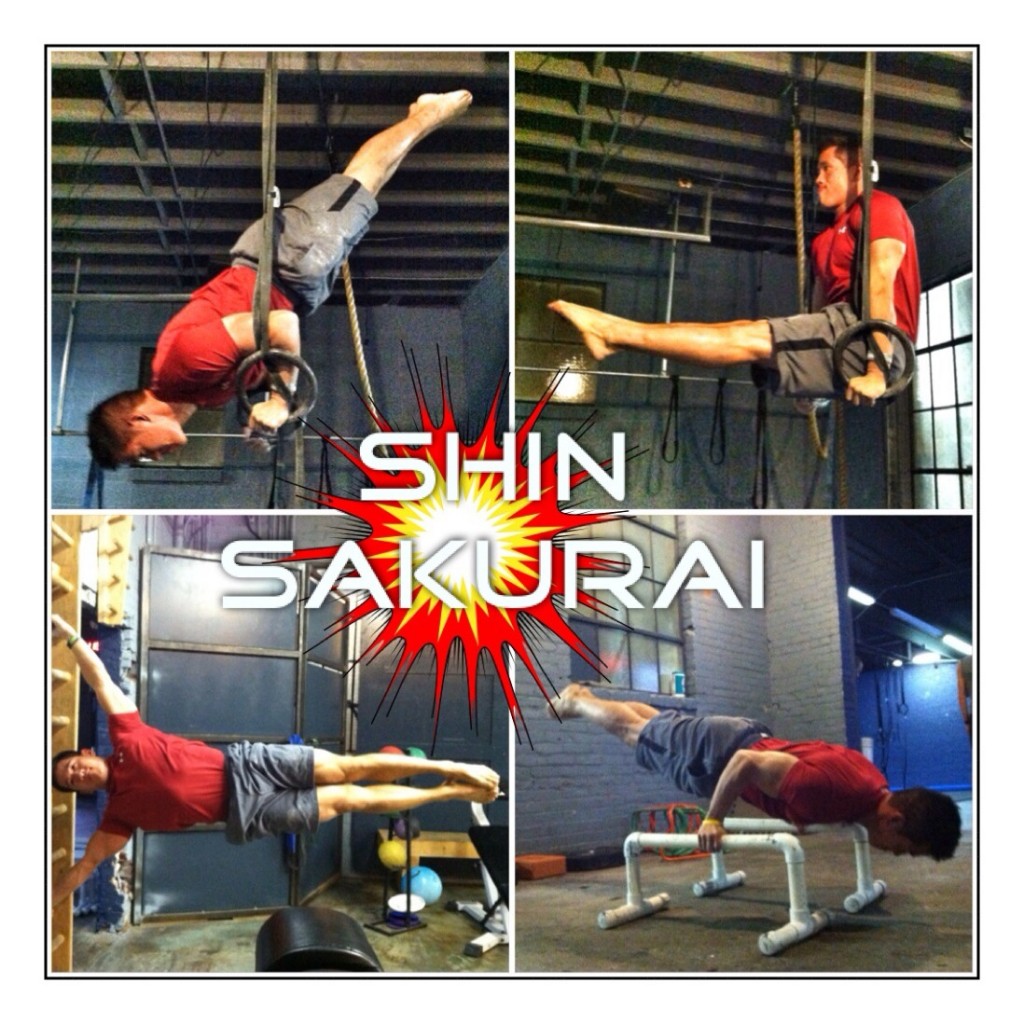 Shin is also an excellent cook – and while he was preparing this delicious, traditional kabocha squash dish for me, he shared many wonderful stories about Japan and Japanese history and culture.
This is the kind of meal that in Japan is eaten traditionally in the Fall. Nitsuke (pronounced "nit-SKEY) is a very popular form of cooking in Japan. Simmering and using fresh, seasonal vegetables like carrots, daikon, burdock, lotus root and taro root is thought to be one of the healthiest ways to eat.
Kabocha No Nitsuke
Squash Prep
You will need: knife, spoon, cutting board, 2-quart Dutch oven
1 Kabocha squash
Look for an odd-shaped kabocha. According to Shin, the odd-shaped ones have the best taste.
Sesame oil
1. Cut the squash open. Take off its stem.
2. Scrape out the seeds with a spoon.
3. Cut it into even sized chunks – about 1 inch cubes.
4. Season a 2-quart Dutch oven with sesame oil.
5. Transfer squash to the Dutch oven* and set aside while you prepare the stock.
*Note: for a 2 quart Dutch oven you'll use about 3/4 of the squash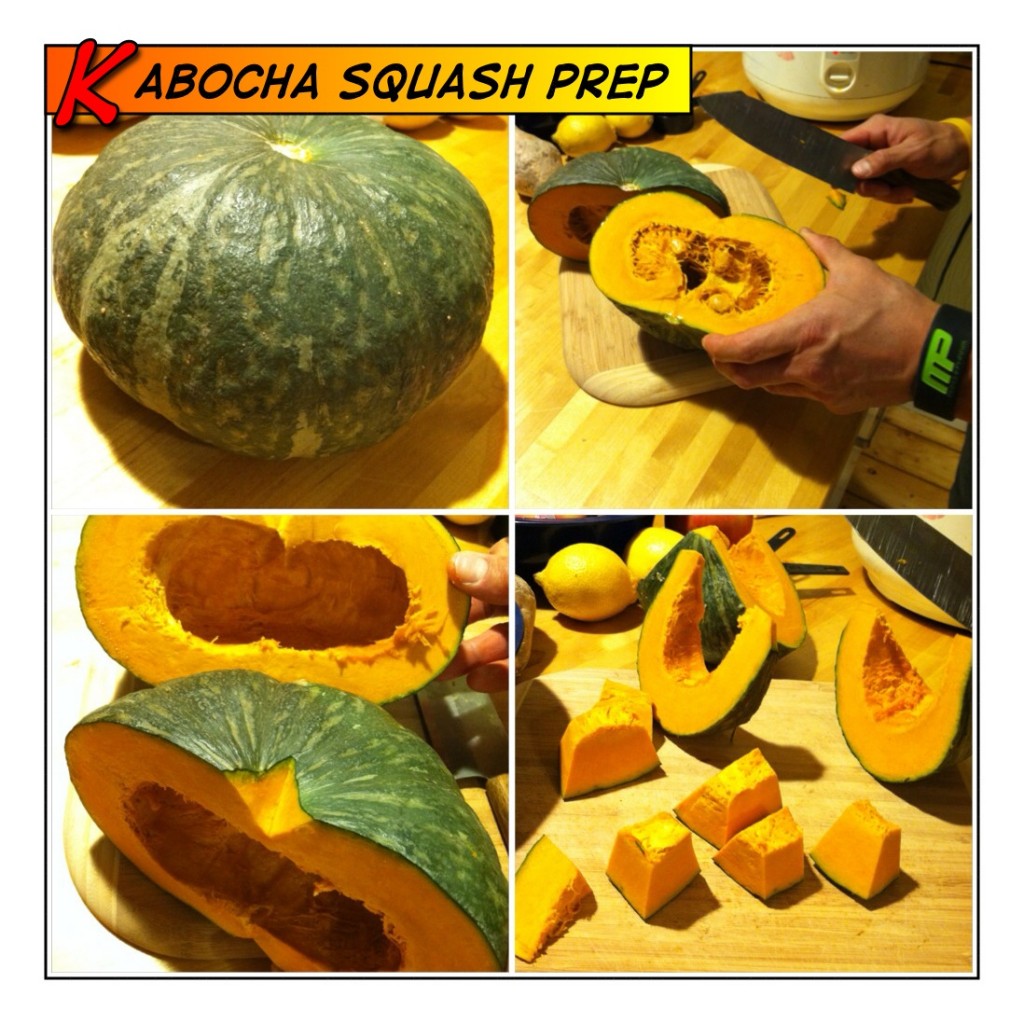 Usually, simmering dishes need to be cooked very slowly, and a simple pot with a slotted bamboo cover (called an otoshibuta) is used, but Shin speeds up this process by using a Dutch oven. He prefers it to the more traditional way, as the Dutch oven seals in all the nutrients.
Japanese are very focused on fresh ingredients. Think about sushi, if you don't have the freshest fish, you cannot make the culinary experience perfect. Where some types of cooking are more focused on technique, the Japanese way is all about freshness of food. Meticulously focused.
Stock Prep
You will need: measuring cups and spoons, small mixing bowl
(Some of these ingredients may be best found at your local Japanese or Korean grocery store, and some you can find in the specialty foods section at grocery stores like Whole Foods)
3 T mirin (sweet rice wine)
2 T soy sauce (reduced sodium, or Tamari for gluten-free)
1-2 T Katsuo Dashi (Bonito fish stock)
1-2 T Kelp Dashi (kelp stock)
(you may also be able to find a mixed Bonito and Kelp Dashi)
A "Dashi" is a basic Japanese soup stock. You can buy either of them pre-made, or make your own. It's easy to find at a Japanese or Korean grocery store (you can get Shin's home-made recipe below).
To make Katsuo-dashi, the Bonito fish (also known as Skipjack Tuna) is caught fresh and gutted, and then hang-dried. During the drying process, the fish shrinks and takes on a sword like shape. It's then shredded into these delightfully small extremely flavorful bits that are used as a soup stock seasoning. When it comes to making the stock don't get caught up in exact amounts. Go by taste.
Kabocha No Nitsuke Assembly
1. Preheat oven to 450.
2. Add 1/2 cup of water to your 1/2 cup of soup stock.
3. Pour the liquid mixture into the Dutch oven and over the squash.
4. Cover and cook for 50 minutes.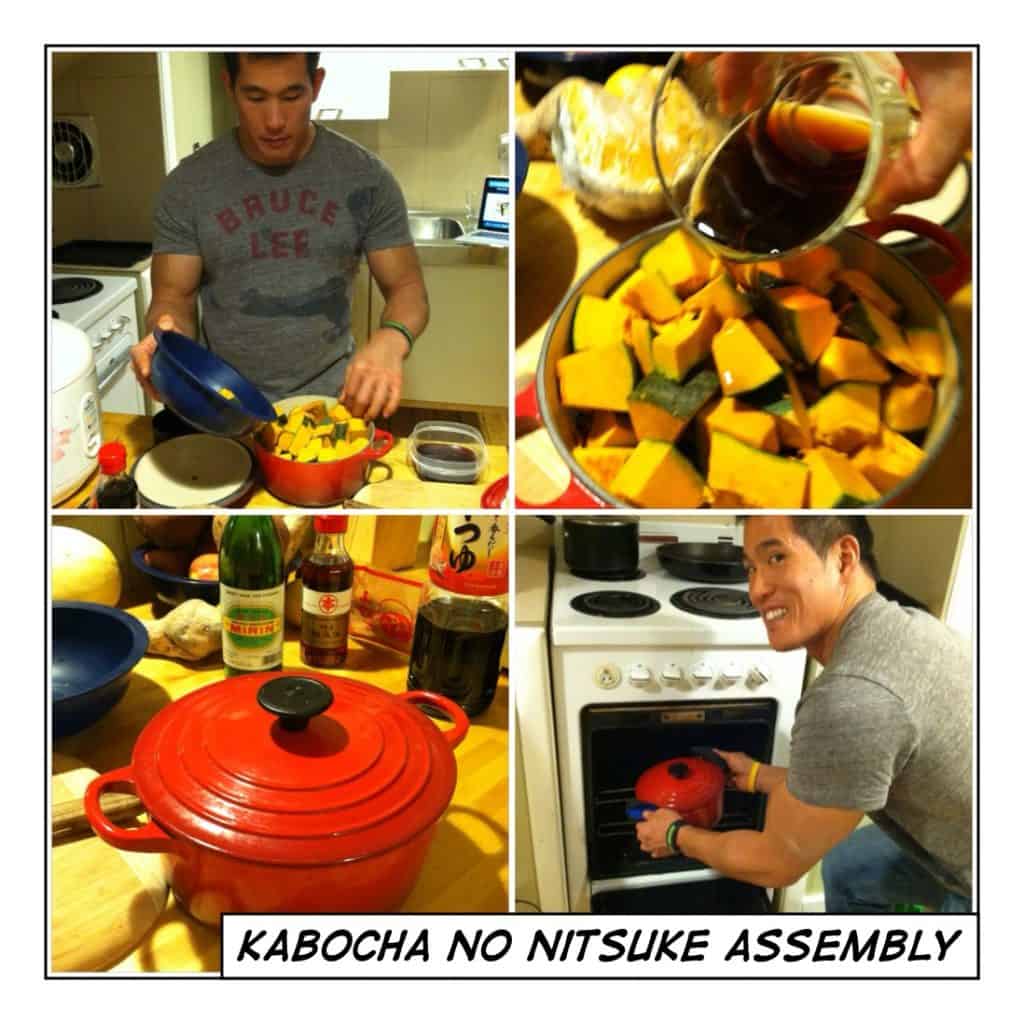 In between each step, Shin is just like Betty Rocker – he cleans as he goes. Counter gets a wipe down and everything gets put away.
In Japan they are meticulous about cleaning. Shin's clean, neat kitchen was a pleasure to be in – though he claims to be the least clean, most lazy Japanese person he knows (highly unlikely)!
Shin describes the basics of Japanese taste as follows:
All Japanese dishes are meant to be eaten with rice. The rice is meant to be a compliment to the entree dish, to bring out the flavor and texture of the food.
This is why Japanese people don't pour soy sauce onto the rice, or mix the rice into the dish.
Instead it is about the taste buds appreciating each flavor gradually – stimulating the senses.
If you're going to mix the food you might as well just put it in a blender.
Shin's Rice: Takikomigohan
2 cups brown or white rice
4 cups water
Soak rice in water for 30 minutes minimum or overnight.
2 T worth of mixed: Soy sauce, Mirin, Kelp Dashi (to taste)
Sprinkle of brown sugar (optional)
Vegetables (about 1 cup total when cooked): Shiitake, burdock (a root vegetable), warabi (a Japanese root vegetable), bamboo shoots, sansai (a mountain root vegetable), zenmai (mountain root vegetable).
Dice them up in equal amounts, and sautée them in some sesame oil.
To add a strong Dashi taste, add a little water and a little dashi and reduce it (add dashi to taste).
Add vegetables and mixed liquid ingredients to the rice and cook in the rice cooker (or on the stovetop) until done.
Shin doesn't really measure these in exact amounts, instead going by taste – looking for the "umami" or savory taste with a hint of sweetness.
Side dish: Yamaimo (grated mountain yam)
1. Peel the rind.
2. Grate the root with the small side of a grater.
It will be very runny and sticky. These yams are very high in fiber, and are a good accompaniment to many dishes.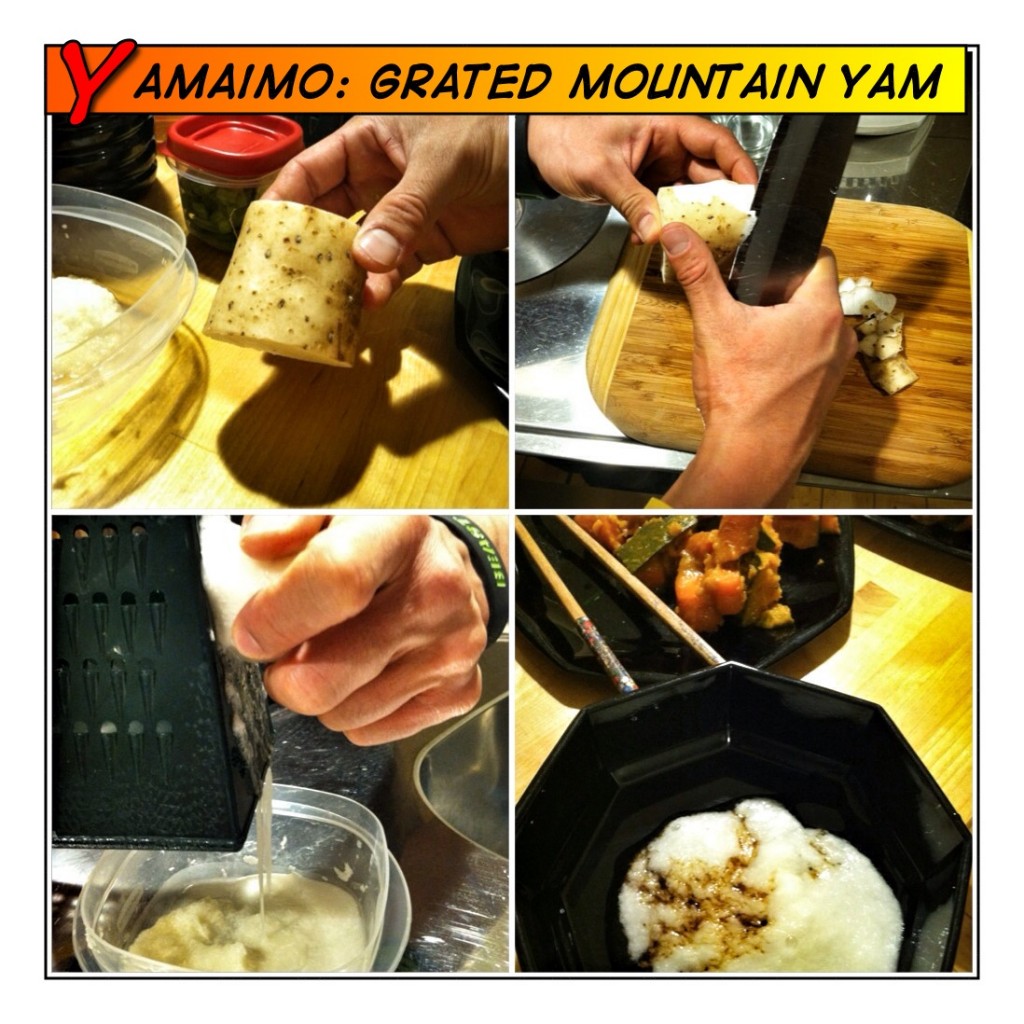 A History of White Rice
The Tokugawa Shogunate untied all of Japan in 1600. An end to war and the subsequent 250 year reign of national peace stabilized the economy and the market. More people had access to food that had primarily been available to the upper class, like white rice.
Because white rice is lacking in fiber, minerals and nutrients, those essentials must be replenished with a side dish of something like natto (fermented soy beans) or yamaimo – a yam dish.
When white rice became so available it was like a craze. Many people in the cities started to get Beriberi, a disease of thiamin (vitamin B1) deficiency.
It was so bad that during the Russo-Japanese war (1904-1905) more casualties were from the Beriberi than from the war.
The Army had the most casualties because their rations were only white rice, but the Navy was provided with some brown and some white.
The lower class in the city had the worst of it, because they didn't have the resources to eat nourishing foods like soba or yam. The samurai and upper classes had access to much more nourishing foods to supplement their diet, and weren't as likely to get Beriberi.
It was called the "capital city disease" because at the time people didn't know that the disease was from the white rice. People in the countryside were mostly unaffected.
Bonito Dashi (fish stock)
Shin makes a big batch of his own Bonito Dashi, and uses it to season many dishes. To make it:
Bring a pot of water with 2 packets of Bonito flakes to a boil over medium heat, then simmer for 5 minutes.
Strain about 2 cups of the liquid extract through a sieve.
Add:
1 cup kelp dashi
1/2 cup mirin
1/4 cup soy sauce
Mix all together and store in a container to use in flavoring many dishes. This is a basic soup stock. You could use this to season a noodle dish like Cha soba, udon, Japanese style meat and potato stew, or a seasoning for an omelette.