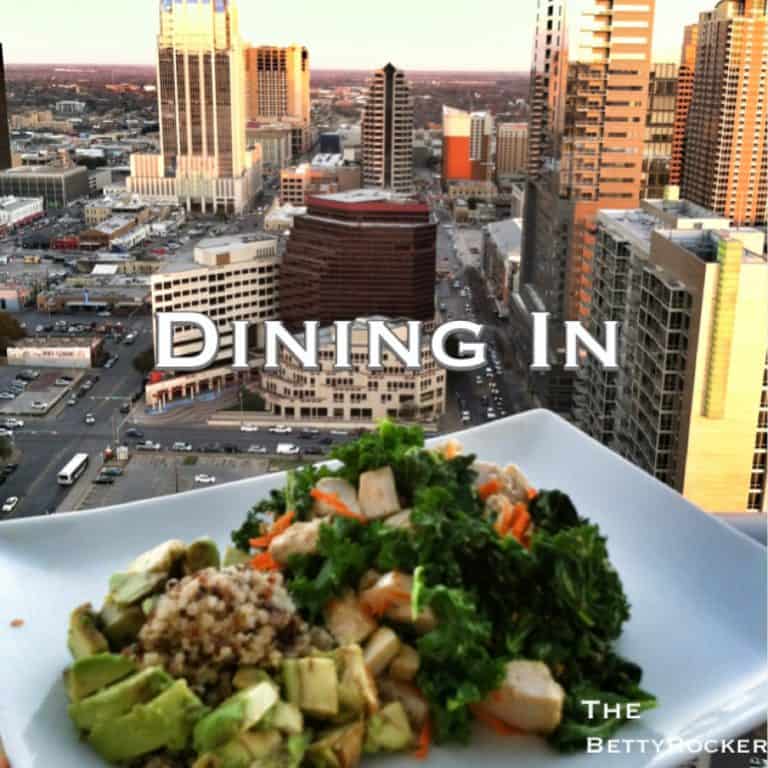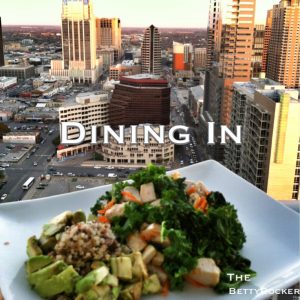 I am notorious for cooking fast, healthy dinners that taste so good friends say, I wish I could order this kind of food in a restaurant!
I remember many dinners at nice places that had me scrambling to find something to order that was gluten free, wasn't cooked with a ton of saturated fat or sodium-drenched sauce, and tasted like real food – maybe you can relate?
Bottom line is that having great food we can eat at home is key in building and maintaining a healthy body and lifestyle.
We're going to go out to eat, that's definitely going to happen – but as you know, I advocate prepping and cooking most of your own food to save money, time and ensure only the best food is going in your body.
That way when I do go out to eat, I don't worry so much about the substitutions. I just enjoy the different cooking styles, and know that my clean eating can take a day off occasionally.
Here's a recipe where having some of your protein prepped ahead of time really comes in handy. You could easily substitute any meat, poultry or fish for the chicken and have a tasty, easy meal in no time.
Sesame Baked Chicken with Garlic and Greens
Yield: 2 servings
You will need: large skillet or wok, spatula or tongs, grater
2 baked sesame chicken breasts, cubed (recipe below)
4-5 cloves garlic
2-3 T olive oil
1 carrot
6 stalks kale, washed and de-stemmed
1. Heat the olive oil in a large skillet over medium heat.
2. Grate, mince or press the garlic and allow it to cook for a minute or two while you prepare the kale.
3. Tear the leaves off the kale stems, and add them to the garlic and oil.
4. Grate the carrot over the garlic and kale, and mix together.
5. Add 2 servings of chicken and toss it together with the greens until warm.
Served with a side of rainbow quinoa and avocado slices.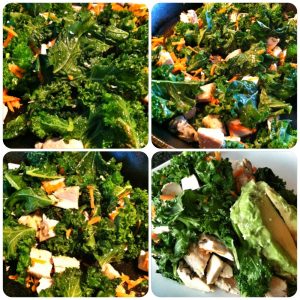 Sesame Baked Chicken Breasts
Yield: 4 servings
You will need: baking dish, cutting board, knife
2-4 boneless, skinless chicken breasts
Sesame Oil
Sesame seeds
Fresh rosemary
Coarse sea salt
Fresh ground pepper
1. Preheat the oven to 375 F.
2. Coat a baking dish with sesame oil.
3. Trim the fat from your chicken breasts and lay them in the baking dish.
4. Sprinkle on both sides with assorted fresh chopped rosemary, salt and fresh ground pepper and sesame seeds.
5. Bake for 30-45 minutes, or until chicken is cooked through. I can always tell when mine is nearly done, as the flavor from the oven starts to fill the kitchen.
6. Store them in an airtight container in the refrigerator for 4-5 days.