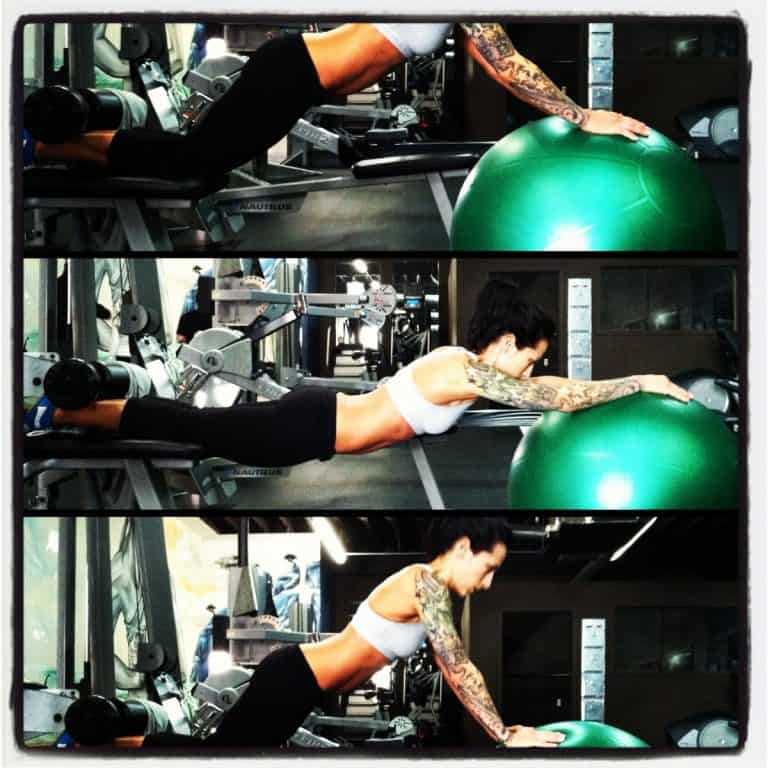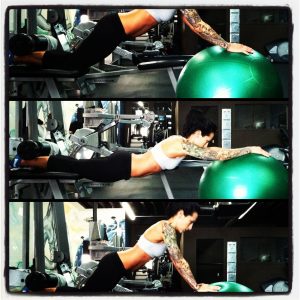 **updated 11/9/13: Ultra Trainer may be an outdated App. I am currently using Seconds Pro.
This is a fun workout I've been playing around with lately as an alternative to regular tabatas.
If you're not familiar with the concept of "tabata" it's a specific format for high intensity interval training (HIIT) that employs a sequence of 20 second work periods followed by 10 seconds of rest over a 4-minute period.
You can add tabatas to anything, running, cycling, rowing, situps, squats – you name it.
You can vary the type of exercise or maintain the same throughout the cycle. For example, you could do 4 minutes of sprint tabatas on a bicycle, or you could choose multiple exercises and do them each for 20 second blasts.
The endurance tabatas that I've been doing are running ones, on the treadmill. Check out this sequence:
Warmup: 5 minutes fast walking at incline (me: 4.0-4.5 mph at 4-6% grade – do what feels good for you – and by GOOD I mean you're at about 45-50%)
3 Tabatta Sets:
5 minutes
20 seconds on
10 seconds off
Active rest 2-3 minutes walking at incline
My sprints right now are at a 1% grade and 9 mph. I have been playing around with adding more incline to see how long I can go and increase the challenge. The goal is to be at 85-90% effort and sustain it. That speed and grade will look a little different for each of us, just try to use the percentages of effort as a guide and do your best!
To do an alternative version of this workout using the tabatas, you can mix them into a circuit like I did today. Here's the workout:
3 ROUNDS
1.
5 minutes sprinting tabatas
Format: 20 sec at 80% max effort, 10 sec complete rest (stand on sides of treadmill) for 5 minutes
2.
12 each leg: Cable machine Lateral Step-up knee raise
This is a fun, complex movement that engages multiple muscle groups (adductors, obliques, glutes) and will challenge your stability and balance. Begin with little to no weight and learn the movement, and then add weight.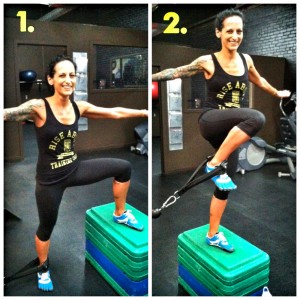 3.
10-12 Hamstring Ball Roll-Outs
One of my favorite moves to do on the lat machine is actually this little gem I learned from my coach, former Mr. America Tom Terwilliger.
A. Get your feet hooked into the machine as shown, and use the ball simply as a guide. In the beginning as you get used to the move you'll rely on it more for support but as you get stronger, use it only for contacting pressure.
B. Keep your pelvis slightly tilted down as you lower your torso to parallel with the floor (DO NOT do this if you have lower back pain. Go stretch your hamstrings and roll them on the foam roller).
C. Using your hamstrings and keeping your back flat (try to keep from bending forward at the waist) raise back up to start. Repeat.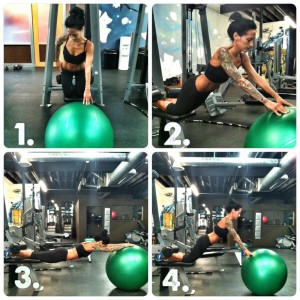 That's it! Repeat the entire sequence 3 times – those 5 minute tabata sets will really add up, trust me!
Check out Ultra Trainer, the app I've been using to time all kinds of different workouts. It's especially awesome for tabatas.