Dear Readers,
I'm a firm believer in the power we have to create our dreams. The more clearly you define what you want, the greater your ability to magnetize the people and resources who will help you get there.
Thoughts become words, words become actions, and actions create your destiny.
If you're aware and open to your own potential, and actively pursuing self-growth you won't miss it when someone comes along who has the power to change your life.
For me, that person was Tom Terwilliger. Since the day we met – just a little over a year ago – I have grown at an exponential rate into who I am today. Yes, I did the work – but he gave me the tools.In case you don't know who Tom is, let me list just a few of his many accreditations and accomplishments:
National Bodybuilding Champion 1986 (Mr. America)
International Federation of Bodybuilder (IFBB)
Bestselling Author: 7 Rules of Achievement
Master Practitioner: Neuro-Linguistic Programming
President: Coaching Leadership Excellence
Worldwide Public Speaker on the Science of Achievement
Life long Martial Arts practioner specializing in Kung Fu and Jeet Kune Do
Host of MuscleSport USA (15 years on Prime/Fox Sports)
Fitness Correspondent for NBC, ABC, WB News
Tom just released an amazing program called The Achievement Bootcamp, which is a phenomenal training product that mirrors the same kind of tools and motivational strategies he offers his one one one coaching clients, and exactly what I went through.
I asked Tom to share this article with us because along with all of the physical time and effort you put in, mindset is what will truly give you the edge – and create lasting results. As always, I invite you to leave a comment or ask a question, and check in with Tom through the links below.
Exercise, Motivation and Sustainability – by Tom Terwilliger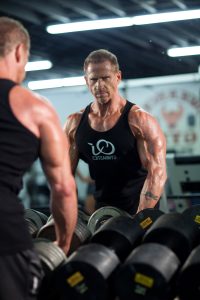 I will never forget the first painful and humiliating day I worked out at a "real gym." The place was called Future Man and as a skinny teen with no muscle and even less discipline I was anything but that.
Up until that point I had only been messing around with some old school machines and a few dust covered dumbbells at the High School gym near my house. I was just a beginner, knew nothing about training and was inconsistent at best. What I did know even then was that I wanted to build big muscles and look like the guys I saw on the covers of the body building magazines.
Not every first time exerciser starts out with Mr. or Ms. Universe aspirations but we all have one thing in common, a desire to improve.
Understanding where that desire comes from along with its antagonistic counter parts is the first key to finding the motivation to get up off the couch and moving as well as the ability to stick with it long after the temptation to quit presents its first convincing argument.
Sometimes I Get This Feeling
Making the decision to get up and go to the gym is rarely the result of an intellectual process – it's based primary on an emotion or feeling. By definition, desire is "a strong feeling of wanting something or wishing for something to happen".
At this point you may be asking yourself "Is this guy going to tell me I have to get in touch with my feelings so I can improve my bench press!?!" The answer to that question is NO… not really.
It is relevant however to your ability to start and stick with an exercise program to understand that your actions (the new habits and behaviors you want initiate) are directly motivated by your feelings and that ultimately your results (the healthy, strong, fit body you want)are the product of those actions.
So it would stand to reason that if you want to change your actions, habits and behaviors and get the results you want you may have to change the way you feel about it.
Case in point: At 42, JP's weight had gotten to an uncomfortable and unhealthy level. He felt bad about himself and had to do something so started an exercise program.
Emotional Misalignment
About two months into starting a new training program JP started to feel bad every time he went to the gym or did anything to take care of himself physically. He had this uncomfortable nagging feeling like he was neglecting other "more important" things like his business and family. His original motivationto get in shape and become more athletic had turned into a negative when he started feeling like it was something he "had to do" rather than wanted to do.
As silly as JPs quandary sounds it's not that uncommon. A lot beginning exercisers, at some point in the process find themselves at odds with their initial objective. Some as a way of unconsciously releasing themselves from the commitment, others because they're too lazy to follow through, some because partying with friends is more important and then there are those like JP who encounter a legitimate values conflict.
With a little digging we uncloaked that when JP was younger he had been led to believe that athletes were stupid, athletics were a waste of time and the only thing of real value and worth pursuing were academics and spiritually. As a result whenever he got anywhere near resembling or feeling like an athlete incongruent negative emotions would shut down the activity and derail any further progress.
Intrinsic vs. Extrinsic
Motivation which is defined as "the process that initiates, guides and maintains goal-oriented behaviors" can beboth intrinsic (the desire and motivation for change comes from within) or extrinsic (motivation that comes from external factors).
Bribes, fear of punishment, physical or emotional pain and coercion are all extrinsic motivators, as are paychecks and orders from a doctor to start an exercise program. Extrinsic motivators will get your ass up and moving and keep you moving for the first few weeks but quickly lose their power and fizzle out.
The rewarding feelings of accomplishment, satisfaction, a job well done, contribution and even pride are all intrinsic motivators. They have a motivationally sustainable power to them that cannot be found externally.
When JP finally realized that exercising and staying fit was the "smart" thing to do and would actually benefit his business and family rather than take away from them he was able to reframe his goal from the extrinsic objective of looking like an athlete to the intrinsic rewards of being the best he can be as a business owner, husband and man. This new reason for exercising was more in line with his earlier beliefs about athletics and athletes and if practiced long enough will ultimately serve to change those beliefs.
You can use extrinsic motivation to initiate action but if you're going to sustain it over the long runyou must find the motivation from within and connect it to your ultimate objective.
Tools for Creating Alignment and Sustainability
Dig deeper and connect with what you REALY want. Is it a great body you want or to feel really good about yourself? The path to both may be identical but the WHY will make a radical difference in sustainability.
Find a way to connect your fitness objectives with as many of the other important things in your life as you can. Make the success of those other things like your career, relationships, finances even spirituality contingent on your fitness success not in opposition to it.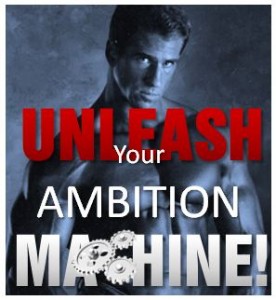 Tom Terwilliger is the Author of the #1 bestsellers '7 Rules of Achievement' and 'Why Smart Goals May Be Dumb' a former National Body Building Champion and IFBB pro, as well as a motivational speaker, achievement strategist and empowerment coach. Tom produces the massively popular Max Mind Set motivational video series on Muscle and Fitness online.
You can also read about Tom's daily diet in a previous guest post How to Eat Like Your Trainer: Tom Terwilliger's Eating Strategies