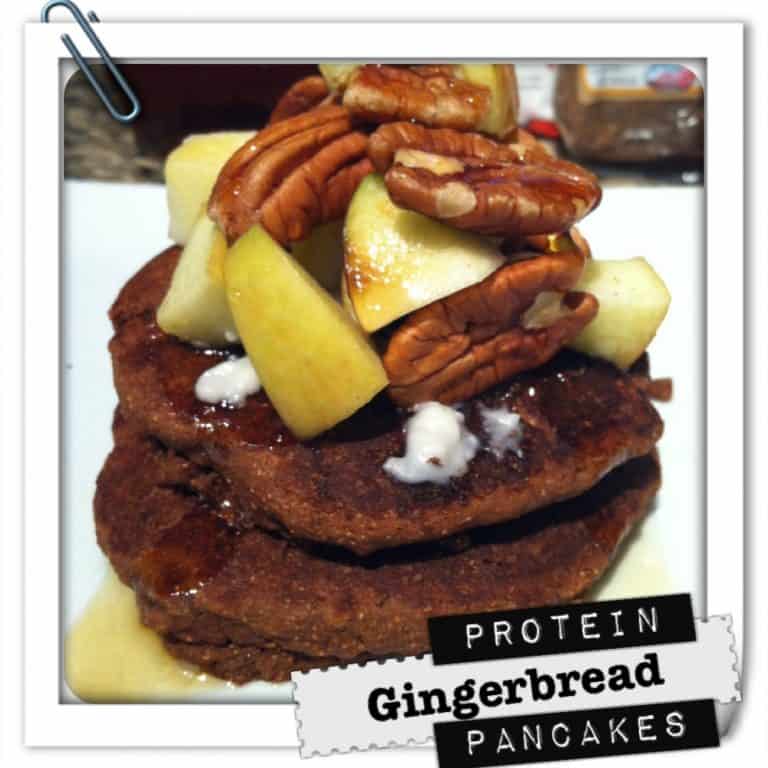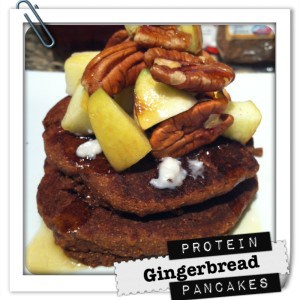 I was so excited when I came across the blog of Leanne Vogel of Healthful Pursuits and got her version of this amazing pancake recipe. I didn't change it much – you should definitely go check her out, she has great allergy-friendly recipes and information!
Some of the amazing superfoods included in this recipe are chia seeds, teff flour (my substitution) and molasses.
Chia seeds are an ancient Aztec warrior food. It's said that just 1 Tablespoon could sustain a man for an entire day. Chia is wonderfully absorbent and will help you feel full longer. As they exit your stomach, they can bind with harmful substances and carry them right out of you. Additionally, they are a great source of essential Omega-3 fatty acids, and are packed with antioxidants. Pre-soaking them for 10-15 minutes will create a gel-like consistency, which shows you exactly how absorbent they are.
Teff is a hardy, gluten-free ancient grain that grows well at a variety of altitudes. Small, almost seedlike, teff is rich in protein. It contains 7 grams in just 1/4 cup. It's also a wonderful source of calcium and Vitamin C. In this recipe, I've blended it raw to make a gluten free "flour."
Teff is, however, high in resistant starch, a newly-discovered type of dietary fiber that can benefit blood-sugar management, weight control, and colon health. It's estimated that 20-40% of the carbohydrates in teff are resistant starches. A gluten-free grain with a mild flavor, teff is a healthy and versatile ingredient for many gluten-free products.
-Whole Grains Council
Molasses is rich in nutrients like potassium, calcium, iron and manganese. A natural sweetener with a strong flavor, it gives these pancakes their gingerbread flavor. If you're like me and don't do much, if any dairy you many benefit from including foods like molasses and teff in your diet as they are both excellent sources of calcium.
Gluten Free Gingerbread Protein Pancakes
Yield: 4-6 pancakes
You will need: liquid measuring cup, measuring cups and spoons, blender or food processor, mixing bowl, whisk or fork, griddle or pan, spatula
2/3 cup almond milk
1 T chia seeds
2/3 cup teff flour (Leanne Vogel uses chickpea flour in her recipe. I am kind of in love with the protein and other benefits of teff and experimented with it in this recipe – you have options, as always!)
1 T pure maple sugar (thanks for sending me some all the way from New Hampshire, Mom!) or 2 T coconut sugar, the original recipe uses 10 drops of stevia. You won't need much sugar, as the molasses is naturally sweet. Just taste the batter as you go and add as needed.
1 tsp baking powder
1 tsp cinnamon
1 tsp ginger
1/8 tsp cloves
1/4 cup egg whites
1 T molasses
1 tsp vanilla
1. Measure your almond milk into a liquid measuring cup. Add chia seeds and stir in. Allow it to sit for 10-15 minutes, or while you prepare the rest of the batter.
2. Make teff flour by measuring about 1/2-1 cup teff into your blender or food processor. Blend until powdery. Measure 2/3 cup and transfer the leftover to a ziplock bag and store in the refrigerator.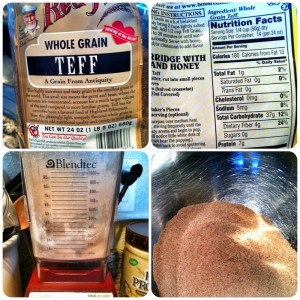 3. Combine teff flour, baking powder, cinnamon, ginger and cloves. Whisk or stir together.
4. Stir in the egg whites, molasses and soaked chia and almond milk. Add the sugar last and taste for sweetness.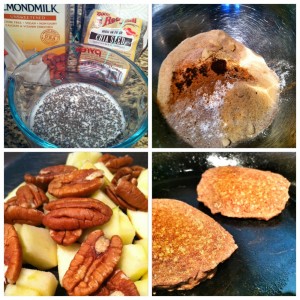 5. Cook evenly on both sides in a heated skillet with a bit of cooking oil.
6. Serve with coconut butter, a chopped up apple, pecans and a drizzle of maple syrup.
Please write and let me know how you adapt these, what you think of teff – or any of the ingredients for that matter! Or if you have any questions about nutrition, eating for fitness or just to say hello!
Resources:
Healthful Pursuits website
Whole Grains Council