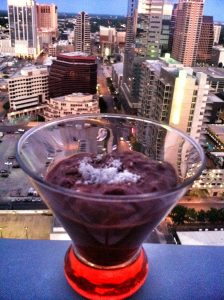 This little concoction always cures my chocolate and sugar craving – especially at night!
Isn't downtown Austin just beautiful? The view is supposed to detract from how NOT perfect my chocolate pudding looks haha 🙂
I know I'm not the only one who gets these chocolate/sugar cravings! They're perfectly natural.
We are all feel-good addicts, and with the high level of stress many of us experience on a daily basis, a feeling of pleasure that we get from a treat can help restore some sense of balance.
Just remember to choose wisely.
Chocolate Pudding
Yield: 1 serving
You will need: mixing bowl, fork, measuring spoons
1 banana
4 tsp cacao powder (optionally do a scoop of chocolate protein powder + 2 tsp cacao)
1 tsp vanilla extract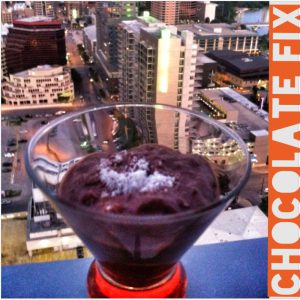 Mash well with a fork or evenly blend.
Top with unsweetened coconut flakes.
One of my Instagram followers suggested freezing the bananas, and blending them with the chocolate and vanilla – and that is an excellent suggestion! If I have a banana that's getting a little ripe and I'm not sure if I'm going to eat it, I just peel it, cut it in half and store it in the freezer in a ziplock bag.
MmmmmmmmmmmHappy Monday! Love you guys!