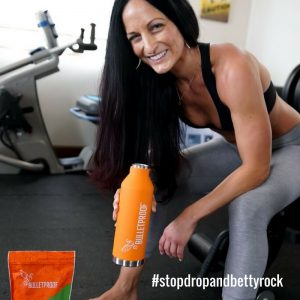 Collagen is in my heavy rotation for top choice protein powders. It's really versatile in that it's *virtually* tasteless, can be mixed in anything, dissolves well, and the benefits of collagen protein are many.
Collagen used to make its way into our diets through foods like bone broths, slow-cooked organ meats, kidney pies, baked beef hearts, whole crustaceans, and whole-fish soups and stews.
But if you're not regularly eating these types of foods, you may not be getting any of this goodness into your body.
Bulletproof has hydrolyzed collagen – which just means that the naturally larger molecules of collagen are broken down into smaller molecules called peptides for better absorption in our bodies.
Collagen peptides are well absorbed by the digestive system and make their way to targeted tissues where they act as building blocks and trigger our own internal collagen production.
---
Betty Rocker's Bulletproof Smoothie
Ingredients:
1 C Spinach
4-5 Strawberries
1 scoop Cacao Powder
1 C – 1.5 C Almond Milk
1 serving Bulletproof Collagen Protein
Options: lots of different fruit combinations will work, like banana, apple, mango, and/or pineapple
Directions:
Combine ingredients, blend, and serve! 🙂
---
Scientifically proven benefits of Collagen Protein:
1: Improves skin elasticity – which can improve the signs of aging and the appearance of cellulite.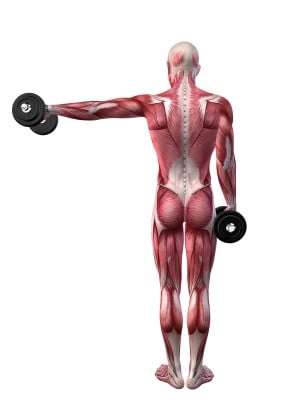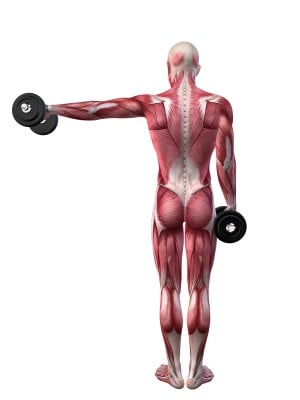 2: Improves muscle mass and strength (if you need a refresher on why you want to help your body develop lean muscle, read this).
3: Decreases inflammation – supplements were given to osteoarthritis sufferers during a 70-day study, who then experienced significantly reduced pain and symptoms compared to those given a placebo.
Collagen protein gets its name from the Greek word "kolla" which means "glue." That's because it's one of the major building blocks of bones, skin, muscles, tendons, and ligaments. Collagen protein accounts for approximately 1/3 of the protein in our body – and we want to preserve it.
Our body makes less and less collagen as we age, which contributes to signs of aging like wrinkles, sagging skin, and joint pains (due to weakened or decreased cartilage).
Fun fact #1:
You can help your body preserve and protect collagen by avoiding behaviors that damage it. These include eating excessive amounts of processed carbs and sugar (#truth sugar breaks down collagen), smoking (duh, don't smoke) and getting sunburned.
Fun fact #2:
Make sure your balanced diet includes optimal amounts of Vitamin C.  When we consume collagen, collagen levels naturally increase in our bodies – but collagen can't form without Vitamin C. Since our body doesn't produce enough Vitamin C on its own, we need to be mindful of including it in our diet, or in supplement form (this is the kind I take, it's lypo-spheric and absorbs much better than other types).
Good sources of vitamin C from food include citrus fruits, fruits like kiwi, cantaloupe, watermelon, berries (and fresh-picked local produce will ensure you're getting the maximum concentration), bell peppers, leafy greens, broccoli, Brussels sprouts, parsley and bok choy.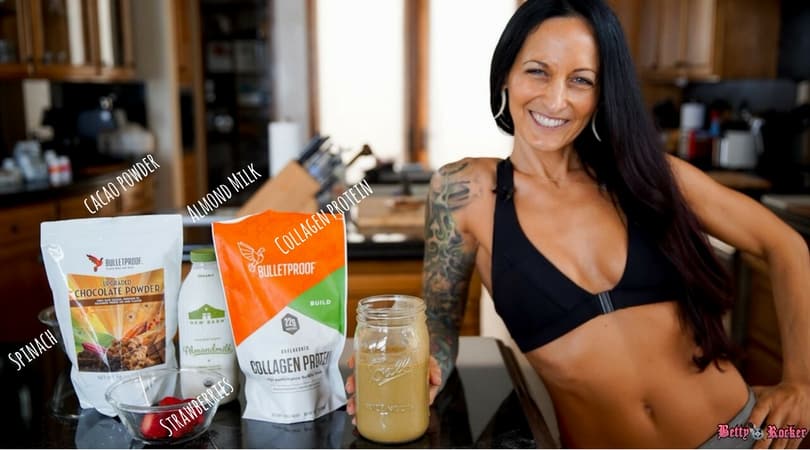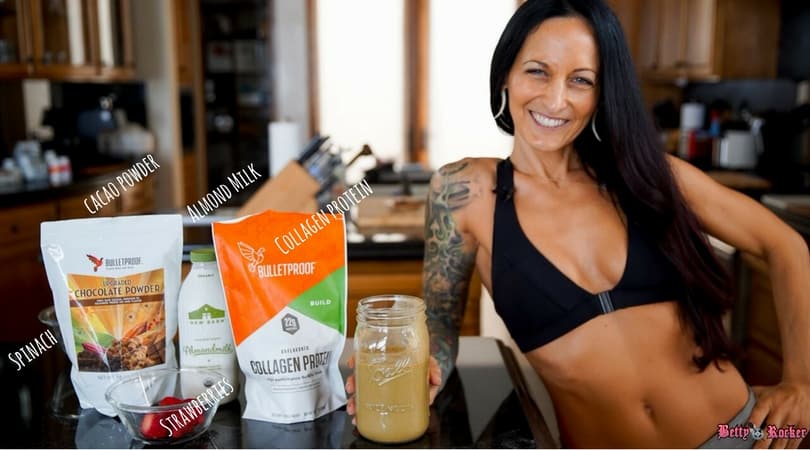 There are 2 types of consumable collagen: Collagen hydrolysate and Gelatin.
Collagen hydrolysate is processed more intensively, breaking down the proteins into smaller pieces so that it can easily mix in liquid.
Gelatin (think bone broth protein) only dissolves in a hot liquid.
I love the formulation of Bulletproof's collagen hydrolysate. It's made from grass-fed, pasture-raised cows. It's super versatile to use, blends well, and supports your body's collagen production.
This multi-use collagen protein powder can be added to many things you're already eating just like you would a plant based or whey protein powder – like a shake (just add a spoonful of antioxidant-rich cacao/chocolate powder or vanilla and some fruit and you've got a naturally sweet beverage that's perfect post-workout) or baked in a recipe – the possibilities are endless.
Taste and Texture Notes on Collagen protein: While I find it to be virtually tasteless, I do hear that some people can taste it. Genetically speaking, we do all have a variety of taste receptors (some people can't stand the taste of broccoli for this reason for example).
I'd recommend mixing it into things like you would a normal protein powder. It does a great job of dissolving, but if you're putting it in a clear beverage you may see some small flecks. It is collagen, which is a gelatin based product so that isn't surprising. I use it in my smoothies, mixed into nut butter, baking and hot chocolate.
One of my favorite things to do with it lately is mix it into a couple tablespoons of nut butter, and stir it together with a tablespoon of cacao powder (add a splash of water) and voila – chocolate protein nut butter spread!
It's a SUPPLEMENT….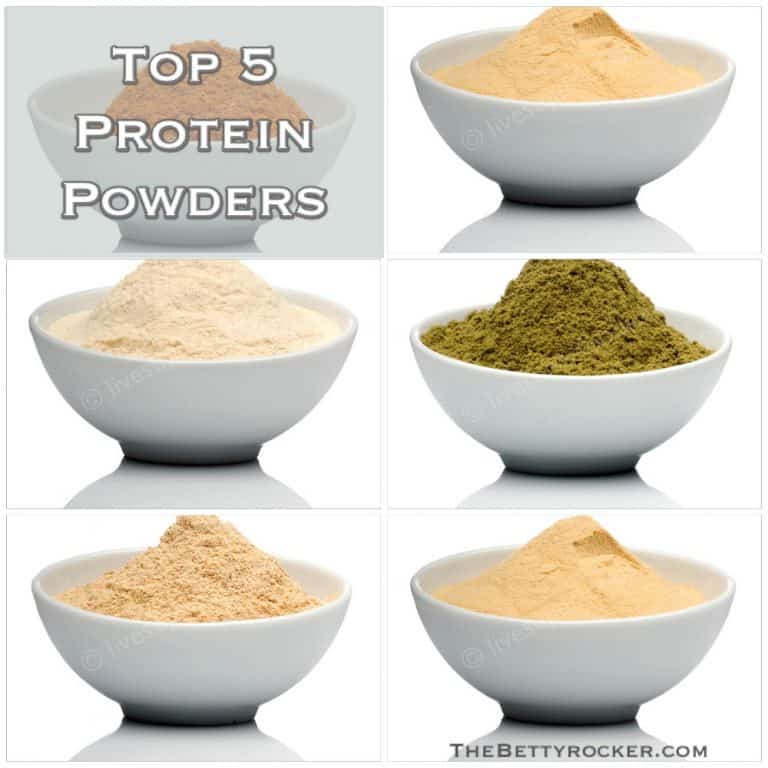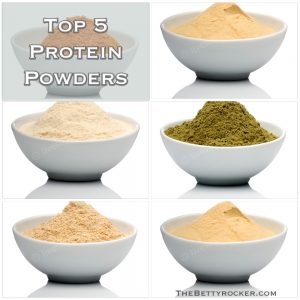 When it comes to supplements, they're exactly what their name implies – a supplement to a balanced diet.
It's important to get your protein from a variety of sources, most importantly whole foods. I personally rotate between a couple different kinds of protein powder for variety (the body needs different amino acids, just like it needs a variety of micronutrients from greens – so don't just put only spinach in your smoothie every day, gotta mix it up!).
Features: grass-fed, pasture-raised hydrolyzed collagen protein powder
Protein: 22 grams
Learn about the whole food combinations I use to fuel my body in any one of my awesome Meal Plans!