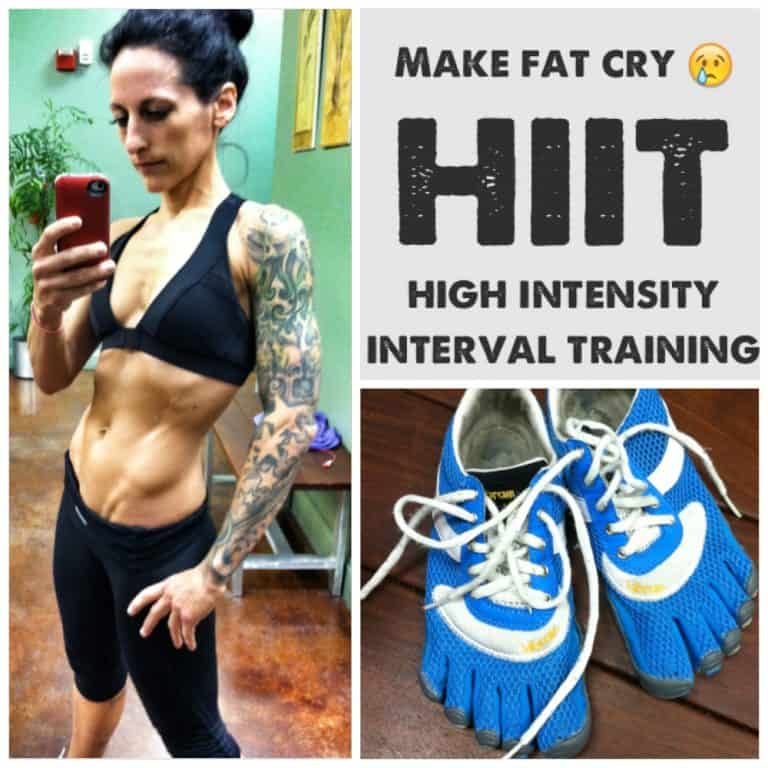 I don't do cardio often, but when I do….

If you want a super effective way to burn fat fast, try high-intensity-interval-training (HIIT) a couple times a week. 
It will get your heart rate and your metabolism in high gear. Combine it with weight training for a great strength-building/fat loss program.
If you're in maintenance mode, HIIT is still a fun, challenging workout you can add in – I do it every couple weeks. I personally weight train 3 x a week and randomly do a fun cardio session but it's not currently part of my regular routine. Why? Because I'm in maintenance and muscle build mode, and doing excessive cardio has burned me out in the past, even to the point of adrenal depletion.
Word to the wise: don't compare yourself to what someone else does in the gym. We all have different goals, different abilities and different injuries/limitations. I personally can't make jump shots (haha) but that's cool, I'm still strong like bull!
Here's my HIIT routine from today (and this is like tabata style timing if you're familiar with that, I just do it for 5 min not 4):
5 min warmup: walking at a steep incline at 4.0mph (or what you're comfortable with)
At minute 4:30 hop of to the sides and decrease your incline to a 1% grade, and increase the speed to anywhere between 7-9mph (I have been doing this for a while and I'm at 9, so try it around 6.5-7 if you're new, in general aim for 80-90% difficulty level)
At minute 5, sprint for 20 seconds, hop off and rest for 10. Repeat this for 5 minutes.
At 10 minutes, decrease the speed to your warmup walking pace and slowly increase the incline. Get your heart rate down, but this is an active recovery.
At minute 14:30 reset the incline and speed for your HIIT set.
minute 15 repeat the 20 sec sprint, 10 sec rest sequence for 5 minutes.
Sometimes I do 3 sets of this, other times just 2. Always cool down a bit after your last set.
Before this session, I did an ab sequence: side leg raises on a bench (20 each leg), ball pikes (10 – see past post for how to), and 20 upper ab crunches (knees bent, feet on the floor). Smash!
And for fleet feet I run in my Vibrams. them. Got mine at REI. Here's a little video about why they're so awesome! And I made this when I had my last pair 🙂
If you're interested in balance and alignment for your feet, hips and knees you may also enjoy reading:
From the Ground Up: How Your Feet Can Aid Your Alignment