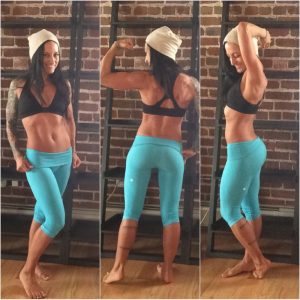 Moving can be so chaotic!! It certainly felt like it this time, moving across the country back home to Denver. If you've ever moved I'm sure you can relate.
I had a lot of issues with this move – things got damaged on the moving truck, the shipping company "forgot" to ship my car, the list goes on.
BUT – that's life! Instead of focusing on all of the craziness and chaos I did the one thing I could control throughout my move which was to make a workout happen every couple days.
Not having a routine can make life feel really crazy, but I was able to feel like I sort of had one just doing a 15-20 minute workout. It gave me energy, it improved my mood and I felt like a superstar for getting it done.
I thought you might like to try this one – I just got creative and used a moving box, though you could use a step, bench, low stool or anything really.
It's super fun, you'll be done in about 15 minutes and you can modify it easily in several ways. I left the video in real time so you don't feel like you have to rush – remember, quality over quantity!
Enjoy the video demo, use the form notes below to get the most out of the moves and be sure to leave me a comment to let me know if you are going to try this workout so I'll make some more!
Moving Box Bodyweight Shred Workout: FORMAT
FORMAT: 1:00 each move or 0:45 seconds or 0:30 seconds each move 3 rounds total
Move 1: Elevated Straight Leg Lifts
Begin with your feet on an elevated surface. Press your heels down and lift and lower your hips, keeping your core nice and tight. Squeeze your glutes each time you come up. This move is awesome for targeting your glutes and hamstrings.
Move 2: Elevated Single Leg Lifts
Now to really burn the glutes and hamstrings, split your time in half and lift one leg straight as you continue to perform elevated lifts. Switch sides after half your time.
It's really important to keep your core tight, not let your hips sag down, or back arch and don't let your hips roll up to one side or the other. Keep them nice and square.
Move 3: Decline Push Ups
This is an advanced push up move that engages your chest, triceps and core. Choose the right decline height for where you're starting at, and try doing a couple each round - switch to the floor or kneeling when you lose your form to really burn the muscles.
Really be mindful of keeping your core tight and engaged. The tendency will be for the lower back to arch - don't let that happen. Re-set yourself as needed. Keep your legs nice and straight and dip down as low as you can with your chest.
Maintain a neutral spine, not looking down or up with your head.
Take it to the floor and perform regular push ups or kneeling push ups whenever you need a break.
Move 4: Box Jump Overs to Body Squats
This is a great combo move for working your booty and legs, and adding the explosive jumping power that forces your whole body to work as a unit and really maximizes fat burning.
Squat down and load your heels, jumping up and over your box. Land softly and transfer your weight back to your heels. Immediately perform 2 body squats. You can use the box behind you as a guide, touching your butt to the box to help with your form.
Keep your chest lifted, weight back in your heels and keep your knees in line with your toes but not going beyond them. Don't go too fast on this move or rush it - pay attention to each explosion and each squat. I left this in real time for you so you can see that I am not going super fast - I'm paying attention to form here first. Quality over quantity.
Move 5: Single Leg Squats
You'll divide your time in half on these as well. Position yourself so one foot is up on the box behind you and you're stepped out far enough to be able to squat down without sending your knee beyond your front toe.
Keep your chest up and your back straight. Use the wall for support if needed. Try to come down to about 90 degrees each time you squat, and press through your heels as you lift up to activate your glutes and hamstrings.
How did you do? Let me know if you're doing this workout by commenting below!