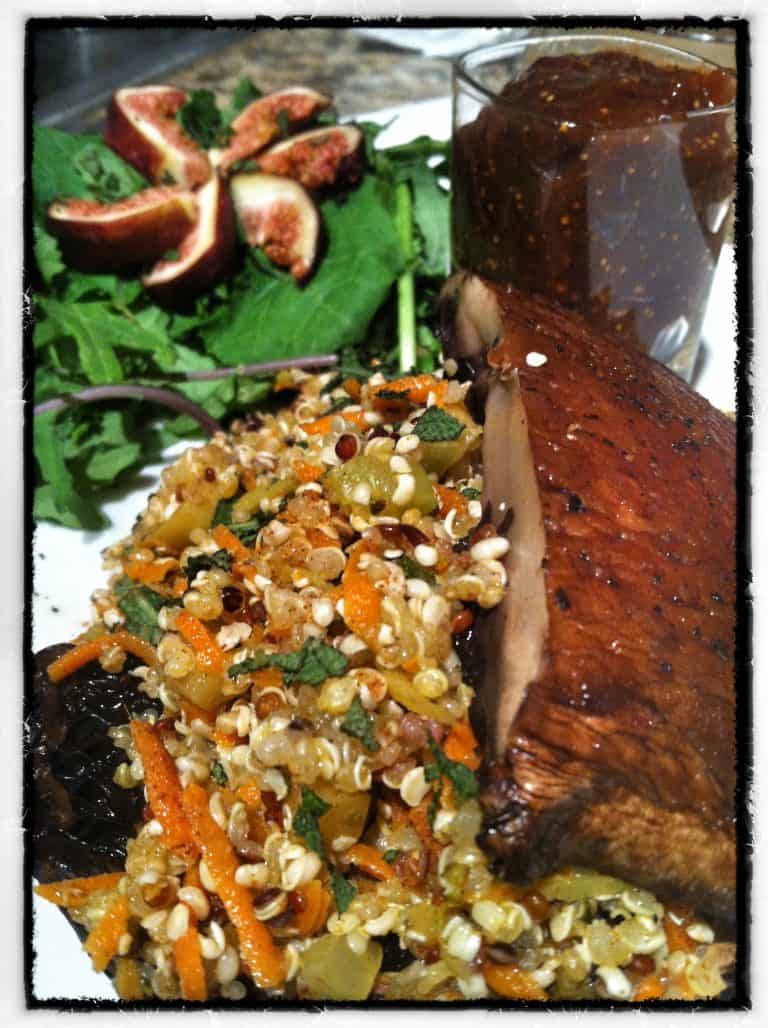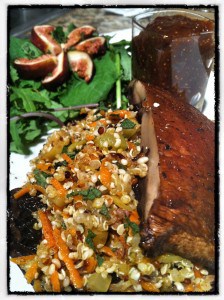 The thing about inventing new and delicious food is that the my creativity muse goes into SUPER POWER ACTION MODE when I'm cooking for someone I care about.
Ask any great song writer, author, painter anybody who creates ANYTHING and they will tell you, we do our best work when motivated by love (or pain – but that's usually because of love – so it's the same thing!).
In this case, I was motivated by my awesome friend Kate, who happens to be vegan.
Cooking vegan is always a fun challenge, because even though so many foods I normally cook with are off-limits it makes me think of interesting ways to include foods like protein-rich quinoa and hemp seeds, how to use fresh herbs effectively with spices, and got me totally excited to make a fig puree.
I recently acquired some fig-infused balsamic vinegar, and have been seeing fresh figs in the grocery store recently. Figs are one of those foods that I like, but don't have a lot of experience cooking with yet.
That is about to change.
Quinoa-Apple Filling
Makes: 5 cups
You will need: large sauce pan, fine mesh strainer or cheesecloth, spatula or wooden spoon, measuring cups and spoons, grater or food processor, cutting board, knives, 9×9″ baking dish, aluminum foil
3 medium carrots
3 stalks celery
2 granny smith, or tart apples
3 T walnut oil (or olive oil)
1/2 cup fresh sage
1 cup quinoa
2 cups water
2 tsp cinnamon
1 cup hemp seeds
2 cups water (if you are using regular quinoa, 1.5 cups is enough. If you are using red, black or a mix like rainbow, go with 2)
1. Preheat your oven to 350.
2. Rinse quinoa under cold water through a fine strainer or a cheesecloth placed in a pasta strainer.
3. Grate carrots and finely chop celery. If you prefer, you can pulse them together in the food processor.
4. Heat oil in a large sauce pan and add the carrots and celery. Cook them down for about 5-6 minutes, stirring regularly.
5. Add the quinoa to the vegetables and pour water over the top.
6. Bring the mixture to a low boil and allow it to cook for 3 minutes.
7. Quarter, core and chop or grate 2 apples, and finely chop the sage.
8. Add the apple and sage to the celery and carrots and cook for 1-2 minutes.
9. Turn off the heat and stir in the hemp seeds and cinnamon.
10. Transfer to a 9×9″ baking dish and cover with foil.
11. Bake for 20 minutes.
12. At 20 minutes, remove from the oven. There will probably still be a little water left in the bottom of the dish, so stir the quinoa from the top down and mix it all together.
13. Recover and return to oven for another 5 minutes, or until all the water has absorbed.
14. Set aside or store.
(this is a great leftover dish – tastes great cold)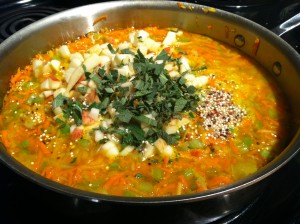 Baked Portobello Mushrooms
Yield: 2 servings
You will need: cookie sheet
2 Portobello Mushrooms
Sea salt
Fresh ground pepper
Grapeseed Oil (or olive oil)
Preheat oven to 350
1. Wash mushroom caps and remove the stems. Pat them dry with a paper towel.
2. Rub them on both sides with grapeseed oil, and add a little salt and pepper.
3. Place on a baking sheet and cook for 20 minutes.
This was the first time I'd ever made baked portobellos. If I had a grill, I would have tried them that way. This was super easy and fast, and the texture was incredible. I'd definitely do them again this way.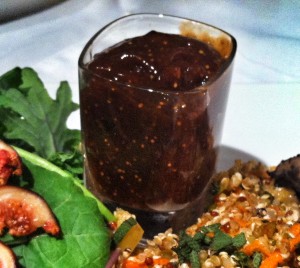 Balsamic-Fig Puree
Yield: about 1 cup
You will need: food processor, measuring spoons, cutting board, knife
1 pint fresh figs (set aside a couple for garnish)
3 T coconut sugar
2 T fig-infused balsamic (this is what inspired the fig puree – I got some at a Farmer's Market in San Rafael when I was there recently and I've been trying to think of what to make with it. I think that with fresh figs, you'll still get plenty of their flavor using a regular balsamic, if that's what you have on hand)
1 T water
1/4 orange – juice of
Fresh ground pepper
1. Remove stems from figs, and wash them.
2. Place figs in food processor and blend until evenly chopped.
3. Add coconut sugar, balsamic, orange and water and puree until well blended.
4. Taste test.
5. Add fresh ground pepper to taste.
This is one of those recipes that came out so well the first time. This isn't always the case!! Many bad experiments have taught me to add very flavorful ingredients (like spices, acidic ingredients etc) very slowly. I added the balsamic a 1/2 tsp at a time and kept tasting it til it was right. I like the 1/4 of an orange, but think it would hold up well with more. If you want it sweeter, leave out the pepper at the end, but I thought it really balanced the flavor profile. Let me know what you try. At the end it should really taste like a punch-you-in-the-face with awesome sauce.
Assembling your open faced sandwiches:
1 Portobello mushroom
1 cup Quinoa-Apple filling
1/4 cup Balsamic-Fig puree
Side of greens, fresh figs and fresh sage
Cut mushroom in half (unless you're really hungry, then have two caps!) and layer with Quinoa-Apple filling.
Drizzle with Awesome Sauce/Balsamic Fig Puree and serve with a side of greens, fresh figs and sage.
I also recommend watching a movie after dinner.
"You keep on using that word. I do not think it means what you think it means…"