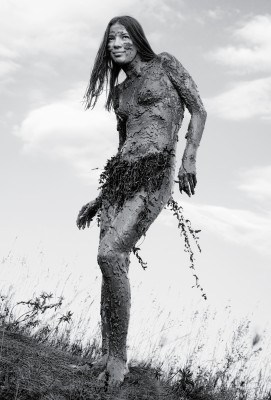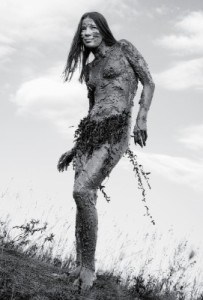 *note: updated on 8/23 after self-experimenting with the Paleo diet for 6 weeks.
I'm sure you've noticed that I've been posting some "paleo" and "primal" recipes recently. I wanted to take a minute and tell you what I've learned about evolutionary diets over the past several months, how I've been incorporating them, and why I think they're interesting.
Paleo, Primal, Caveman, Hunter-Gatherer….what's the Difference?
Hunter-gatherer and caveman diets are loose terms that describe how ancient man practiced his eating. The term "hunter gatherer" refers to a time when man foraged, hunted and fished for his food. What comes to mind about the hunter-gatherer way of life is that people worked hard to obtain their food, walked, ran, and moved a lot – both in its acquisition and preservation.
The Paleo Diet and the Primal Diet are specific eating programs developed by modern evolutionary theorists. "Paleo" was first popularized by Loren Cordain, author of The Paleo Diet, and Robb Wolf, author of The Paleo Solution. The "Primal Blueprint" or primal diet was developed by Mark Sisson, author of The Primal Blueprint.
Both Paleo and Primal eaters include grass-fed and free range meats, eggs, wild-caught fish, nuts and seeds, seasonal greens and vegetables, buying organic and local whenever possible and specific fats like coconut oil.
They exclude grains, processed foods, sugars, legumes (including soy and peanuts), foods made with sugars, processed oils, chemicals and high omega-6 vegetable oils (not to suggest omega-6 fats are bad – but in excess, and in disproportion to omega-3 fats can lead to inflammation and other health risks).
My experience with eliminating grains and legumes:
I already include all of the whole, natural foods suggested by the caveman diets – but eliminating grains and legumes was new for me.  I was curious to see how it would go. After having tried Paleo for 6 weeks, I decided that with the exception of using it as a source of great allergy-friendly recipes, I prefer a more inclusive eating style that regularly includes some grains daily, and legumes occasionally as a source of carbohydrates.
My experience with excluding the kind of gluten-free grains I normally eat (overnight oats, quinoa and amaranth) was that I relied more heavily on fruit and sweet potatoes as a carbohydrate source. I frequently craved sugar and experienced hormone imbalance, some blood sugar irregularity and unstable energy levels.
I'll go more in depth about carbohydrates and the various ways they are used as fuel by the body in another article – but let me summarize by saying that fruit sugar, and the higher amount of sugar in baked or cooked sweet potatoes definitely had an effect on how my body was storing fat. Combined with the new reliance my system had to develop using fat as its primary energy source (which is possible, just very different than carbohydrate breakdown) I did not feel right at all – and had a really hard time maintaining steady energy.
There are a lot of people who do really, really well with this kind of eating. And possibly it's because simply reducing the intake of processed food and focusing on wholesome, natural foods is a giant step in the right direction.
On the flip side, I have gotten a lot of emails and letters from people who follow a low-carb diet or specifically paleo diet who are working out 5-6 days a week and dealing with horrible sugar cravings, hormone imbalance and other issues similar to what I experienced, and I can only attribute this to our body's preference for using the glucose from carbohydrates as its primary energy source.
Since re-introducing grains, I've actually started seeing my ab definition again, which inclines me to keep including them. I definitely enjoy making paleo or primal recipes and meals, and will continue to enjoy the creativity of alternative diets within my own spectrum of balance.
More on Grains
If we examine the preparatory methods agriculturalists have used historically for grains, it's easy to see that the consumption of refined flours, polished rice and unfermented grain is not ideal. All grains contain phytic acid(an organic phosphorous-bound acid) in the outer coating of their bran. Un-fermented, untreated, this phytic acid can bind to calcium, copper, iron, magnesium and zinc in our intestines and block their absorption.
Soaking allows enzymes and other helpful organisms to break down and neutralizes the phytic acid, so its nutritional profile is on par with its availability as an abundant energy source. Sprouting grains has a similar effect, in helping enzyme development and enriching the nutrient content.
Along the lines of evolutionary theory, we can also look to our bone structure – particularly our teeth – as evidence that we are well-adapted to consuming (properly prepared) grains:
"Actually, the digestive mechanism of man is adapted to a mixed meat and vegetable diet. Human teeth consist of three types: canines or piercing teeth of the meat-eating animals, the incisors of plant-eating animals, the molars or grinders of grain and nut-eating animals. With respect to structure, human teeth are conclusive proof that the human body is adapted to a mixed animal and plant diet. Man has specific digestive ferments for meat proteins and other special digestive juices for carbohydrates. His stomach and intestinal tract is equipped to handle both. Man is naturally adapted to a mixed diet of animal and plant foods."
-H. Leon Abrams Your Body is Your Best Doctor
More reasons to include old-fashioned whole oats – the kind you soak overnight, breads made from sprouted grains, and soak your quinoa, amaranth, millet and other gluten-free grains of choice.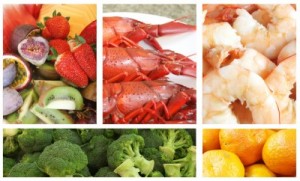 Dairy Consumption
When it comes to dairy consumption, Paleo and Primal models differ. In the Paleo model, dairy is excluded in the beginning stages of the diet and may be reintroduced later, depending on the body's tolerance of them while the Primal approach is more dairy-friendly, with recommendations that the products be high-quality, full-fat, raw (unpasteurized) and from pastured animals. Paleo recommends limiting egg consumption, while Primal encourages it.
While theories abound in regards to whether egg consumption is healthy or not, I stand behind my choice to include whole, organic eggs on a near daily basis. They provide a good source of protein, carbohydrates, fat and an abundance of micronutrients, and are in my opinion, one of nature's perfect foods.
More on Dairy Consumption
Like many of you, I don't tolerate milk, ice cream and many other dairy products very well. There are generally two reasons why dairy is poorly tolerated by so many of us. For some, it is the lack of the intestinal lactase enzyme, the enzyme that digests lactose (milk sugar). For others, it is the inability to assimilate a protein in milk called casein, which is one of the most difficult proteins for the body to digest.
Looking into the diets of our ancestors as well as indigenous people who include dairy, there were herdsmen who practiced fermenting, or souring milk. This process partially breaks down lactose, and pre-digests casein.
Food products created from fermented milk including yogurt and kefir are generally easier to tolerate than whole milk products (have you tried that? What do you think?) – and butter and cream actually contain very little lactose or casein. I personally include real butter occasionally as a healthy fat source, and it doesn't bother me the way milk does.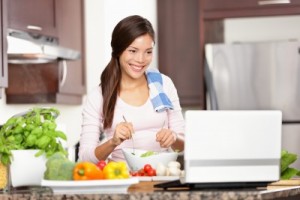 Be your own Experiment
The Primal Blueprint suggests healthy eaters adopt an 80/20 rule of thumb when approaching the diet strategies. When it comes to "cheat meals," or to use Tim Ferris' term "binge day" I like the concept of the 80/20 rule myself.
I've found alternative ways to cook many of the foods that might have tempted me to deviate from my healthy eating strategies in the past – like my paleo lasagna recipe, or Elana's chocolate chip cookies.
I utilize the principles of evolutionary diets often because they fit well into what my body already tells me: refined and processed foods make me feel bad, and I don't tolerate gluten or dairy well.
It's been easy to maintain my weight and lean muscle by paying attention to the results of my culinary experiments.
Bottom line is that I eat in a way that feels right to my body – and I encourage you to do the same. Experimenting with these, and other well-researched options is a great place to start in figuring out what works best for YOU.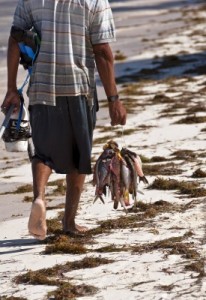 What controls Your Appetite?
Many people today still hunt and/or gather some, or all of their food. Either by choice or by necessity – gardeners, fisherman and farmers – they, and our primal ancestors had to work for their food. There was constant effort and exercise involved in that process.
The lifestyle of convenience and abundance in which many of us live allows us to take that for granted – and more importantly, lose the health benefits associated with acquiring food the old-fashioned way.
It's easy to become accustomed to eating regularly throughout the day, because food is always so available, and easy to consume more than we need.  In contemplating how far we've come from the natural order of things, I've been trying to get away from the habit of eating just because food is there, and letting my hunger dictate my eating times rather than the availability of the food dictating my hunger.
Caveman Mindset
Other ways I channel my inner caveman is in my mindset towards exercise. Right now I'm choosing to spend the summer without a car (I still have 2-wheels) and have been walking a lot more.
Free, unlimited low-impact cardio exercise is where it's at in reducing abdominal fat, using our homo erectus muscles the way they were designed to be used and decreasing the stress of excessive cardio.
I still include some cardio about once a week – but make a point of walking for an hour or so 2-3 times a week – walking to dinner or to the market – and I've really noticed a difference. Here's a great New York Times article that includes some of the benefits of walking.
Support your Local Farmers: be a Locavore
A very simple way to become more like your hunter-gatherer ancestors is to make a regular practice of supporting local Farmer's Markets, Farm Shares (CSA) and as always, buy organic and local at the store whenever possible.
Supporting the efforts of your local farmers and growers benefits everyone by promoting sustainable agricultural practices within our communities, decreasing the need for resources to package and transport food (i.e. plastics, fossil fuels).
"Buying local supports a more sustainable food system because true sustainability goes beyond the methods used in food production to include every step that brings food from farm to plate." (courtesty of sustainabletable.org)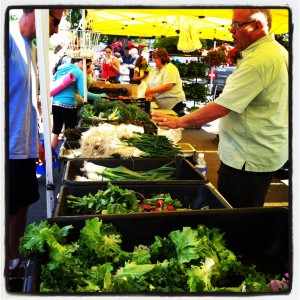 Conclusions
More information is better than less. Everyone has an opinion about why some foods are better than others, or why you should practice their way specifically.
For the 5 people who tell you not to eat eggs because they're too high in cholesterol, you'll find 10 more who will tell you about the balance in nutrients, good protein and that if you eat a balanced diet, cholesterol from eggs isn't the cholesterol you should be concerned with.
I've started a new section here on the site as a reference called "ingredients I use" that includes nutritional benefits to many of the foods I cook with regularly.
For a high-performing lean-body experience, I recommend learning the nutritional benefits of the foods you consume, finding ways to buy local, experimenting with Paleo and Primal principles, reading more about evolutionary diets, hunter-gatherers and thinking about channeling some 'Caveman Mindset' of your own.
Try everything, make your own conclusions based on your body's reaction, keep learning and stay open.
If you're someone who has tried, or is using a paleo or primal diet right now, I'd love to hear your experience…if you have any questions or are interested in trying one of these diets, please comment or ask questions! Leave your comments below!
See you next week, and Stay Awesome!
The second article in this series will feature some tips for dining out to stay lean and fit "hunter-gatherer style" along with a few recommendations on great places in Denver to easily do just that.
More Resources:
Here is a list of Paleo Foods and a list of Primal Foods. I consider both diets to be resources in the pursuit of a healthy lifestyle, that will give you more options – not less.
Sally Fallon: Nourishing Traditions
Mark's Daily Apple, the Primal Diet resource
Robb Wolf: What is the Paleo Diet
PaleOmg great Paleo recipe and lifestyle resource by cool Denver local Juli
Elana's Pantry Gluten-free recipes and healthy kitchen inspiration from the awesome Elana