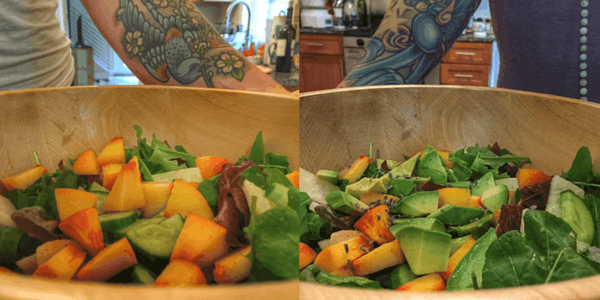 This is a very simple and elegant salad that pops with color and bursts with flavor.
I was the lucky dinner guest at my good friend Maddie's this past week, and she created this inspired salad alongside a beautiful meal that included baked chicken and green beans with a lovely home made pesto…we sat outside and enjoyed a Colorado sunset.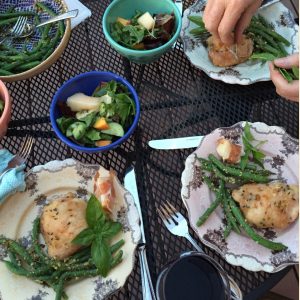 I wish you were there with us, but you can recreate this salad at home with this recipe.
You can also get more of Maddie's wonderful recipes on her blog, Madwellness.com!
For this salad, you will need:
2-3 cups mixed greens (we used assorted baby greens and arugula)
1 small cucumber or 1/2 large, diced
1 peach – we had Colorado peaches and they were just as juicy and amazing as they look!
1 avocado, diced
2-3 tsp lavender as a garnish (a Madwellness signature) – you can also toss some edible flowers on this salad, or some fresh herbs. Basil would make a lovely addition.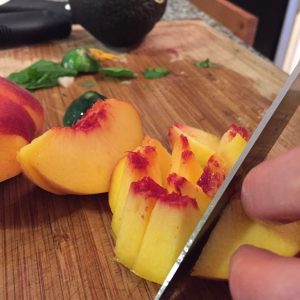 Dressing:
I'm very simple with dressings, my favorite one is a mixture of:
2-3 T avocado oil (or olive oil)
1/2 fresh lemon, juice of
drizzle of honey (optional)
fresh ground pepper to taste