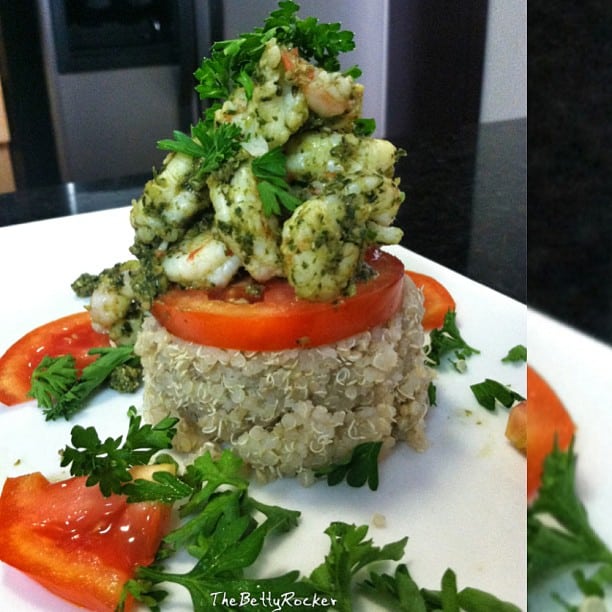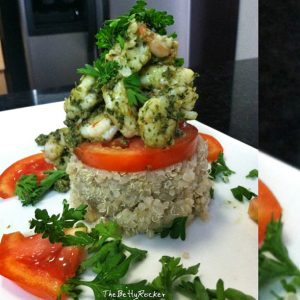 This took 8 minutes to put together.
I know, it looks like it's super fancy but it's actually made with just a few simple ingredients – and having my food prep done for the week let me whip it together in less time than it took me to eat. 🙂
To duplicate, you'll want to have some quinoa on hand and this pesto.
Slice up a flavorful, organic tomato to add some color and sweetness and a little fresh parsley or basil, and you're in business.
If you're doing the Body Fuel System, try out this fun variation one night that you're having steamed shrimp and pesto.
You could do this with baked fish or chicken too – pesto is an incredible way to boost your intake of the phytonutrients in fresh herbs like basil, parsley and whatever you make it with.
I make my pestos with a mix of nuts – especially walnuts to give them a creamy texture and flavor (I don't do much dairy which is why I experimented with that).
If you have a mini springform you can use it to create your stack, or just pack your quinoa into a half cup measuring cup or ramekin and plate it as shown the shrimp is sticky from the pesto and was easy to pile up.
This is an awesome presentation to make for someone special – or for yourself – you deserve it!
Pesto Shrimp and Quinoa Stack
Yield: 1 serving
You will need: measuring cups and spoons, knife, cutting board, small pot, mixing bowl and spoon
1/2 cup pre-cooked quinoa
12 peeled shrimp – fresh or frozen
2 T Basil Pesto
1-2 slices Tomato
Fresh parsley or Basil
1. Bring a small pot of water to a boil. Add shrimp and steam for 5-6 minutes.
2. Using a 1/2 cup measuring cup, ramekin or other small dish or bowl, pack quinoa tightly into it and turn onto the center of your plate.
3. Top with a thick slice of tomato.
4. Drain shrimp, remove tails if they have them, and toss in pesto.
5. The pesto will make the shrimp sticky. Using your hands, form the shrimp into a ball and place atop the tomato. Top with fresh herbs.