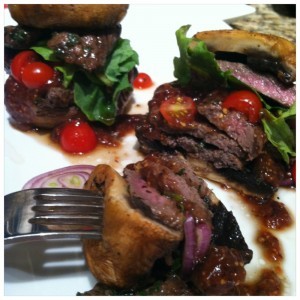 Primal Buffalo Steak Mushroom Sliders with Fig Puree
Ever since I made the Open-Faced Portobello Sandwiches I've been wanting to make another dish that featured the balsamic fig puree I concocted.
Enter "Buffalo Steak Mushroom Sliders with Fig Puree." While there are a few different parts to the assembly of this recipe, they are all simple and easy. Here's how to do it:
Makes: 4 Sliders
Marinated Buffalo NY Strip Steak
Yield: 3-4 servings
You will need: knife, cutting board, measuring cups and spoons, shallow dish, skillet
1 lb buffalo NY Strip steak
1/3 cup fresh parsley, chopped fine
2-3 T balsamic (I used the fig-infused balsamic)
Fresh ground pepper and sea salt
1. Cut up steak into small 1″ pieces.
2. Place in a shallow dish with parsley, balsamic and a sprinkle of fresh cracked pepper and salt.
3. Allow it to sit for a minimum of 30 min, or up to 4 hours.
(You can do this step first and assemble the fig puree, mushroom caps and other toppings in the meantime if you're making it all at once)
4. Heat a skillet to medium and add some cooking oil.
5. Pan sear the steaks evenly on both sides – mine were very thin and took about 2-3 min a side.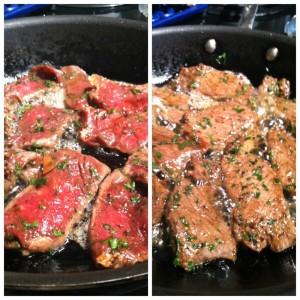 Balsamic Fig Puree
Yield: 3-4 servings
You will need: blender, measuring spoons
8-9 fresh figs, washed and de-stemmed
1 T balsamic (I used a fig infused one)
1/4 fresh lemon, juice of
1.5 T coconut sugar
Fresh cracked pepper to taste
1. Blend all ingredients in a food processor until an even consistency is formed.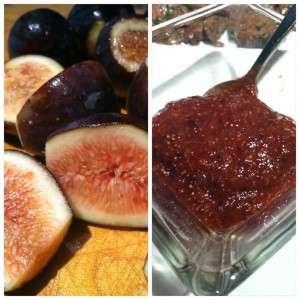 Baked Mushroom Caps
Yield: 4 servings
You will need: baking sheet
8 mushroom caps
Grapeseed Oil
Celtic Sea Salt
Fresh ground pepper
1. Prep mushrooms by removing stems and washing well.
2. Coat them inside and out with grapeseed oil*, a little salt and fresh ground pepper.
*don't be shy about applying the oil, as they will want to dry out quickly without enough.
3. Bake on a cookie sheet for 10 min @ 350.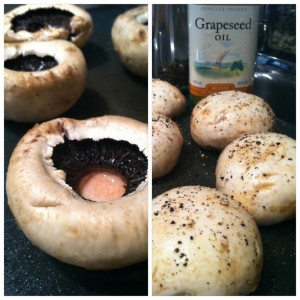 Assemble your ingredients: place a baked mushroom cap face up on a plate. Add steak, top with fig purée, layer with tomato, shallots and greens and top with another cap.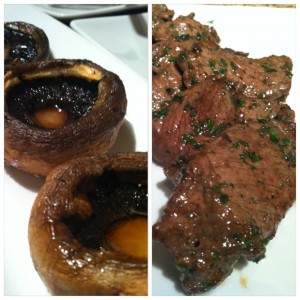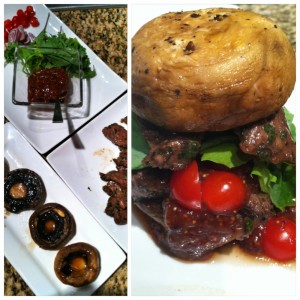 Enjoy!!