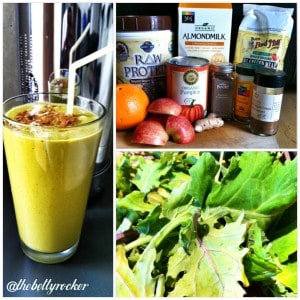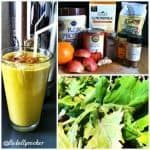 Pumpkin Chai Protein Green Smoothie
I didn't know if it could be done (green smoothie+pumpkin chai) but I refuse to give up in a good idea! Fall is HERE and it's time to get fresh and spicy in the kitchen with some pumpkin!
Pumpkins are an excellent source of fiber, complex carbohydrates (digest slowly and fuel you longer) antioxidants (namely Vitamin C and E – I'm a big fan of those!), beta carotene and Vitamin A to name a few…here's how I concocted this glass of fall in my mouth:
Pumpkin Chai Protein Green Smoothie
Yield: 1 serving
You will need: can opener, blender, spatula, knife, cutting board, measuring spoons, liquid measuring cup
3/4 cup organic canned pumpkin
1 cup baby kale
1/2 orange
1 apple
2 T flaxseed
1 scoop chocolate protein powder
1 fresh ginger nugget
1/4 tsp cinnamon
1/4 tsp cardamom
1/8 tsp nutmeg
1 cup almond milk
BLEND. ENJOY.
Garnish with cinnamon.
Nutrition Facts
Calories per Serving:

472
(I use a Blendtec to make all of my green smoothies – it's the most essential tool in my kitchen)
Leave me a message below and let me know how you like it or any other green smoothies you'd like me to concoct!