Raw Cinnamon Bun Bites
This amazing recipe can all be made in your high-powered blender. The recipe itself came from the cookbook I got when I bought my Blendtec. I am sure you could make it in a food processor as well – you'll have to let me know how it works if you try it! I wouldn't recommend making it in a regular blender – but I never say never.
I've added my own sequence of steps to their recipe to make things go smoothly for you.
To get started, you'll want to know that this is a recipe that has 3 parts: there is a Date Paste, a Cream Nut Frosting and the Raw Cinnamon Bun Bites. You'll soak some of the nuts for the cream nut frosting overnight, so get your supplies together and plan to make these the next day. You'll also want to soak your dates for a couple hours before you get started, so plan ahead!
Here's the lowdown:
Cream Nut Frosting
Yield: about 1 1/2 cups
You will need: measuring cups and spoons, blender, spatula
1/4 cup fresh squeezed orange juice (I used the juice of a whole orange, squeezed)
3 Tablespoons raw honey
1 Tablespoon coconut oil
1/2 cup cashews, soaked overnight and rinsed
1/2 cup raw macadamia nuts, soaked overnight and rinsed
1 Tablespoon vanilla extract
1. Add all your ingredients to the blender and blend on a high powered cycle until you get a creamy consistency.
2. Remove lid and scrape down the sides with a spatula and blend again, to ensure everything gets mixed. If you're using a Blendtec, use the "sauces" setting, then after you scrape, use the "batters" setting.
3. Set aside or refrigerate while you assemble the other parts of the recipe.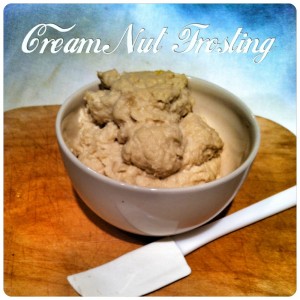 Date Paste
Yield: about 1 cup
You will need: mixing bowl, measuring cups and spoons, blender
8 medjool dates, pitted
2 Tablespoons honey (the original recipe calls for agave but I much prefer honey)
2 Tablespoons coconut oil
1/4 cup dried apricots
1. Soak dates in 1 cup of water for 1-2 hours. Reserve 1/4 cup of the water you soaked them in and add it to the blender along with the rest of the ingredients.
2. Blend until smooth. If you're using a Blendtec, use the "ice crush" setting.
3. Set aside.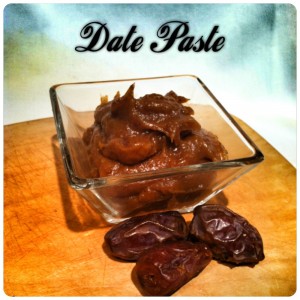 Cinnamon Bun Bites
Yield: 8-10 bites
You will need: measuring cups and spoons, blender, mixing bowl, spatula, rolling pin, knife
2/3 cup almonds (raw)
2/3 cup macadamia nuts
1 cup flaxseed
1 1/2 Tablespoons cinnamon
1/4 tsp sea salt
1/2 cup Date Paste (next recipe)
1/3 cup chopped raisins
1/4 cup chopped walnuts
1 Tablespoon honey
1. Add nuts, flaxseed, cinnamon and sea salt to your blender and blend until you get something on the verge of a nut butter – but not quite.
2. Transfer the nut mixture to a medium sized mixing bowl and add 1/2 cup date paste. Mix well.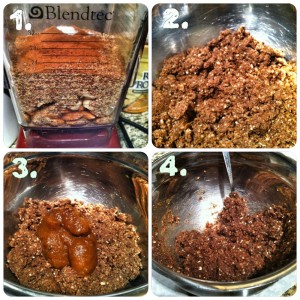 3. Spread out parchment paper and tape or weight it down to your counter. I usually tape mine.
4. Put the dough on the parchment paper and roll it out to about 1/4″ thick. I made mine into sort of a square shape, since you'll be rolling it up in the next step, this helps keep everything even.
5. Sprinkle the raisins and walnuts over the dough and drizzle with agave.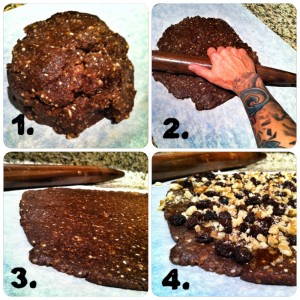 6. Take a metal spatula and slide it under one side of the dough to help roll it up.
7. Gently roll up one side of the dough, then slide the spatula underneath again and keep going until you get a log roll. I really didn't know if this was going to roll up – I was very skeptical! But don't worry, it will. The spatula trick really helps, and the raw dough is very maleable; you will be able to keep it in shape no problem.
8. Cut the log into pieces. The recipe said it makes 12 – I made more like 16-18. I like them smaller – that's just me.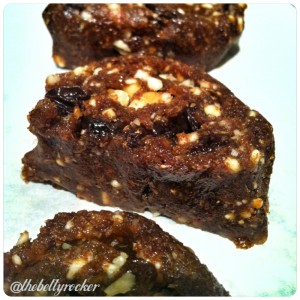 Assembly:
The recipe just says to frost them with the Cream Nut Frosting. But I actually really liked them with a layer of Date Paste first. Since I had some left over, I just smeared a little on each bite, then topped it with the frosting. A sprinkle of cinnamon and they were done!
They took about 30 minutes to pull together start to finish once I had done the requisite soaking. They stored well in the refrigerator for about 5 days. I layered them unfrosted in a tupperware container with a piece of parchment between the layers to keep them from sticking. Kept the frosting and date paste separate to assemble on demand.
Let me know if you have any questions about this recipe, you can leave a comment below.
Enjoy!