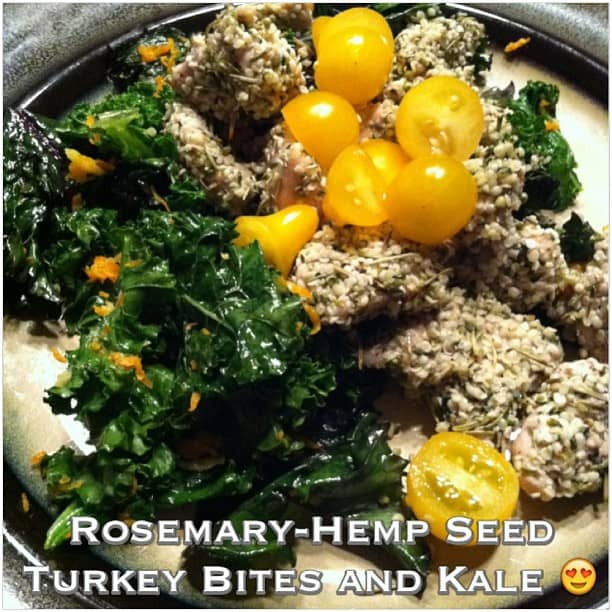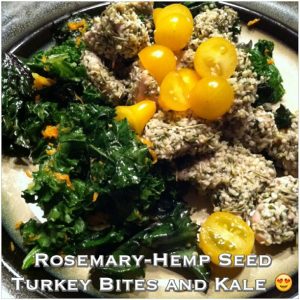 Here's a super easy, delicious and awesome Fitness Food Dinner Idea. If you're a regular on my website or in my Instagram feed you've seen my Sesame Herbed Turkey Bites in other great recipes I make (like Fire-Roasted Awesome Tomato Soup, or Gluten-Free Pizza).
I wanted to make them the other night but I realized I forgot to get sesame seeds – oh no! – but I did have hemp seeds on hand(read more about the numerous health benefits of hemp seeds).
Here's the Recipe:
Turkey Bites
Yield: 2 servings
You will need: Ziplock bag, measuring spoons, knife, cutting board, baking sheet
2/3 lb boneless, skinless turkey breast, cubed up (1/2″ pieces)
4-6 T hemp seeds
2-3 T fresh rosemary
fresh ground pepper
coarse sea salt
olive oil
1. Preheat the oven to 350.es)
2. Toss all of the ingredients into a Ziplock bag.
3. Shake up the bag to evenly coat the turkey (you can also mix them in a bowl).
4. Line a cookie sheet with tin foil and spread the turkey pieces out evenly.
5. Cook for 15-20 min.
Kale
Yield: 2 servings
You will need: skillet, spatula, knife, cutting board
1 head kale
olive oil
2 cloves garlic
1/2 cup carrots, shredded
1/2 cup cherry tomatoes
6. While the turkey bites are baking, heat up a large skillet and prep your kale by washing and pulling the pieces of the stems. I just make them into even sized pieces.
7. Add some oil to the pan (I've been cooking with walnut oil lately, it's so good and an excellent source of omega-3s), and press or grate the garlic cloves and carrots.
8. You can also mince up a couple jalepenos if you like it a little spicy.
9. Add the kale and toss together with the garlic, carrots and oil until the leaves are moist and softer. I don't cook them too long, just long enough to coat and infuse them with the flavor of the garlic and oil (remember, eating healthy fat with our greens allows your body to fully utilize and absorb their vitamins and nutrients)
10. Serve with cherry tomatoes and turkey bites.
Enjoy!!