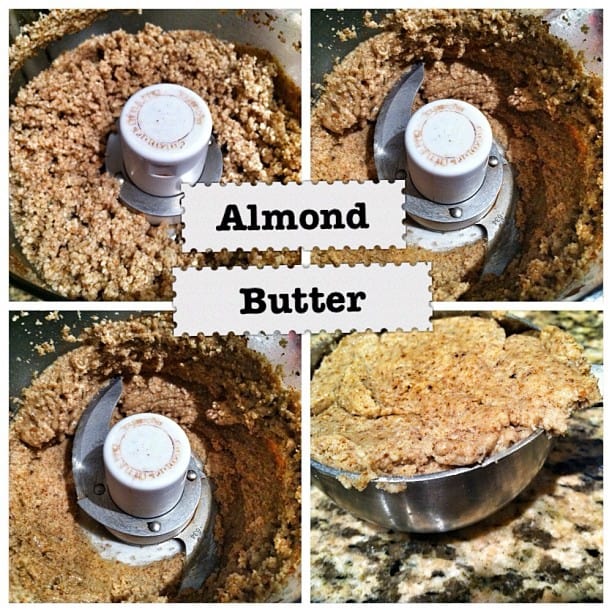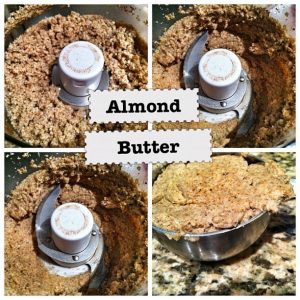 I know that cooking and baking gluten-free can get expensive – all those nut flours and special foods – one of my favorite ways to save money is to make my own nut butter and nut flours. It'ss so easy.
Almond Butter
For almond butter, I like to roast my almonds first.
1. Preheat oven to 350.
2. Lay almonds on cookie sheet and bake for 10-15 min.
3. Sprinkle with a little Celtic sea salt and cool.
4. Place desired amount in food processor and turn on.
5. Stop the processor occasionally and scrape down the sides.
6. It will take some time (5-10 min) but be patient. You WILL get roasted almond butter, and it WILL be delicious.
Almond Flour
For almond flour, I prefer to use a blender or coffee grinder, as the chop is finer and keeps the nuts from releasing too much of their natural oil which will make it more of a flour texture as opposed to butter.
1. Place almonds in the blender/coffee grinder.
2. Grind until fine – just beginning to stick together.
Walnut Flour
I also like to substitute some walnut flour for texture in many of my recipes. I make my walnut flour in the food processor or the blender – just let it crank until the pieces are pulverized but not sticky or butter-y yet.
I love the moistness walnut flour adds to my crust and cookie recipes – not to mention all of the wonderful health benefits walnuts have. They're one of the best food sources of Omega-3's – those fatty acids that our body can't make on its own.
Try making your own nut butters and flours by mixing different nuts together and/or by adding some cinnamon or spice of your choice.