Sculpt Sexy Arms with….Your Gym Bag!
Everybody has a bag that they throw everything in – from their laptop to their sneakers, when we're busy and running around making life happen we need a catch-all for life!
Ever think about how much that bag weighs? Or how you can take advantage of it to sculpt some sweet biceps and triceps?
I had actually not considered this until recently when I got a gorgeous new Lululemon gold gym bag.
I loved it so much, it went with me everywhere. I throw my water bottle, wallet, laptop, a spare jacket, gym shoes, a bottle of lotion and assorted other stuff in there on a daily basis and don't think twice about hauling it around with me everywhere I go.
That's why I wanted to do a workout at home for my arms and couldn't think of what to use for a really good biceps workout, I thought, why not?
Yes, you can do pull-ups and push-ups and triceps dips, but when it comes to working your biceps fully, some resistance really comes in handy. You don't want to hurt yourself lifting furniture (I read on a forum about a guy who puts his arms under his couch and lifts it), or get bored doing the same old things.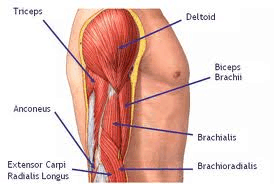 We want to train our bi's and tri's to compliment one another – these two major arm muscles cross the shoulder and elbow joint, and help to stabilize and move those two joints. Our biceps and triceps are known as "antagonists" to one another, which simply means they have opposite actions on the joints they move.
It's especially important for balance and alignment to train them both, and not just focus on one or the other, as imbalance can cause weakness around the joints. You can choose to train biceps and triceps muscles on different days of the week or combine them, just be sure you're targeting both groups.
For a fun variation that really works to balance your major upper arm muscles, try today's great moves using your gym bag or hand bag – Heck, you could do bicep curls waiting in line at the store next time you're there with that thing slung over your shoulder…the possibilities are endless, and now that you've got it in mind, there's nothing stopping you from toning the crap out of your arms.
Biceps and Triceps Circuit
Format
Option A: Do this entire circuit as a complete set, repeating 3 times. Perform the listed number of reps for each move.
Option B: Grab one or two of the moves and mix and match them into another full-body circuit with no equipment or do them when you're at the gym using actual weights.
Hot Tip: Add or remove things from your gym bag so you have a good resistance that you can feel, and still allows you to complete the reps. For example, I leave my laptop in my bag when I'm doing the 21's, and take it out for the hammer curls.
Move 1: Bicep Curls 21 Series: This 3-move series is based on 21's – if you're familiar with that particular bicep exercise sequence. You perform each of the 3 moves 7 times for a total of 21. You would normally start with Move B, but in this case it's fine to start with the full curl to warm the arms. It's a great sequence because it isolates and targets different parts of your biceps and totally burns them up!

A) Full Curl Standing, hold your bag with an underhand grip, chest up and open, gaze forward. Your hands should be about the same distance apart as your shoulders, elbows tucked in. Curl your bag up to your chest, then fully extend your arms straight to repeat for 7 reps.
B) Low to Mid Curl Using the same body position, this time lower your bag all the way down and bring it up to 90 degrees only, and repeat for 7 reps.
C) Mid to High Curl Bring your bag all the way up to a couple inches from your shoulders, and lower it down only halfway. Repeat, only coming down halfway for 7.
Move 2: Hammer Curls (10 each side) This is a lot like a bicep curl, but you're going to change your grip position. If you have 2 weights or same sized objects, you can do hammer curls at the same time. I'm alternating my arms because I'm using the bag. Be sure your palms are facing your chest or each other.
Move 3: Triceps Extensions (12) The key things you want to pay attention to in your body when performing triceps extensions like this are to keep your elbows hugging in, and keeping your core engaged.
Move 4: In and Out Push-Ups (6 of each) I love these, you get biceps and triceps on this one. Use good push-up form here, keep your core engaged and legs straight as you walk your hands out wide and do a push-up, and then bring them in close, hugging your elbows close to your rib cage as you come down. Repeat! Drop to your knees as you get tired to complete your reps, or build up to full plank by beginning on the knees.
Move 5: Reverse Tabletop Triceps Dips (15) This is one of my favorite moves that I learned from my good friend in Austin, Coach Erin who some of you remember from last year's challenges. Reverse tabletop is just like it sounds, your feet are on the ground and your hands too, but you're facing up. Really open your chest to keep those shoulders back, and make sure your hands are directly below your shoulders with your fingers facing towards your feet. Keep your glutes lifting, try not to let them sink. The movement is small, and it happens at your elbows, not your hips.
There you have it! No excuses! Let me know if you have any questions, and post some pictures of you doing bicep curls and triceps extensions at home on my Facebook Wall!