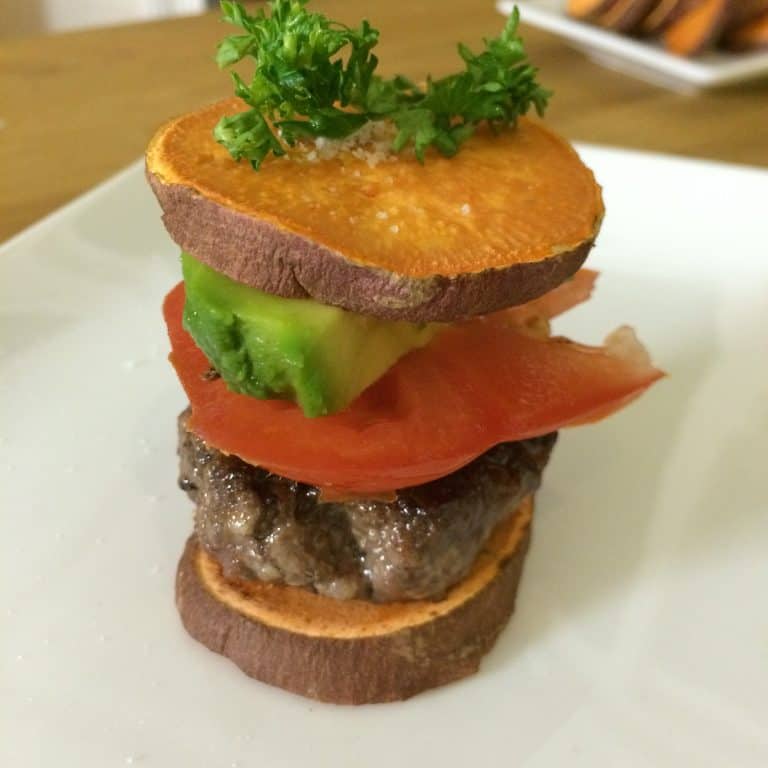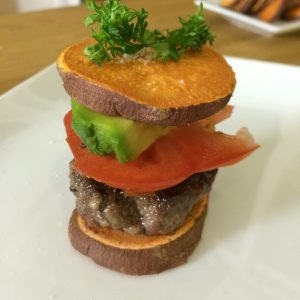 When I like something, I like to make it many times with variations – so if you've already seen this recipe here is my latest variation, and I made a video for you too!
Sweet Potato Sliders originally happened because I was trying to find a way to bake sweet potatoes in the shortest amount of time.
It's nice to have things that don't take long to cook, right? Especially when you're HUNGRY!
(You can see the first version I posted for a nice variation with grilled onions and fresh herbs HERE.)
Sweet potato sliders are just one dish you can make with sweet potato discs.
I use sweet potato discs for everything from "bread" for a sandwich, dip for guacamole to a base for my tuna avocado salad – and they keep really well too – so they're awesome to include as a staple carb for weekly food prep a la the Body Fuel System.
---
---
Sweet Potato Sliders
Yield: 3-4 servings
You will need: knife, cutting board, baking sheet, skillet, spatula, mixing bowl
For the Sweet Potato "Buns"
1 medium-large sweet potato, washed, skin on
For the Sliders
1 lb ground buffalo or grass-fed beef, made into small patties (I make them slightly larger than the diameter of the sweet potato I'm using)
2-3 T balsamic vinegar
Salt and pepper
Burger "Fixings"(feel free to add to or remove any of these)
1 Avocado
1 Tomato
1/4 cup Parsley
Shallot slices
Sea salt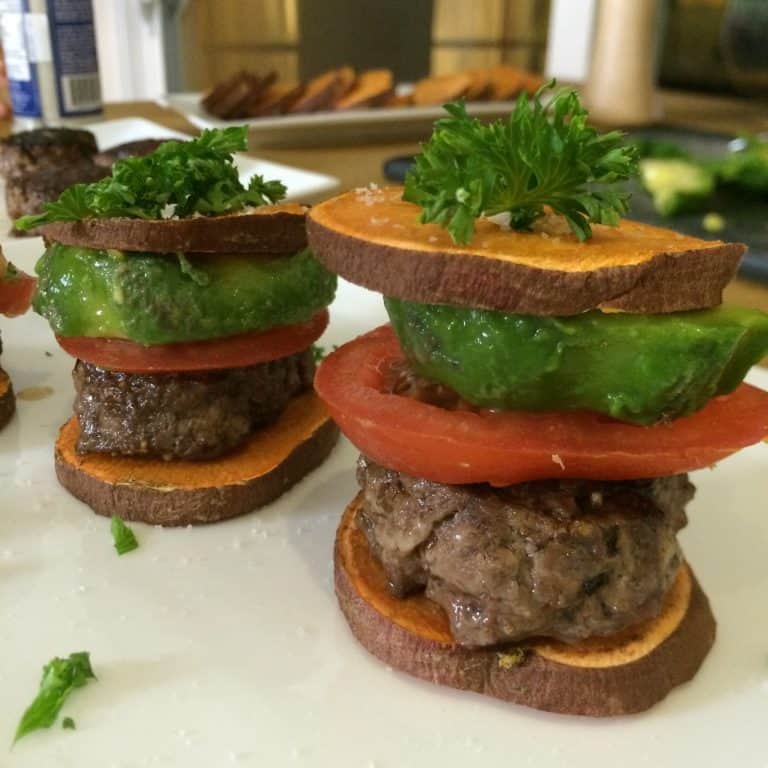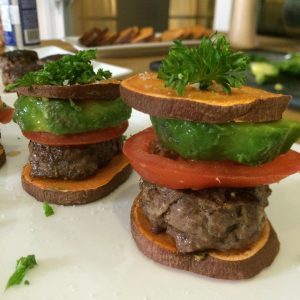 Preheat the oven to 350.
1. Prep your patties. Sprinkle with a little salt and pepper and drizzle balsamic. Rub it into both sides. I like to let my burgers sit out for a bit and soak in that balsamic, as cooking them cold tends to make them cook a little unevenly.
2. SLIDERS INSTRUCTIONS: After you've prepped your burgers, slice your sweet potato into even sized discs. Lay them flat on a baking sheet and bake for 15 minutes.
3. Once the sliders are in the oven, get the burgers on a heated skillet and cook on medium heat. You can grill them or cook them on the stovetop like I am in the video.
4. When they're done to the temperature you like them, plate them and set aside so you can prep your fixings.
5. I chopped up one avocado and one tomato, and some fresh parsley. Simple, easy and delicious.
6. When your sweet potato discs are finished, you can assemble your burgers by layering one disc, one patty, fixings of your choice, another disc and garnish with a little sea salt and parsley. I also like this with some spicy mustard, and I'm hoping you'll share your suggestions with me too!
Everyone always asks me if these actually hold together like real buns.
The answer is a resounding yes! I had my friend Catherine show you her burger after taking a bite so you can see how well they hold the burger together. The texture when they're baked this way is awesome! Slightly chewy and sweet – the perfect compliment to the protein nuggets that these grass-fed beef sliders are.
Please share your variations, I love to hear your ideas and experiments! Thanks so much for trying my recipes, and for all of your awesome comments and questions!
If you like this recipe, and you like healthy eating you'll love the Body Fuel System– with delicious, easy recipes and lots of options for eating healthy, even with busy schedules!