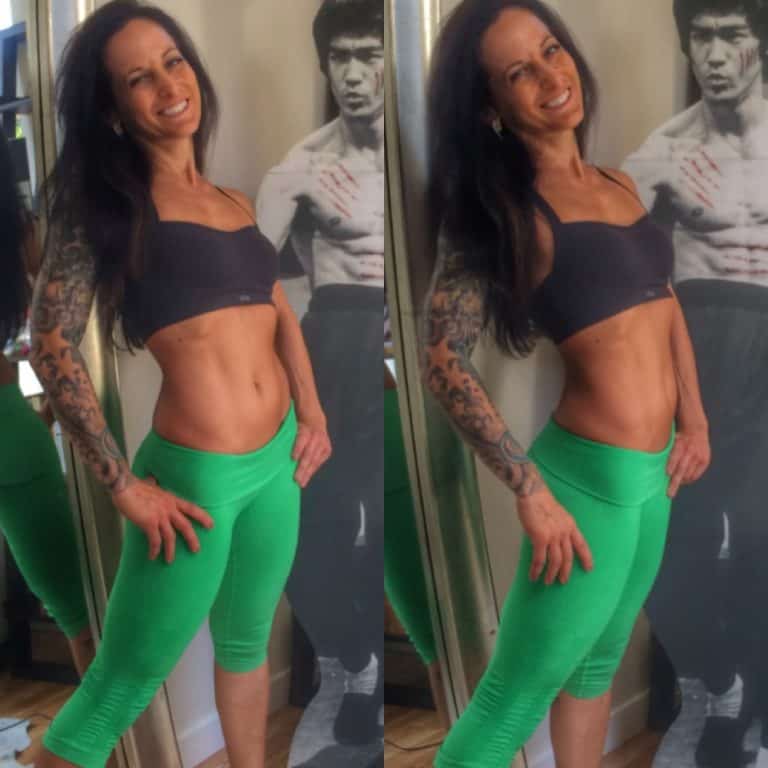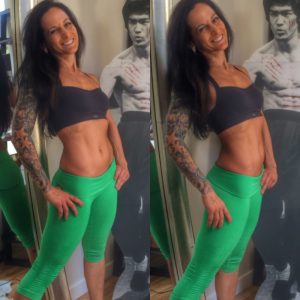 I've been getting a LOT of requests for bikini body workouts, and I decided to kick it off with a circuit that targets our abs and shoulders – AND spikes our heart rate to maximize the fat burn at the same time!
This workout is an intermediate to advanced workout, that will really target the deep core stabilizers – the foundation of strong abs.
Not only will this workout get your heart rate up, it will hit every angle of your core and BONUS – really work your shoulders and arms – the perfect follow up from last week's biceps and triceps workout!
To see your abs, remember that it's not just about doing "ab workouts" – it's about how you eat, and your overall training plan that includes resistance (you'll get to take advantage of that in this workout with the balancing in side plank, the sit outs and plank walks) and high intensity interval training – which is why we're adding some burpees.
You can read my guide to getting your abs to show right here:4 Step Guide to Get Flat Abs and Burn Belly Fat
The Hottest Abs and Shoulders Circuit
Hottest Abs Circuit
Format: 3 Rounds
Advanced: 45 seconds work/10 seconds rest
Intermediate: 30/10
Beginner: 20/10
1. Double Jump Burpees
From a standing position, drop down into plank position, stacking your hands below your shoulders and keeping your core engaged.
Advanced: Do a pushup.
Intermediate: Drop your chest right down to the ground and come back up.
Beginner: Skip the push up
Jump your feet back to your hands and jump up – do TWO JUMPS for a double jump.
Repeat
You can modify the burpee many different ways. As stated above, or you can also walk your feet in or out rather than jumping.
2. Spider Crawl
Begin in a tall plank position, with good alignment as described above.
Keeping your core engaged, bring your right knee up to meet you right elbow as you lower yourself to a push up.
Repeat on the opposite side. Don't let your hips sag or rotate -maintain that strong plank position throughout.
You can modify this by removing the push-up – simply hold plank and alternate bringing your knees out to the side.
3. Side Plank Toe Taps (each side)
Come into side plank, stacking your wrist below your shoulder. Keep your body in a straight line. You can make a soft fist with your hand if being flat irritates your wrist at all.
If you can hold this position easily, lift your top leg and tap the ground in front of you. You must keep your hips square while performing this move – don't let them shift, dip or move. Bring the leg back and tap the ground behind you. If you start to get wobbly at any time, come right back to holding side plank.
You can also perform this on your elbow, and I would suggest modifying it by taking out the toe tap whenever you need to.

4. Plank Walks
Come into high plank, core engaged and hands stacked below your shoulders.
Lower your body from your hands to your elbows, one side and then the other, coming to elbow plank.
Press yourself back up, one hand at a time to return to high plank position.
Alternate the hand that you push up on first each time.
5. Sit Out
Come into tall plank, but bring your knees in close to your elbows, just above the floor.
Kick one leg through to the opposite side, keeping your arms nice and straight – not bending your elbows.
Rotate and do the same on the other side.
Maintaining strong torso alignment is important with this one to protect your back. Come into high plank and hold when you need to rest.
Modify this by flipping over to your back and performing slow, controlled bicycle crunches
Thanks for all of your hard work -keep it up!