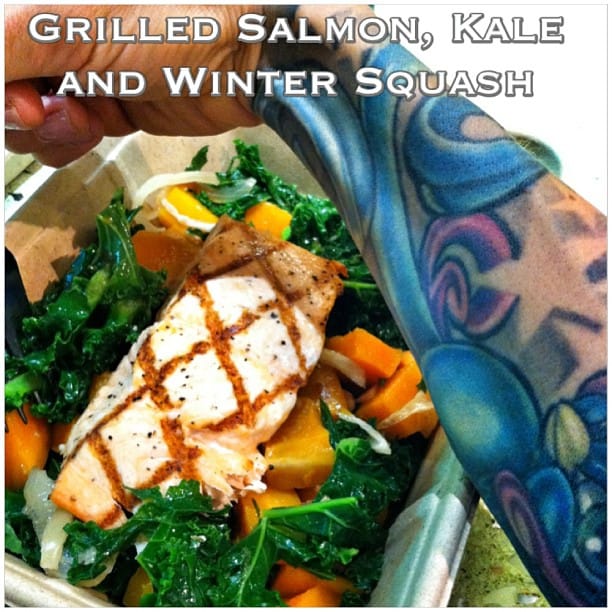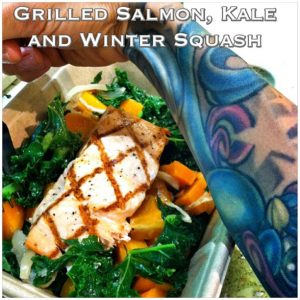 Hi FitFam, my name is Betty Rocker and I am obsessed with Kale.So much so, one friend has nicknamed me the "Baby Gorilla." haha!
This photo is from lunch at Whole Foods. I have been enjoying the flagship store so much since I've been in Austin – I've actually eaten there every day!
I've had kale salad (like the awesome one in the picture), kale smoothies (with coconut water, frozen strawberries, ginger and a Raw protein powder packet), raw kale by the fistful….and now, let me tell you why this dark leafy green vegetable is one of my favorite healthy fitness food rock stars:
 Kale is a member of the Brassica family (which also includes broccoli, cauliflower and cabbage) and is especially potent in Vitamin K (builds healthy bones and keeps your healthy), Vitamin A (protects your eyesight), Vitamin C, fiber and carotenoids (fight free radicals and ward off cancer).
 Research has also shown that kale contains 45(!!) different flavenoids with a variety of antioxidant and anti-inflammatory effects. If you're an athlete or train regularly, regular consumption of anti-inflammatory food aids muscle recovery, benefits your overall health and will help keep you from getting sick.
Brassica vegetables in general benefit our health and help with heart disease and cancer – but kale is the star of the group as it contains the widest range of antioxidants, including high levels of of several specific ones, along with Vitamin K and a type of Vitamin E that are especially heart-healthy.
I feel like the benefits I get from eating greens are so numerous and fit-body friendly I would never want to go without them. Take a cue from our hunter-gatherer ancestors who ate an abundance of green leafy vegetables, and forage in the urban jungle for the best quality produce you can find!
Hot tip: I always eat my greens with some healthy fat (like coconut oil, walnut oil, olive oil, avocado, nuts) to help my body uptake the vitamins and nutrients in them. Many of the most valuable nutrients in vegetables (like the Vitamins and carotenoids I mentioned above) are what we call fat-soluble (or lipid-soluble) vitamins – and to get absorbed into your cells for use, they catch a lift on a fat molecule.
Green Smoothie Recipes with Kale:
Blueberry Banana Green Smoothie
Banana Fig Chai Green Smoothie for Ninjas
….and more, in the Green Smoothie, Protein Shakes and Energy Bars Category!