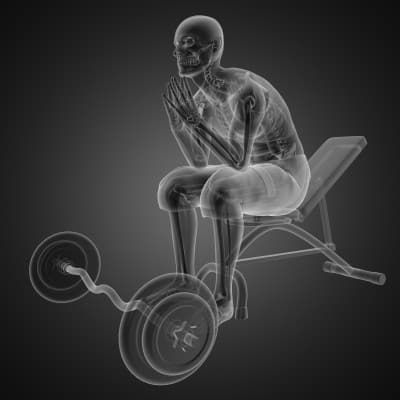 One of the most common, repetitive issues I used to see in my clients who came to me for sports injury treatments was NOT the result of over-training, it was the result of training with bad form. 
Most people who are serious about fitness don't even realize they have bad form – until they get hurt.
To get the results of a lean body, we do have to push through pain – but only to a certain extent.
If you always have the same pain in your shoulder when you're doing overhead presses, or your right knee really hurts on the outside every time you do lunges, you might want to consider adjusting your alignment – or working with a practitioner who can help you get aligned.
Bad form is misalignment in your body – in your hips, your knees, your ankles or another joint – that causes the muscles attaching to that joint to work in an imbalanced way.
What that means is some muscles are working a little too hard, and others aren't working as much. There are many causes of misalignment – an injury that didn't heal correctly, overuse of one side of the body, chronic forward seated posture (know anyone in this situation?), and so many more.
Whatever the cause, misalignment causes inefficient use of the muscles around joints, and sometimes pain.
The body can adapt to almost any kind of movement, so when there's a problem at a joint the body keeps moving by engaging other strong muscles that will get the job done. This is knows as compensating – a term you've heard before.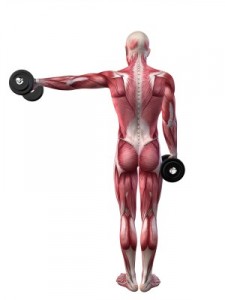 Have you ever seen someone doing bicep curls with a weight that's so heavy they're mostly using their back?
Their shoulder isn't even stabilized at that point, it's rolled forward causing their body to rely on other muscles that can get the job done.
The result is that the incredible force from the weight and the movement is actually stressing out the shoulder joint, the bicep isn't really getting worked optimally, and the person in question doesn't look as tough as they'd planned with that ridiculously heavy dumbbell.
Another less obvious example is the runner who starts feeling knee pain about 2-3 miles into their run. They push through, because 'no pain, no gain.'
The most common cause of knee pain is misalignment of the pelvis, or hips. Many people I've treated had some slight degree of pelvic imbalance, whether from right or left side dominance, an old injury or fall, or overdevelopment from a sport.
Your legs, knees and ankles are all in line with your pelvis, so if it's rotated somehow, you're going to be putting pressure on the underlying joints unevenly.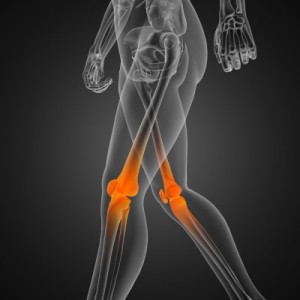 Overdeveloping certain muscles from always doing one sport can cause imbalances too – ever wonder why so many skiiers have ACL surgeries? The constant forward pressure on the knees causes overdevelopment of the quadriceps muscles over time – and without cross training the opposite muscles – stress develops in the knee joint.
So how do you prevent bad form from creeping up on you in the gym and in your workouts?
Here are some of the things I do to keep myself aligned.
1. Toe a line.
When I'm squatting or doing deadlifts or kettlebell swings, I try to line my toes up on a line. That helps me make sure I'm not putting more pressure on one leg than the other.
2. Use a mirror.
It's hard to see everything when you're focusing on the effort of the movement. But watching yourself will help you stay aware of your posture and accountable for the things your trainer says, like keep your chest open, keep your head in line with your spine, etc.
3. Engage your core.
I use this constantly. Engaging your deep core muscles helps align your hips because your primary hip flexor, or psoas muscle runs from your lower spine to your femur (leg bone). When it's engaged, it helps stabilize and balance your pelvis – so activate it mindfully when you're strength training.
4. Cross train.
Learn about the muscles you're using in your sport of choice, and train their antagonists – a fancy word for muscles that do the opposite action.  For example, quads to knee and hip extension – hamstrings do knee and hip flexion.
Sitting at a desk all day, eating, and all the other forward upper body movements PLUS training chest all work and develop the chest muscles. Don't forget to train their opposites – your BACK muscles on a regular basis to help you stay upright and straight with good posture.
Got questions? I've got answers. Leave me a comment below, or write me directly through the contact form. I want you feeling your best, for as long as possible…that's what kicking ass at life is all about!