It used to be that when people got injured, they were kept off their feet and resting for as long as possible. As more is understood about how the body works, the opposite is now true. That's because your body is an amazing machine that will heal itself bio-mechanically, through its own natural movement and circulation processes. But to stimulate them, you need to move.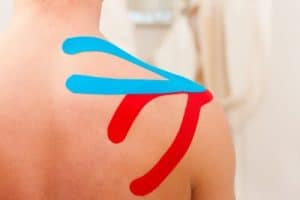 What is Kinesiotape?
Kinesiotape is a lightweight, stretchy tape that is applied to injured or stressed areas of the body, usually around joints. It is different than traditional sports tape in its light, stretchy consistency and its purpose.
What is it used for?
When muscles are injured and become inflamed, pressure builds up in the injured area. This generally causes pain. The stretchy quality of the tape allows the skin to to lift and move over the muscles, allowing blood and lymph fluid to increase circulation around the injured or inflamed area. This speeds up the healing process.
What is the difference between sports taping and kinesiotaping?
Traditional sports taping aims to support a stressed or injured joint and is usually applied just before activity to limit movement, or range of motion of the joint. Because its purpose is to immobilize, it's usually wrapped around the injured area several times. While this restricts movement, the compression also restricts blood and other helpful fluids from reaching the area. The elasticity of kinesiotape allows the body to move freely through its full range of motion and promotes the body's own bio-mechanical healing response.
I want to try it for my sore shoulder/neck/ankle. Where can I have it applied?
Applying Kinesiotape takes training, and knowledge of anatomy. I apply it to my clients and can answer any questions you have!