Bodyweight circuits are SO MUCH FUN!
Combining explosive moves like jump squats with controlled strength moves like push-ups in a full-body non-stop sequence is an incredibly effective way to boost your metabolism for hours after you work out, enhance fat-burning and accomplish a great workout in a short time with no gym or equipment needed.
Building a Balanced Body is Key…
After practicing Structural Integration for years – realigning and tuning up the bodies of motorcycle racers, extreme sports athletes and weekend warriors – I found many common body issues could be alleviated and corrected by a balanced strength training program with attention to FORM – which is why you'll always find I'm a stickler when it comes to HOW you practice these moves 🙂
You can mix these bodyweight circuits into your regular fitness program to give  it a boost, use them anytime you need to get a fast shred in on a time budget, and for the next 4 weeks, I'm going to challenge you each week to do a different circuit at least 3 times!
Remember, if a move causes you pain, STOP, use a modification or a simpler version until you get stronger. Building a balanced body is key in achieving real strength, and we all have a variety of different movement practices, old injuries we're dealing with and unique body patterns. Use the form notes!
WITNESS THE FITNESS!
Week 1: 7 moves. 1 minute each. Rest  10-20 seconds between each move. Rest 15-30 seconds between each round. Do 3-5 rounds.
WITNESS THE FITNESS CHALLENGE: Do this workout 3 times this week. Combine this week's workout with Day 1 from the 5 Day Challenge – No Added Sugar – all week, do your absolute BEST to stick to those guidelines! I know you can do it!
Move 1: Hold Plank
Hold yourself up in a push-up position. Pay attention to your shoulders being stacked over your elbows and in line with your wrists. If you have any pain in your wrists, check your alignment, and if necessary drop to a forearm plank, or try holding it on soft fists (dumbbells work well too). Alternatively, drop to your knees. However you position your upper body, be sure to keep your core engaged and do not let your back arch or sag. Imagine you're pressing your lower back into an invisible ceiling as you hold this position.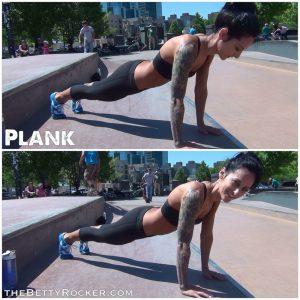 Move 2: Superman Extensions
From a prone (face down) position, raise your arms straight up in front of you. Engage your lower back and simultaneously lift and lower your torso and feet from the ground. Maintain a neutral neck position (look about 6 inches in front of you) and keep your feet together. Alternatively you can hold the contraction as a static hold.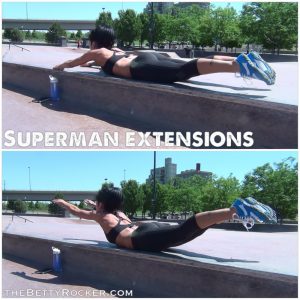 Move 3: Mountain Climbers
Come back into tall plank position (using the same solid upper body form as before, and modify on soft fists or using dumbbells as needed). Run with your legs, alternating knees in to your chest. Remember that same solid plank form from before, and keep your hips low. When they start to lift, re-set yourself and bring them back down. If this is too hard on your wrists, you can stand and perform high knees (run in place, bringing your knees up high).
Move 4: Tricep Dips
Begin holding yourself up on a ledge, chair or bench, arms straight and shoulder width apart. Keep your chest open, chin up and maintain a parallel position with your arms (don't let your elbows waggle out to the side) as you lower yourself down to a 90 degree elbow bend, and press yourself back up. You can vary the degree of difficulty here by extending your legs out farther, or bringing them closer in.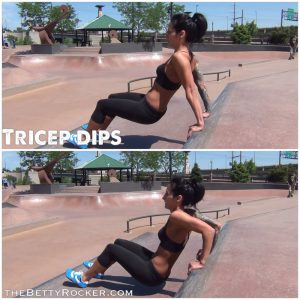 Move 5: Jump Squats
Begin standing, feet just slightly wider than hip width apart, toes tracking mostly forward. Drop it low, keeping your chest UP, chin lifted, and explode up into  a jump. Be sure you have a springy surface to land on, and land softly. As you land, come right back down into a squat and spring up again. Keep your weight back in your heels as you balance in the squat, and squeeze your glutes on each jump, allowing your hips to lead the movement. Doing these for a minute will get your heart pounding – if you need a little break, or aren't quite ready for jump squats, go right into body squats using the same foot position. It's not necessary to squat as deeply as I am, especially if you're beginning. That's where you're heading with practice!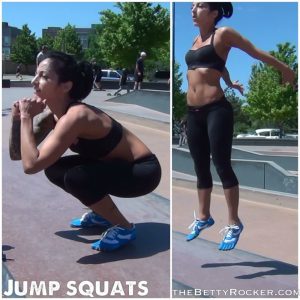 Move 6: Push-Ups
Ah, yes, my nemesis. Begin in the tall plank position, shoulders stacked over wrists, neck nice and neutral, lower back and core engaged (not sagging). Lower yourself slowly, not touching the ground and push back up. A great way to protect your shoulders as you move through these is to draw your shoulder blades together and down your back slightly and focusing on holding that form as you do your push-ups. Doing these for a full minute is tough – for me, anyway! So at any time, drop to your knees and keep going. Remember you can use different fist positions like we talked about in the plank form notes.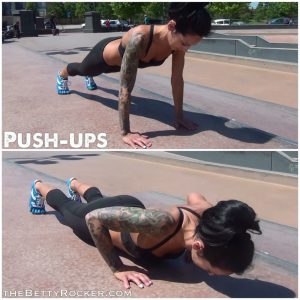 Move 7: Lateral Barrier Jumps
These are SUPER fun, and work all kinds of muscles – your calves, glutes, core stabilizers and lots of little intrinsic balancing muscles too. You can put something as simple as a towel or water bottle on the ground and use that as your "barrier." (if you're using a water bottle or something that moves BE CAREFUL not to slip on it!!) Hop up and over it laterally, then back over it again. Imagine it's a few inches tall and jump high enough to clear it if you don't have an actual barrier. If jumping is tough on your joints, I want you to begin in a squat position and step to the left, squat then return to center, then step to the right, squat. Repeat.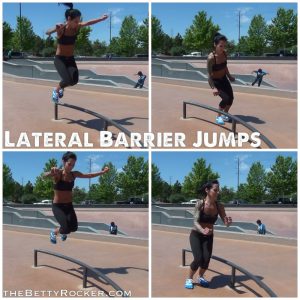 That's your Workout! Post below and let me know how many rounds you did, and how many reps (if you had time to count them!) Be sure to rest in between moves, usually between 5-20 seconds depending on your fitness level, and take 15-30 between rounds. Challenge yourself for 3-5 rounds – ROCKSTAR status to all who complete this circuit this week!
Here's a LINK to a short demo video of this workout for some extra visual cues!
**Do this workout 3 times this week. When you're ready, move on to Week 2!