Who's ready for WTF Week 2?
WTF, WTF! Is what everyone doing the #witnessthefitness challenge says to themselves about halfway through round 2 of one of these crazy effective circuits!
You guys are doing great! It takes dedication to stick to commitments we make to ourselves – so I'm glad you're back for more and going strong!
If you missed Week 1, be sure to check it out and get the moves!
This week's workout is sneaky! 7 more moves to target your entire body – and while some of them look very simple they are incredibly effective for fat-burning and supporting and developing that lean, sexy muscle!
You can mix these body weight circuits into your regular fitness program to give  it a boost, use them anytime you need to get a fast shred in on a time budget – and you don't need any equipment or a gym!
WITNESS THE FITNESS CHALLENGE – Week 2!
Week 1: 7 moves. 1 minute each. Rest  10-20 seconds between each move. Rest 15-30 seconds between each round. Do 3-5 rounds.
WITNESS THE FITNESS CHALLENGE: Do this workout 3 times this week. Combine this week's workout with the Drink a Green Smoothie Challenge – and try to do a green smoothie at least 5 days this week!
Remember, if a move causes you pain, STOP, use a modification or a simpler version until you get stronger. Building a balanced body is key in achieving real strength, and we all have a variety of different movement practices, old injuries we're dealing with and unique body patterns. Use the form notes!
Move 1: Reverse Plank
We're going to take that same solid form we had last week in our plank hold and flip it over to a reverse plank. Point your fingers toward your hips, and stack your wrists below your elbows and shoulders. Gently engage your shoulders, pulling your scapulae (shoulder blades) slightly together and down your back. Engage your core, slightly tilting your pelvis down to keep your back from arching. Keep your head and neck in a neutral position, lifted slightly. Press your heels gently down, feet about hip width apart or slightly less.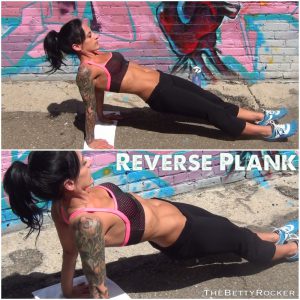 Move 2: Side Plank Dip Crunches
Come into an elbow side plank. Make sure your elbow is lined up below your shoulder. Stack your feet and engage your core, holding yourself up in a nice straight line. Drop your hip to the ground, then press up, and as you press up, bend your top knee and side crunch it in. Do 30 seconds on each side for this move. This one is AWESOME.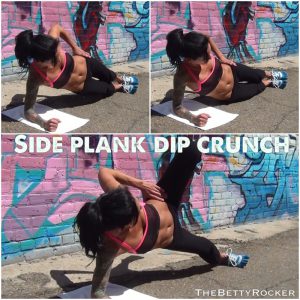 Move 3: Broad Jumps
Begin with your feet slightly wider than hip distance apart. Squat down, arms back and launch yourself up and forward. Land as you started, in a squat. Land lightly on your feet, and keep your weight back over your heels to keep your knees from projecting over your toes. Be sure your knees are tracking in the same line as your feet. Do these continuously and smoothly – as in each time you land, launch yourself again.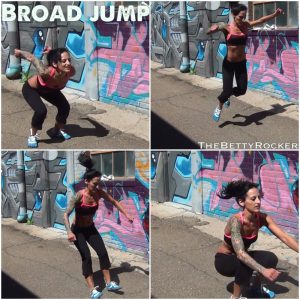 Move 4: Walking Lunge Kick
Come into a lunge, with your knees both at about 90 degrees and your weight in your forward foot heel and back food toes. Be sure the front knee doesn't project beyond the front toes. Stabilize through your core as you balance in the lunge then step forward, bringing that rear foot up into a kick to your chest height, pressing through the heel. Step down into a lunge with the kicking foot, moving forward with control and precision and repeat. When I kick, I like to reach my arms out in front of me for balance.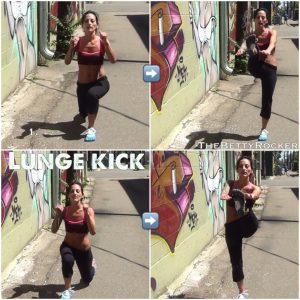 Move 5: Crunch Ups
Begin on your back, with your core engaged – lower back pressing into the floor, not arched. Feet flat on the ground, knees bent and about hip width apart. Keeping your head up, engage your abs and crunch yourself up, reaching your hands forward.  You can also keep your hands behind your head – but be sure they're just resting there lightly and not pulling your head forward. Lower down with control. These are really effective as long as you keep that core engaged throughout the entire movement.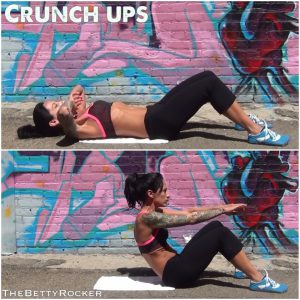 Move 6: Windshield Wiper Leg Lifts
With that same good core engagement as our last move – lower back pressing  into the floow, extend your legs out as straight as you can, feet together. Keeping that same form, raise your legs up and slightly over to the right, allowing your hips to lift just a tiny bit. Lower back down with control – again, very important – don't let your back arch – and raise them up again, this time to the left. Repeat for a minute.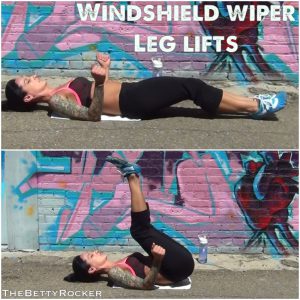 Calf Raises
Stand with one hand on a wall beside you for balance and tuck your left food behind your right calf. Lift and lower yourself onto the ball of your right foot for calf raises. Keep your body aligned and straight as you complete the move, don't lean forward. Do each side for 30 seconds.
That's your Workout! Post below and let me know how many rounds you did, and how many reps (if you had time to count them!) Be sure to rest in between moves, usually between 5-20 seconds depending on your fitness level, and take 15-30 between rounds. Challenge yourself for 3-5 rounds – ROCKSTAR status to all who complete this circuit this week!
PS – here's a LINK to a short demo video of this workout for some extra visual cues!
When you're ready for Week 3, Click Here!