Witness the Fitness Workout Week 4 – Action Hero Style!
This workout is one I'm particularly fond of, as I did it dressed up as one of my favorite action heroes ever: Lara Croft!
While it's not required that you wear big ass-kicking boots and carry guns doing this workout, you should definitely channel your inner badass and imagine you're going through fight-training – because that's what a lot of these moves are based on.
Format
You've actually got 8 moves this week – I want you to each of them for a minute – or as long as you can up to a minute, take a 5-10 second break, and move on into the next one. Go for 3-5 rounds (personally 3 is enough for me!) and try to do this workout 3 times this week!
Check out the video at the end to watch the moves – but use the format above. Program the moves into your Seconds Pro timer app if you're using it.
WITNESS the FITNESS WEEK 4 WORKOUT
Move 1: Spider Man Push-Ups
You're going to hate me while you're doing these haha #sorrynotsorry…this is a crazy push up. Begin in tall plank, with your core engaged, back not arched – press your lower back into that invisible ceiling. As you come down into your push-up, bring your right leg up to meet your elbow, adding an extra burn to your core. As you press yourself back up, bring your leg behind you and repeat on the other side. In the video, you'll see that I move forward as I do this move. You can opt to stay in place or move with it. You can do this move on your knees as well, though I recommend staying in place if you do.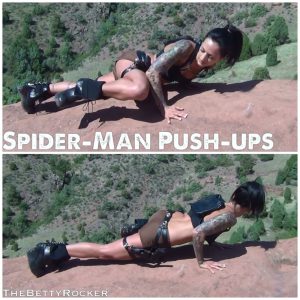 Move 2: Balancing Plank
For this crazy move that engages all of your intrinsic core balancing muscles and works your shoulders, chest and legs begin in the tall plank position just like the last move. Bring one hand to your side (or in front of you), and simultaneously raise your opposite leg, keeping your hips facing the ground as best you can. Alternate right and left for a full minute. You can also do this move on your knees as you build up the strength in your core and arms.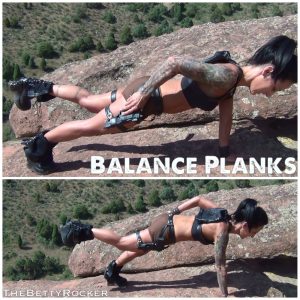 Move 3: Back Extensions
For these, having the heavy boots and the pistols made it a lot more fun (and challenging)! To do these effectively, begin on your stomach. As you raise your arms in front of you and lift your legs, keep your feet together as best you can and engage your lower back muscles. Keep your head neutral. You'll do these at a steady, controlled pace for a minute.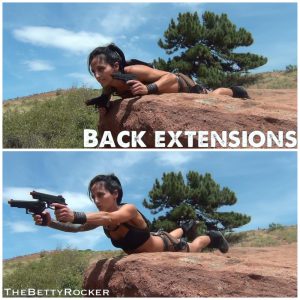 Move 4: Pistol Jumps
These ones make me feel like I'm playing! Roll yourself back into a ball and use the momentum you create to jump up. Keep your weight in your heels as you squat back down to roll again. If jumping is hard on your joints, try substituting a basic body squat for these.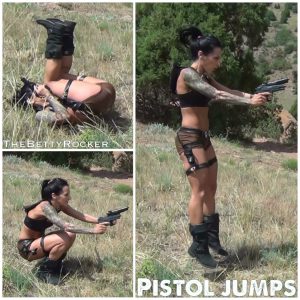 Move 5: Shadow Boxing
Remember, you're in fight training! Don't stand in one spot. Keep your feet moving and throw a 1-2 cross jabs then duck or squat and throw two more. Run around your space like you're fighting bad guys and kick some ass! Keep your hands up by your face – always protect your head – and remember not to hyper extend your elbows when you punch.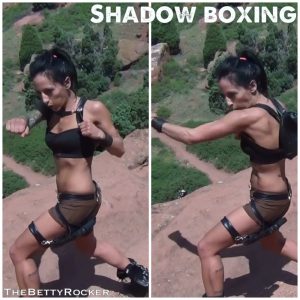 Move 6: Side Squat Jumps – aka Bullet Dodgers
Practice your agility! Begin in a squat, then explode up and jump to the right, landing in a squat. Repeat to the right. Then go back to the left twice. Keep your weight back in your heels. Remember that good form in a squat still applies. Keep your head and chest lifted, and don't let your knees go over your toes. Stay light on your feet.
Move 7: Reverse Lunge Kicks
One of my favorite moves for fighting bad guys – the reverse lunge really lets you wind up your power, and drive with that kick! haha. Begin by coming into a reverse lunge. Keep your torso upright, arms up or out for balance. Both legs will come to approximately 90 degree angles as you lunge your right foot behind you. In one continuous motion, balance on the front foot, weight evenly distributed and come into a high kick with the right foot, pressing through your heel. Repeat on that side for 30 seconds, then switch for 30 on the other side.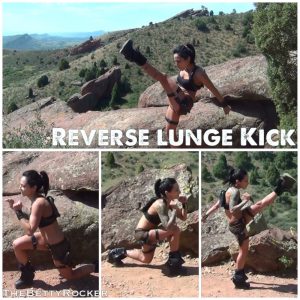 Move 8: V-up Blasters
Another move inspired by my costume 🙂 Bringing your arms to your sides or out can make these just a little more challenging, which the guns accomplished for me. Begin on your back, arms extended overhead. Using your core, and keeping your chin and chest lifted, draw your legs up straight and bring your arms in front of you. You can easily modify this by doing it with bent knees, or simply holding a bent knee position without going up and down.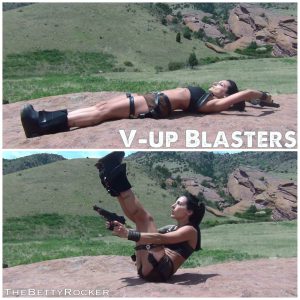 Here's a LINK TO THE VIDEO that will will show you the moves live – just disregard the reps it tells you in the video, and follow the 1-minute format 🙂
Thank you for participating in this Challenge! What's next? Pre-register for the next

FREE 30-Day Challenge starting October 1st

!